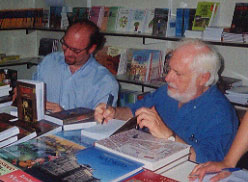 Co-founder of Simesite, Peter Besas, has just published a book in Spain called "Hidden Madrid", an offbeat walking guide to the country's capital, delving into many little-known aspects of the city, its history, and anecdotes about some of its odd historical characters.
Peter co-authored the book with his son, Mark, who took most of the 150 photos that illustrate the 361-page volume. An adapted translation of the work into Spanish, called "Madrid Oculto", was simultaneously released by the Madrid-based publisher, Ediciones La Libreria. For the time being, the book is only on sale in bookshops and museums in Madrid, though efforts are underway for the book to "go international".
Shown in the photo are Peter and Mark signing copies on June 7 at the big Madrid Bookfair held in the city's Retiro Park, where 50 copies were sold during the one-hour signing session.
For more information on the book, please see www.madridoculto.es