By Matthew Silverman
I stopped in to see Larry and Virginia in western Massachusetts in 1988, just after graduating with a B.A. in English. I was having trouble not just finding a job, but finding someone to provide an interview. Larry and Virginia did so, even though there was no job available at the Shelburne Falls & West County News, a 3,000-circ weekly tucked in the northern Berskhires between Springfield and the Vermont border. Shelburne Falls was a small town but a nice town. Still, I wondered why anyone would move there after living in Washington and New York City. When the newspaper's one-person editorial staff quit and they unexpectedly offered me a job, I got to answer the question myself.
A daily paper was located about 15 minutes away in Greenfield, and the Springfield Union-News was published about 45 minutes away, with a daily Franklin County edition. ("West County" was jargon for that section of Franklin County—a geographic distinction that Virginia never liked, so they added "Shelburne Falls" to the paper's title when they bought it.) Larry provided what the other papers could not: local perspective. Our little weekly covered 11 towns; bonus points if you've ever heard of Ashfield, Buckland, Charlemont, Colrain, Conway, Hawley, Heath, Monroe Bridge, Plainfield, Rowe, and Shelburne.
Larry was congenial yet thorough. He kept writing when selectmen would say during their tedious meetings, "Now, don't write that down." Yet he was wise enough to pause when he knew that what they were saying was not worth writing down. He worked out a barter arrangement with the Greenfield AM station, which allowed us to do radio commercials each week. Larry and I took turns writing and reading the copy for the spots. One commercial survives. It sums up Larry's feelings on life away from the fray:
"Good morning. This is Larry Michie from the West County News and another issue is just off the presses. There's are local school budgets and a proposed hiking and biking trail stretching from Deerfield all the way to New York state, cutting right through the heart of West County. But there are all the little stories that make hilltown life so rich. Colrain's special meeting and its special efforts to clothe and feed the poor. And Hawley's unfortunate canceling of its bicentennial ski outing; it'll have to be a hike instead. The West County News, locally owned and locally committed."
Larry was a tremendous boss, mentor, and writer. And not just when writing about Shelburne Falls politicos. He tried his hand at fiction but turned back to journalism after a few years in the hilltowns and bought the paper. I waited for him to talk about his fiction. He never did. Two decades later, Virginia had two of his books published. Both were tremendous. And the people from my informal book group—we mail each other paperbacks and audio books—hounded me for more books like Chasers and The Wars of Warren Temple (available through Amazon). They stand alone. Two of a kind.
I learned to write by writing story after story to fill the 24 to 48 pages each week in the West County News. One thing I never came across again at any of the other periodicals where I worked was the way he separated the towns into columns where small news, social, and informational items could be listed under a heading—an old Variety trick. So instead of having to write a longer story, as my colleagues at the other papers did, I wrote as long as the subject warranted, whether it was a few paragraphs or a couple of pages on the old Macs in the office. Having worked summers at Variety, pounding on typewriter keys with the letters worn off, it goes without saying that the West County News was my first experience with a word processor. Virginia made the transition easy.
Larry was the best boss I've ever had who wasn't my father. Being with Larry was a little like being with my dad, without the inherent awkwardness. Editorially, Larry took the powers that be to task and praised the locals as merited. He usually put the best scenic photo on page one, letting the dailies bore readers to death with head shots and AP photos from far away. It was a competition among our small staff to have the best outdoor photo to use with the weekly "Weather Picture" with a spot for the past week's weather stats. This was one of the paper's most popular features, back when the Weather Channel was a mere toddler.
Larry was a booster, a businessman, and old-fashioned small-town editor with big-city experience. Being named managing editor and taking the editorial reins when he went on his global jaunts for Variety was a point of pride. Larry shrugged off any fuss when he went in for colon cancer treatment. He was at his desk and back on the links in record time.
One sunny Thursday afternoon, Larry hovered over my desk. "I am going to play golf. You want to come?"
"Um. I haven't played golf in a long time."
"Then you can stay here and write obituaries, and I'll play."
We weren't great, but we enjoyed the solitude and minimal physical exertion. We golfed every Thursday that the weather allowed, and even then we pushed the envelope. One nasty Thursday in early April, we got caught on the course when mist turned to rain and then became large flakes of snow that quickly made everything white. After learning first-hand that golf and snow don't mix, an intrepid photographer from the Springfield Union-News snapped a photo of two fools retreating from the snow-covered golf course. We were the front-page image the next day in the Franklin County section.
Larry played golf until his health prevented him a few years ago. I saw the clubs in their garage when I visited Virginia a few weeks ago in a different town in western Massachusetts. He was not up for visitors, but we had gotten in our rounds.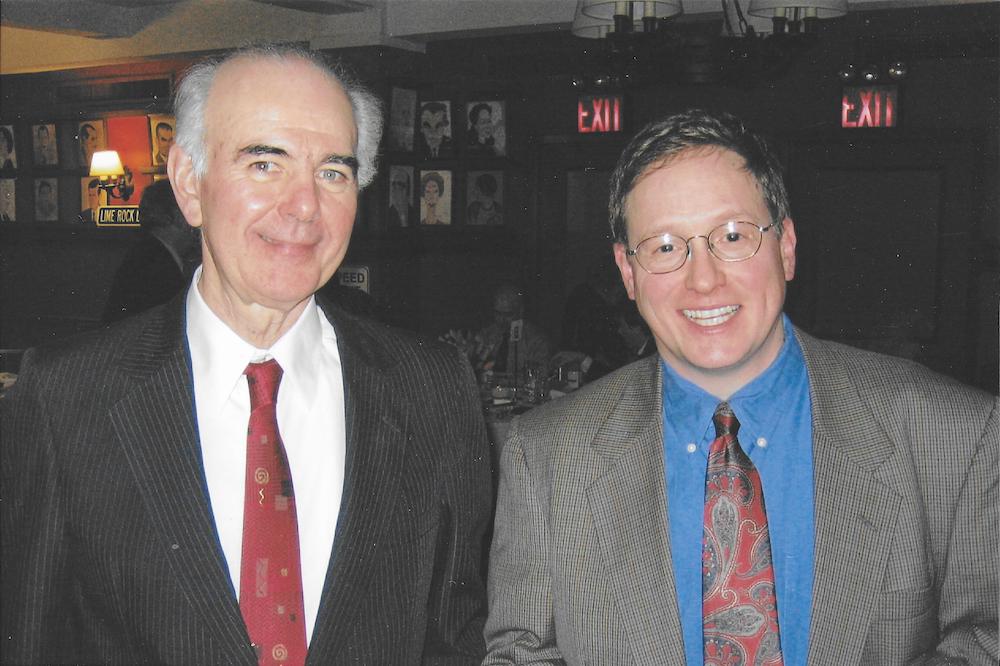 Matthew Silverman worked under Larry Michie at the Shelburne Falls and West County News (Mass.) from 1989 to 1992.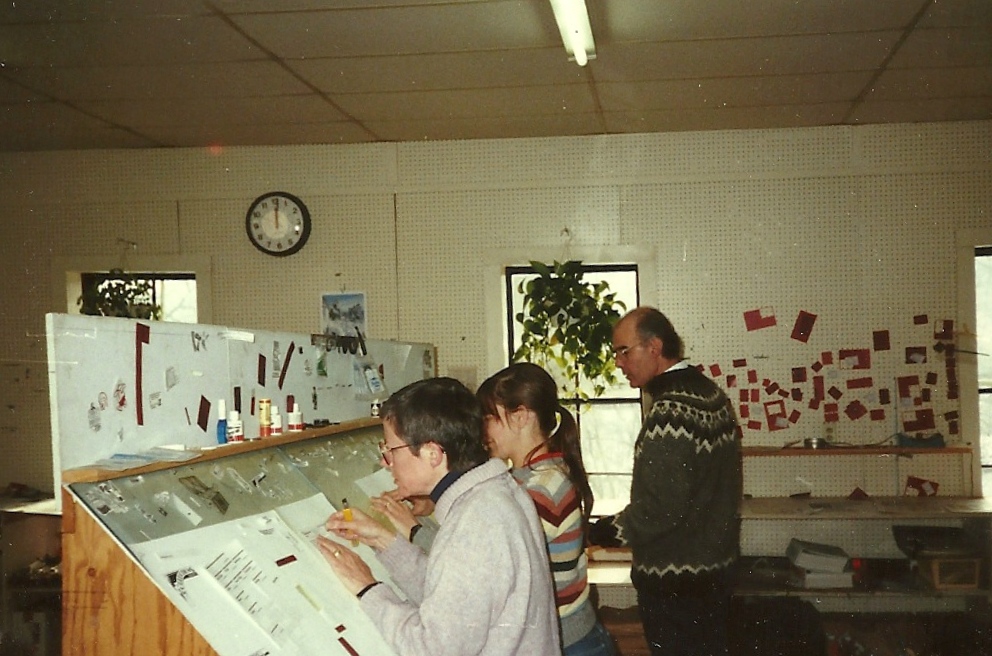 Photo: High noon on deadline day in Shelburne Falls, Mass., early 1990s: Virginia Michie, compositor Faye Whitney Lussier, and Larry Michie.