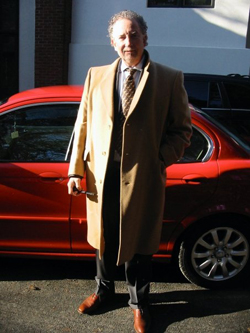 "Old Variety" mugs, those who worked for Variety / Daily Variety prior to the 1988 sale and to whom this website is dedicated, usually don't turn up as film festival heads.

The latest exception to the rule is Harlan Jacobson, who was named Artistic Director of the Philadelphia Film Festival in mid-July 2009.
Harlan's roots are in the American Midwest (although he attended college in Philly). His first exposure to Variety began in November 1973 at the publication's long shuttered Chicago office then in the Wrigley Building, hard by the Chicago River. After the 46th Street office summoned him eastward, Jacobson shifted from the Windy City to Gotham, joining the Variety film department in February 1975.
During his five-and-a-half-year New York tenure, Harlan carved out a specialty in theatrical exhibition, among other areas. He was mentored during this period by the late Bob Landry, managing editor of the Weekly and a graduate of the Chicago office himself.
The news release announcing his new Festival appointment refers to Harlan's 30-year coverage of the film industry. That's incorrect, it's more like 36 years.
For seven years beginning in 1982, Harlan was editor of Film Comment, the bi-monthly magazine published by New York's Film Society of Lincoln Center.
Following that, he and his wife Susan took the bold, entrepreneurial step of establishing in 1992 a nation-wide network of film screenings/seminars under the rubric of "Talk Cinema." The basic idea was simple: screening films sight unseen before subscription audiences, and then providing guest speakers to dissect them.
Audiences loved the concept, and Talk Cinema venues sprung up literally across the U.S., from Berkley (California) to Dallas, Scottsdale (Arizona) and New York's Lincoln Center. Chicago and Philadelphia were among the first Talk Cinema beachheads, and remain among the strongest to this day. To secure films for these venues, Harlan has traveled extensively and is a fixture at Cannes, Sundance, Toronto and other key events.
More recently, Harlan and Susan, also under the Talk Cinema imprimatur, have undertaken guided tours to film festivals worldwide. The 2009 itinerary includes festivals in Montreal, Locarno (Switzerland), Toronto, Amsterdam, Havana, Palm Springs (California) and Reykjavik, Iceland. For further information about screenings and festival tours, click on www.talkcinema.com.
As artistic director of the Philly fest, Jacobson begins immediately to winnow selections for what is described as the Festival's "18th-1/2" edition, running from Oct. 15-18 at several theatres around Philadelphia. For more information, click on info@filmadelphia.org.
To my knowledge, the only other ex-Variety mugg to have taken the reins as film festival director is Deborah Young, longtime staffer in the Weekly's former Rome office, who currently runs the Taormina (Sicily) fest. Steve Klain, a former 46th St. film staffer (and friend of Jacobson's), who until 2001 was an international marketing executive at the pre-Disney Miramax Films, also worked for a time as Taormina's deputy director.
END