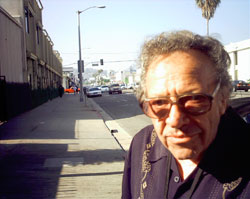 By Doug Galloway
Joe X. Price, a longtime entertainment industry writer who served as a music reporter for Daily Variety back in the 1960s, died December 30 at his home in Woodland Hills (Los Angeles) of complications due to lung cancer. He was 81.

A native of Chicago, Price returned there after serving in the U.S. Navy toward the end of World War II. He attended and graduated from Roosevelt U and dedicated his life to writing.
Around 1960 he wrote and sold his first book, a tongue-in-cheek study of the American disc jockey called The Blabbermouths (Citadel Press, N.Y., 1960), which was co-written by Dan Sorkin.
The following year, 1961, Tom Pryor, editor of Daily Variety, hired Price to work in its Hollywood office as music editor. Price packed up his wife and two children and re-located to Sherman Oaks. For the better part of the decade Price covered clubs and wrote concert reviews all over Southern California. It was during this time that Price became friendly with Frank Sinatra and Dean Martin. The friendship with Sinatra ended over a less than enthusiastic review of a Sinatra album but Price's friendship with Dean Martin lasted until the singer's death on Christmas day, 1995.
In 1968, Price shifted to the production end of the music business when he accepted the post of national director of public relations for Capitol Records. He went on to work as personal publicist for Capitol artist Stan Kenton.
In 1973, he became editor-publisher of his own music business trade magazine, the A&R Report, which worked to pair composers with recording artists. Later in the 1970s, while writing a weekly music column for the Los Angeles Times' Home magazine, Price also served as a contributing editor for Billboard.
Subsequently, Price sold his second book, the only authorized biography of the late comedian Redd Foxx, titled Redd Foxx, B.S. (Before Sanford), published by Contemporary Books (Chicago).
From the late 1970s onward, Price worked to support his writing habit and for the rest of his life remained the image of the passionate, hungry, struggling writer. His last work, For God's Sake, was never published, although he was on the phone with literary agents right up to the end of his life.
Price is survived by a daughter, Julie, a son, Rocky, a brother, Alan and three grandchildren.
Family requests that donations in Price's name be made to a charity of the donor's choice.