New York, Oct. 30, 2013
By Marie Silverman
I visited New York City last week to catch up with another Variety denizen, Tom Gilbert. As we ate lunch, we reminisced, as we often do, about some of our colleagues and the good times at the paper. John Madden was among them, and he is the subject of this piece.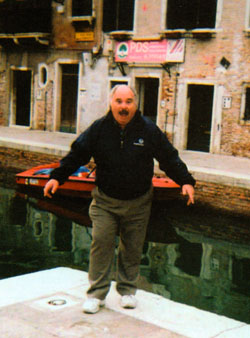 Johnny was the first person you saw upon entering the second floor newsroom, and little escaped his eyes. He could type furiously and carry on a phone conversation while monitoring the entire situation around him. Johnny always kept up a snappy patter; if I close my eyes, I can still see and hear him laughing and wheezing at the same time. Johnny, you see, had some breathing issues which always concerned my father, who sat near him on the Poop Deck or Throne, depending on your point of view.
Johnny's heart was big, soft, and warm. He was blessed with great comic timing and a quick wit. He was kind and the understanding confidante of many. He was a caretaker-of his father, Bob Frederick, his friend Todd, and his landlord. Johnny loved his family-brother George, who predeceased him, sister-in-law Marilyn, and the nieces-and saw them often.
For many years, John lived on 46th Street and usually went home for a nap at lunchtime. After work, he often trudged upstairs to the top floor to commune with Joan "Mother Cabrini" Crowley and Peggy Michitsch, the switchboard operators. Those three, along with Norma Nannini and Gerda Bologna, had been at Variety practically since infancy. They knew everybody, and their raucous reminiscences conjured up some of the most colorful personalities ever to walk Times Square.
When Johnny laughed, he really laughed. His whole body shook, and his beautiful blue eyes filled with tears and crinkled at the sides. It was a wonderful sight to behold.
Johnny had a great singing voice and would have loved to have been a star on Broadway. God had other plans for him, I guess. He lives on in the memories and hearts of those lucky enough to have known him.
It's been years since we lost Johnny, but we still miss him. To us, John Edward Madden was one of the longest-running and most-beloved hits on the Great White Way.