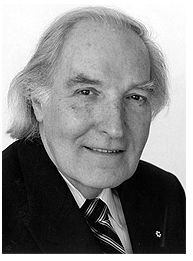 Simesite has learned from the son-in-law of longtime Canadian stringer for Variety in Canada of the death of Gerald Pratley, who passed away in a hospital in Belleville, Ontario, on March 14 at age 87.
The last time most of us saw Pratley was at the party thrown in Sardi's restaurant in New York in 2005 to celebrate the 100th anniversary of the founding of Variety by Sime Silverman, an event hosted by Sime's grandson Syd Silverman, his wife and children. Pratley was one of those contributed news stories in Canada back in the 1970s and filed copy under the aegis of Toronto bureau chief, the late Sid Adilman. He was a regular at many of the yearly Variety receptions thrown by Syd during the Cannes Film Festival.
Pratley's death has been well covered by the Canadian news media. We here quote the story posted on the Web by Northernstars.ca, the Canadian Movie Database. The photo is courtesy of former Variety stringer Antonia Zerbisias.