It is gratifying that once again, after a bit of prodding, we have managed to receive 26 contributions for the year-end wrap for Simesite. We have listed the entries in the order they were received.
That still leaves a goodly number of old-time staffers we have not heard from. Some may have changed their e-mail addresses and not have notified us. Others, quite frankly, were too lazy and disinterested to send us anything. Finally, alas, there may be a few that have shuffled off to St Peter's Gate and that we haven't heard from. One of these may have been Bob Hawkins in Rome, who was always one of the first to reply, though we trust that in this case his absence may have been "greatly exaggerated".
Below, the contributions from:
Rebecca Lieb
Elizabeth Guider
Mike Evans
Joe Morella
David Stratton
Mort Bryer
Marie Silverman & Bob Marich
Jay Blickstein
Morrie Gelman
Don Groves
Edna & Dan Fainaru
Mark Adams
Mike Malak
Harlan Jacobson
Pete Pryor
Bruce Alderman
Norman Scherer
John Willis
Margie Prezioso
Arlene Rosenstein
Mike Silverman
Steve Klain
Tom Gilbert
Blake Murdoch
Sam Stenzel
Peter Besas
Mark Silverman
REBECCA LIEB
New York, Dec. 14
I've spent the year establishing myself as a self-employed analyst covering digital advertising and media (after the last company I worked for folded). I'm still paying the rent and eating, so this freelance thing just may be working. The upside of the job is that I do a large amount of traveling to speak about my research. This year I hit Bulgaria, Latvia, Denmark, and even Berlin, my old Variety base. I just submitted the manuscript for my third book, which publishes next year. The title is Content: The Atomic Particle of Marketing. Earlier, I published Content Marketing Think Like a Publisher and The Truth About Search Engine Optimization.
And I'm still based in NYC. As Jack Kindred used to say, I'd love to hear from any "visiting firemen" (i.e. Muggs) who pass through town. Best wishes for 2017 to you all!
MIKE EVANS
Del Mar, CA, Dec. 14
Diane and Michael Evans are still living and breathing in Alpine, California – a remote village in the mountains some thirty miles east of San Diego – Mexico's Finest City!
We've decided to kept both children this year – Ty (18) and Kennedy (15). Ty's (Gamer) a senior and Kennedy (Cheerleader) is sophomore at Steele Canyon HS. Ty is about to receive his very first car this Xmas in a Ford Mustang that he's coveted since age seven! And, Kennedy will seize on her new free in-house Uber driver too!
I'm still partners in Westward Expos – show producer of Home & Garden shows and others always held at the iconic Del Mar Fairgrounds. We hold shows in main O'Brien and Crosby Halls as the Del Mar Racetrack was built by a partnership including Bing Crosby, actors Pat O'Brien, Gary Cooper, Joe E. Brown, Charles S. Howard and Oliver Hardy.
Michael only commutes to Del Mar once a week, thus Di has decided to hit the hot pavement again by joining ranks with my old monthly publication San Diego Home/Garden Lifestyles (paid/audited circulation) working chiefly with ASID designers – equivalent to Film Buyers from India shopping the halls of MIFED, Cannes and AFM the very last day of the market looking for low rental deals!
Our true children are doing good as well – two German shepherds and one mini-longhaired dachshund that runs the show!
A Great Holiday to you all! And, thanks for the memories!
ELIZABETH GUIDER
Los Angeles, Dec. 15
I hope this note finds you well and I do appreciate being kept on the muggs list, despite 17 years working for the "new" Variety and then for four for The Hollywood Reporter. So, what now? Well, I continue to freelance a little mainly for World Screen News, as they take a fairly serious approach to the business, mainly TV and with mainly an international slant.
That said, I've also written a couple of novels since leaving THR in 2011. ?The first was what I guess you'd call a passion project, set in Italy in 1978?, and titled The Passionate Palazzo. (Some of you will remember that was the year of the three popes, the kidnapping and killing of the PM Aldo Moro, and the passage of the Continent's most liberal abortion law.) It's essentially a love story but set against that pretty heady backdrop.  The second opus, which was published this past September, is a family saga set in the Deep South post-WWI. It's called Milk and Honey on the Other Side, in case any of you want to check it out on Amazon or Barnes & Noble. (My publishers, btw, say that I should point all this out at every opportunity!)
What else? I inherited my mother's home in Vicksburg, MS after she died in 2015, so I do go back and forth between there and Los Angeles pretty regularly. I love the contrast between the two places, re-learning to appreciate that everyone waves at you in a small town while still relishing the anonymity and wackiness of Los Angeles.
As for the business here in Hollywood, the biggest change, to my mind, over the last several years has been the phenomenal rise in quality drama series — thanks in part to the migration of so many indie film talents to the small screen — and the simultaneous decline in interesting and provocative feature films. Of course, the sequels and popcorn movies continue to draw audiences worldwide but more of the money is quietly being made in TV than in film. And whatever snobbism had lingered among the cinema crowd has pretty much dissipated out here.
The big question now is how Hollywood will cope with, contest or come to terms with four years of Donald Trump in charge.  Though some here might view his victory positively as the triumph of celebrity over ideology, most folks I know are not popping any corks. Time will tell, and a year from now there'll likely be much to say on this front.
Meanwhile, I hope everyone in our extended eclectic Variety family is well and enjoying life.
JOE MORELLA
Arizona, Dec. 15
Joe Morella here  from the class of '69.  Still hanging in. Traveling, writing, bemoaning the state of movies and theatre and longing for the good ole days.
Frank Segers and I have managed to keep our blog, ClassicMovieChat, going for another year.
Hi ho to any muggs still with us.
DAVID STRATTON
Sydney, Dec. 17
Throughout 2016 I¹ve been appearing in front of the camera instead of behind it.  This was for a dual cinema/TV project to be screened in 2017.
The cinema version, not yet quite completed, will run approx 100 mins and is titled: David Stratton—a Cinematic Life (please don¹t scoff at the title!); it¹s the idea of the distributor).  It features interviews with, among very many others, Geoffrey Rush, Nicole Kidman, George Miller, Jacki Weaver, Sam Neill – as well as Todd McCarthy who talks about my 20 years as a Variety reviewer, and my brother who reveals stories of my mis-spent youth. There are clips from dozens of Australian movies.  The film was to have opened in January, but has been delayed slightly (clearing the rights has been a big issue) and will now open probably in March, in limited release.
The TV version is 3 x 55 mins, and is titled David Stratton's Stories of Australian Cinema.  It will be less my story and more my musing on some of the most interesting Australian films.  It¹s scheduled to play on ABC (National TV) over three weeks in June.
Apart from the above, which has been terribly time-consuming (I didn¹t direct it, only 'presented', but of course I had a big hand in it), I've been doing my usual stuff – lecturing on film history at Sydney University, writing a weekly review column for The Australian.
Plus I hosted movie screenings on a 14-day cruise around the Baltic, which took me from Stockholm to Visby (Gotland), from there to Faro to visit the Bergman museum, then on to Helsinki, St. Petersburg, Tallinn, Rostock (a bus trip to Berlin to catch up with former Variety scribe Derek Elley), Copenhagen and Amsterdam.
So, another busy year and not much sign of a slowdown in 2017.
All best wishes to you, and to all the Variety muggs who stay in touch!
Strat.
MORT BRYER
Norwalk, CT  Dec. 17
Mort Bryer is still avoiding trains and planes and has remained within the confines of the borders of The Nutmeg State.  Last trip to "The City" almost two years ago. Glad to see Variety has been getting lotsa boobtube time, for a change.  30!
MARIE SILVERMAN & BOB MARICH
White Plains, NY  Dec. 17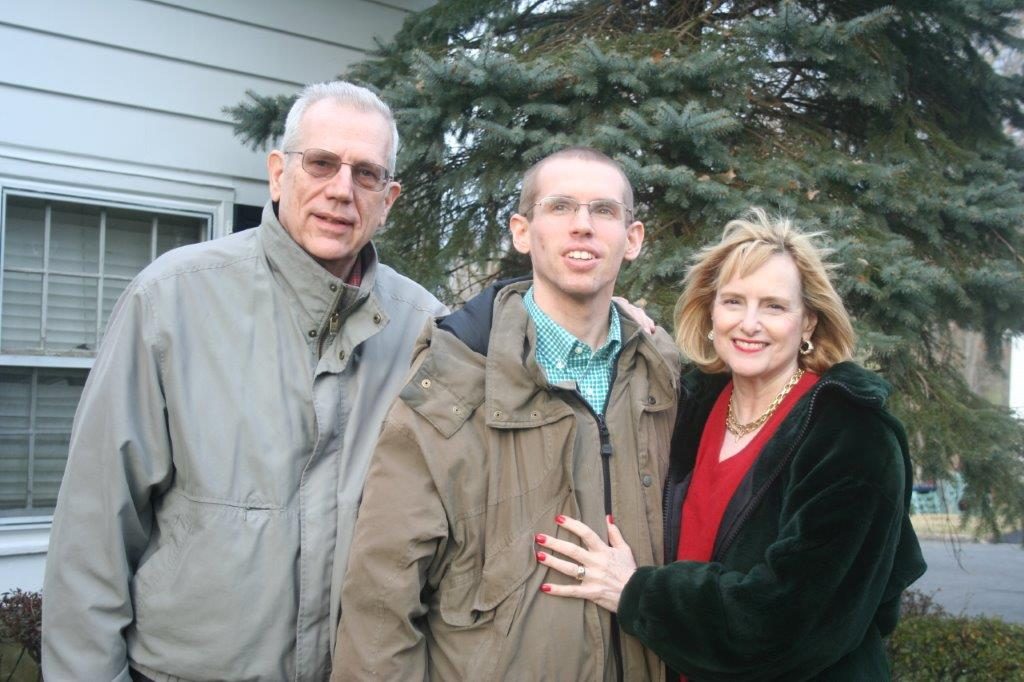 Mariches On Move in Eastern USA!
The Eastern United States continues to be the oyster of the Mariches: Bob, Marie Silverman and son Nick. We drive south to Florida to visit Syd and Joan a couple of times a year, and along the way sometimes visit relatives in Alabama on Jan's side. Syd is fine and enjoying Florida, except during those hurricane periods!
In summer, we visited Chicago (where Bob is from) and spent a memorable day at Wrigley Field, where we watched the intrepid Cubs win a game on the last pitch. Wrigley Field, which opened in 1914, is like experiencing America  circa pre-WWI. The whole neighborhood was built at the same time. It was a fine and sunny August day (the Cubs went on to win the World Series, of course, ending a drought that extended to 1908…always with the history with the Cubbies!)
Nick is a part time-student at the local junior college and has his own apartment across town, though that doesn't stop him from regularly raiding our refrigerator!
Marie is still the Queen of local cable access with her own TV show for the White Plains Beautification Foundation, which spruces up this Westchester town. This Blooming City, which is Marie's TV show, can be accessed online at http://wpcommunitymedia.org/blooming-city. Binge watching is not only permitted but encouraged!
Bob still writes for college text books on media and freelances for the mothership, surpassing 20,000 words of text in a year for special issues.
We'll host the family Christmas gathering at our humble abode with over a dozen people as Marie's brothers Mark and Matthew are coming with their families (Michael and family are in Arizona, and we see them when they are in town). We wish all the Simesiters a Merry Christmas and Happy New Year.
JAY BLICKSTEIN
New York, Dec. 17
The biggest news of 2016 is that I am retired!  Drawing my monthly stipend from Uncle Sam.  I'm doing part-time freelance out of the house to keep my hand in and scrounge a couple of extra bucks. The missus still has a couple of years to go before she joins me in relative inactivity. Did not do much traveling this year, but we are booked for a jaunt to Costa Rica in March 2017.
Happy Holidays!
MORRIE GELMAN
Los Angeles, Dec. 17
My book, The Short Of It, long completed, still falters over inability to secure necessary copyrights and photographs.  Tenacity doesn't grow old though I do.
DON GROVES
Sydney, Dec.18
Greetings muggs and thanks again to Besa and Ian for keeping the grand old tradition going.  It's been an eventful year. I continue to cover Bollywood and the Australian screen industries for Forbes.com (http://www.forbes.com/sites/dongroves/#3b4483a74fd9) and Australasian TV-related news and features for UK-based C21.  In May I took on another client, managing the Content Café blog (http://www.contentcafe.org.au/) for Creative Content Australia (CCA), a coalition of the Hollywood studios and Australian players including Village Roadshow, Hoyts and Foxtel.
Formerly the IP Awareness Foundation, CCA is Australia's peak body for the promotion of copyright, creative rights and piracy research. The blog commissions articles from copyright experts and creative people in Australia and internationally and republishes with permission. So we have covered such topics as the Productivity Commission report on intellectual property which recommended the adoption of US-style 'fair use' provisions, Google's push for the Australian government to introduce 'safe harbour' and the implementation of piracy website-blocking legislation.
I was not an expert on Bollywood – far from it – but quickly discovered after filing a few stories for Forbes that Bollywood-related content almost always gets far more traction than Australian screen stories, so I file at least a couple of stories a week on Hindi and regional releases.
My wife Jenny and I had a fabulous vacation in August, embarking on an Alaskan cruise in a small ship which allowed us to get close to glaciers and enter bays which are off limits to the cruise ships, followed by the Rocky Mountaineer train/coach from Vancouver to Banff.  The attached pic was taken at Lake Louise, one of the most beautiful spots we'd ever been to.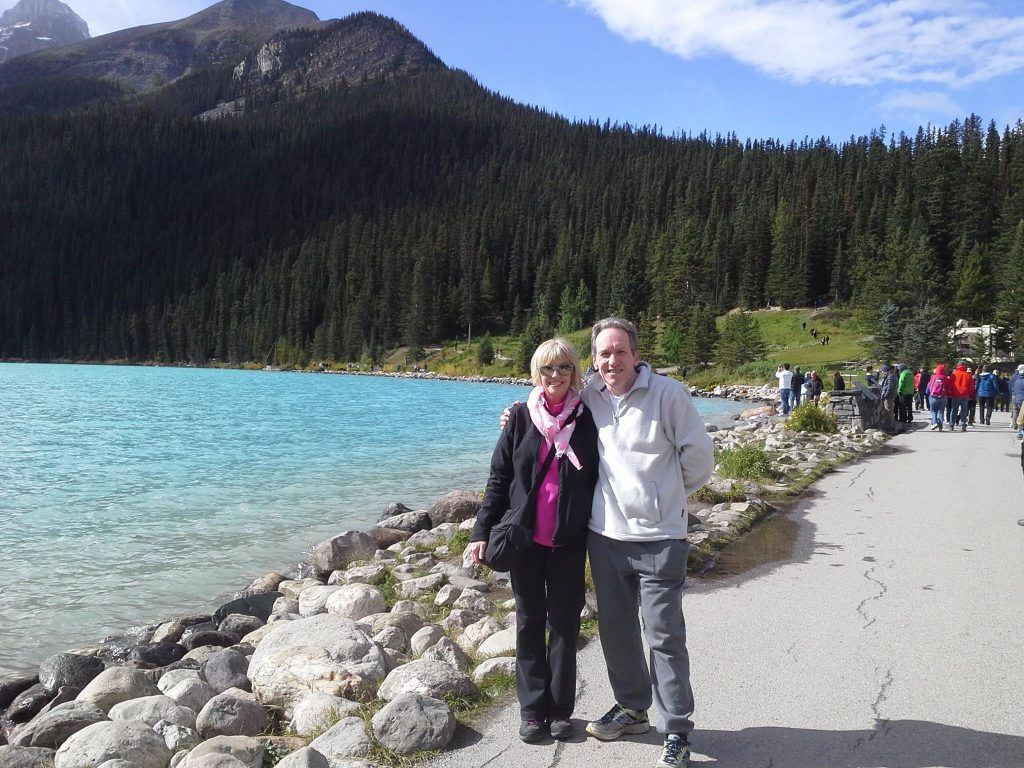 I've cut down on moviegoing after tiring of Hollywood's obsession with superheroes, sequels and franchises. Instead I seek out films about people I can relate to and which are not  heavily reliant on visual effects. So recently I've enjoyed Fences, The Founder, Hacksaw Ridge, Billy Lynn's Long Half-Time Walk, Hunt for the Wilderpeople, Hell or High Water and The Light Between Oceans.
Salutations to the muggs  and all the best for a happy, healthy and tranquil 2017.
Dogo
EDNA & DAN FAINARU
Tel Aviv, Dec. 28
Yes, we're still alive, still kicking whoever is close enough and deserves to be kicked (which is practically everybody with few exceptions). Still writing reviews for grades, still publishing the only film magazine in Israel, also programming a boutique film festival in the middle of the Israeli desert, midway between the Dead Sea and the Red Sea. For a change, only films we like, and they get to be more and more difficult to find. All screenings are open air, from late afternoon into the night, never more than 20 films altogether, with guests from all over the world.
Finally, let us wish you all Very Happy New Year, though the last days of 2016 do not hold much promise. Still, hope hasn't been prohibited yet, has it?
MARK ADAMS
London, Dec. 28
Blimey – is 2016 wrapped already? I've just been busy running the Edinburgh International Film Festival. Essentially a lot like being a film reviewer but less writing. Bumped into the likes of Dan and Edna Fainaru in Cannes and Toronto; David Stratton in Venice…and Bill Grantham somewhere (the Groucho club in London usually)… Having written for all of the trades (Variety first and then Moving Pictures, THR and Screen International) it is amazing how easy things blur in terms of who worked for what paper. So I just head around the world to various film festivals and then help stage a film festival in June in Edinburgh. Not like real work really….
Best
MIKE MALAK
Los Angeles, Dec. 28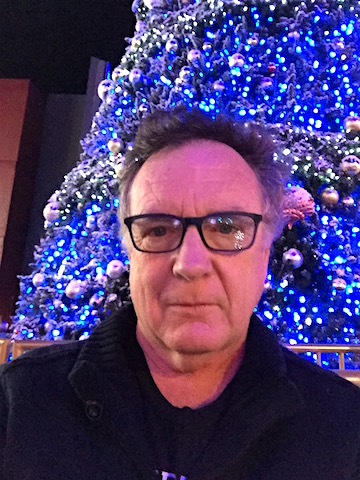 It's been 43 years, this past November 19th, since I joined the Daily at twenty-three. I read an article, recently, about how ours is, practically, the last generation before the disappearance of people who knew the pre-internet world. It reminded me of comments Syd made at the Weekly's 100th Anniversary party at Sardi's where he observed that we were the last of our kind, though we didn't realize it at the time. In retrospect, he could've been talking about content as well as delivery in the nascent age of the elongated 140 character head, sans body copy that follows.
The fakest news Variety ever ran, that I recall, was contained in the grosses ads from Don Rugoff's Cinema Five. That's funny and sad, at the same time, but is where we are now. It's a pleasure, therefore, to read about the lives of fellow travellers who may recall Billy Wilder, Pinky Lee, and a time when Red and Blue referred to networks, not political divisions in the country.
Recalling older days, it was notable, to me at least, that Variety made its first endorsement of a presidential candidate this year, under Claudia Eller's stewardship, and the continuation of Variety's TV production and awards platforms. Donald Trump used to have a framed Weekly Variety front page hanging on the wall in his office. I don't know for a fact, but I'll bet it's no longer there.
I've been writing for The Bayou Buzz of Louisiana, aka, The Dead Pelican. It's dedicated to national and Louisiana State politics. The past election provided some exceptional material, with no end in sight. The year wrapped up with some legal estate work for an antiques dealer who made Christmas shopping easier than it, otherwise, would've been.
Six months ago, we moved into a newly rebuilt house, from the ground up, on the same floor plan as before, after an October 28, 2014 fire burned the old one down. For the past 18 months I tasked myself with inspecting construction progress, not less than once a day, pored over construction and architectural materials, and bought new furnishings, including a 5' tall Tiffany standing lamp, discovered for $75.00 at a Salvation Army Store on Sepulveda Blvd.
Not to forget my upbringing, two small banks of seats that once graced the Egyptian Theater in Hollywood during the 1920's-1930's era now rest in front of a wall of windows that looks out onto an orange tree that survived the flames in the atrium. A Russian artist, who took as long as it did to build the house, made a large, semi-circular, hanging lamp from multi-colored slices of agate for the kitchen. It produces ether-like light that can match whatever mood one feels by looking at it from different angles. That sounds awfully New Age but it's, mostly, true.
The entire project was nerve-racking, costly, and required skills I didn't possess at its inception. I'm grateful for the contributions made, especially by the craftsmen and contractor, who are, probably, glad to have seen the job finished. No one was harmed during the making of the house, despite midnight forays to the site. I give special credit to my wife, Pam, for planning the whole project even before it began.
Our oldest son, Kyle, and his fiancée, Alison, had planned on sailing around the world this year on their 45' sailboat, The Neverland, but he, seemingly, has found, a new avocation in ocean racing. He's also decided to learn star navigation. Two other sons live with us. Middle son, Andrew, was still involved with cars last year and Eamon, the youngest, is preparing to write a book about vintage guitars, at least that's the hope. My health has been good enough to keep me alive, so far, and for that, too, I'm grateful.
Since 'tis the season, a News Year's resolution is to write more and curse less.
Best to all.
HARLAN JACOBSON
Croton-on-Hudson, NY Dec. 28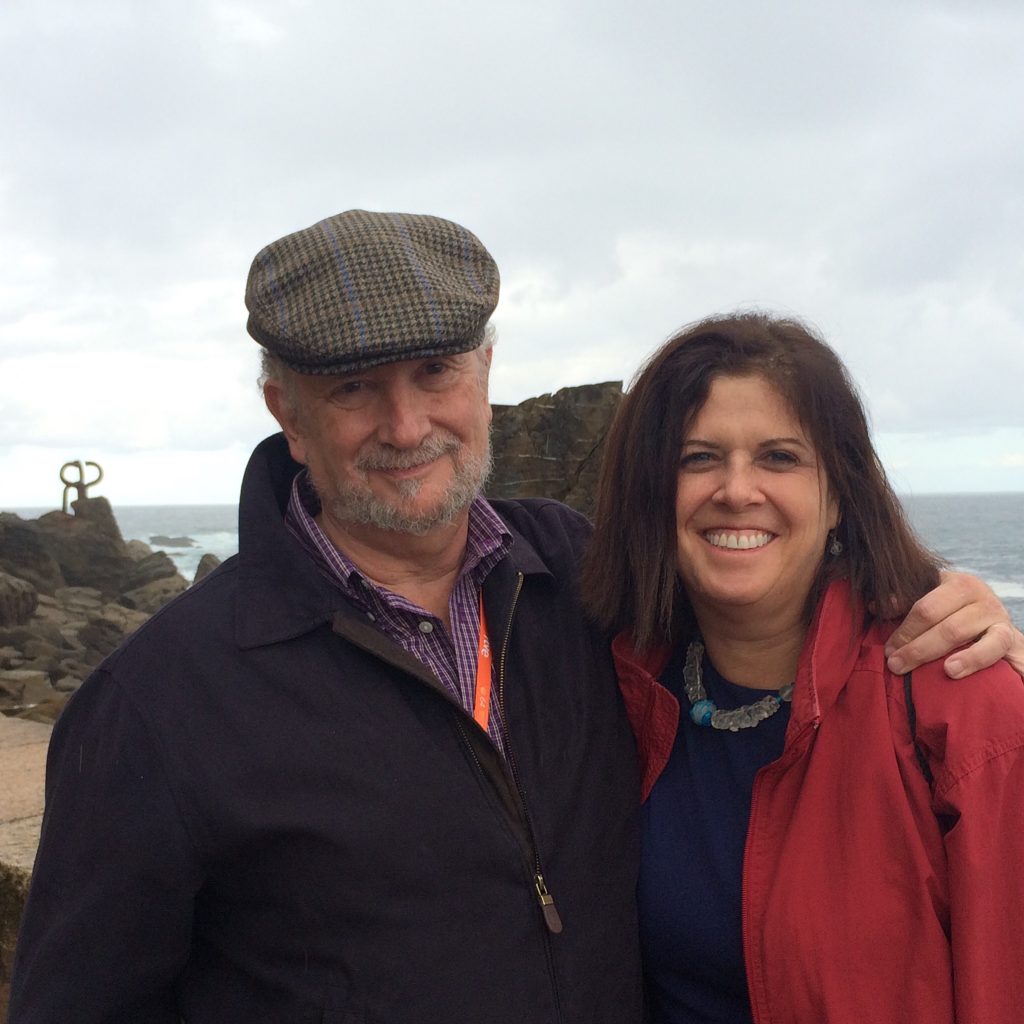 Been to the past few filmfests at San Sebastian (Spain), a city I love, shepherding groups from Talk Cinema to the festival. And ditto just came back from leading a Talk Cinema tour to the Havana Film Festival under our own license from the Treasury Dept–our 13th time since 2000. I'm getting good with a cigar.
Aside from covering Cannes, Sundance, etc for The Philly Inquirer for a number of years, I regularly review for WBGO, 88.3 FM, New Jersey public radio with Jazz and NPR news and reviews, also streaming at www.wbgo.org:
http://www.wbgo.org/internal/mediaplayer/?journalID=jrnl2016-161209-article7&type=journal
My girls, Blaise, 19, and Elodie, 21, are at SUNY Geneseo, an upstate liberal arts college near Rochester. My son, Samson, 34, works in production in the NYC area, for the past six months on The Greatest Showman, Hugh Jackman production and starrer about P.T. Barnum. My wife, Susan Jacobson, and I recently dropped in on one scene filming at the Sleepy Hollow (NY) Country Club, originally a Vanderbilt mansion designed by McKim, Mead, White 100-plus years ago. It was fun to see Samson like the business of filming so much.
When do we all get together again?
Best
PETE PRYOR
Oregon, Dec. 29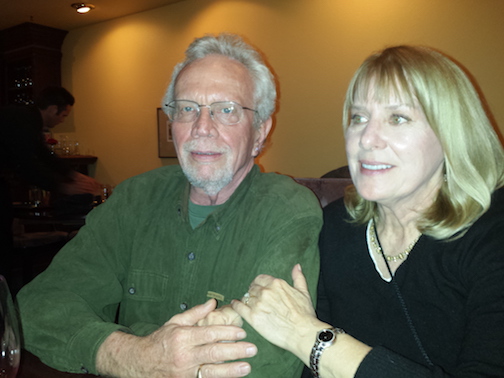 Hard to believe another year has gone by.
Barbara and I are still enjoying the rural Oregon lifestyle for a good part of each year with our Siberian Husky Keeza and 16-year-old Ninja Cat from Hell Mink, who still likes to readjust Keeza's attitude on occasion.
If someone can explain to me why a dog that has just been bathed and groomed goes like a guided missile to the biggest pile of bear scat in the pasture and commences to roll in it and then wants to come back in the house for the night — I'd love to know.
It's been a fairly cold and quite wet winter so far, but very little snow on the ground at the house.
Youngest son Ian, his wife, Bonnie, and their two children, Emma and Aidan, arriving later tonight or tomorrow for a few days; oldest son Cort and his son, Cole, probably coming up next weekend.
Second and last California house goes on the market in 2017.
Barbara had a surprise  (is there any other kind?) 1 a.m. appendectomy a couple of months ago. Fortunately, we were in California at the time and had good hospital facilities available and an excellent surgeon. You just never know what's coming down the road. That experience has added impetus to our ongoing consideration of yet another move, possibly up to Gig Harbor, WA, where we have been looking at houses and/or building sites. The town is very small, very walkable and we love being by the ocean. Rural Oregon has a lot going for it, but at this point in life six acres seems a bit much, and our location here is a bit remote — not to mention that things like telephone service in the winter are, at best, unreliable (multiple-day outages are not uncommon).
Still very much involved in the arts — literature, music, etc.
When I look at the current incarnations of Variety, the Hollywood Reporter, the Washington Post, the L.A. Times, Media News Group I feel very grateful to have been involved with them when journalism actually existed.
Best wishes to all the muggs and their loved ones for a Happy, Healthy and Prosperous New Year!
BRUCE ALDERMAN
New York, Dec. 29
Little new to report from New York. I'm still at the Brooklyn DA office in the Conviction Review Unit and still enjoying the work of reviewing old (mostly) homicide cases. That's the good news.
Unfortunately, our young District Attorney Ken Thompson passed away tragically in October from cancer. I recommend you Google him to learn about this amazing man who was only at the beginning of a unique and promising career.
That's the bad news.
Generally, all is well. I still ride my bike 12 miles to work (weather permitting). I still dabble in writing screenplays (foolish endeavor but I'm a sucker for Final Draft updates and then I have to use the damn thing to justify the expense).
I must encourage everyone to continue to contribute to Simesite. The more the entertainment industry evolves, the more I enjoy thinking back on my Variety days. It was quite a journey.
Happy New Year to all.
NORMAN SCHERER
Sparta, N. J.  Dec. 30
Happy New Year, Muggs
Well I turned 60, perfect age to start a new business. After years of concept building my new company Tastecoin has finally found funding from a  long-dead graffiti artist, Jean Michel Basquiat.
Let's fade back to the end of the 70's when I ran the film series at Rider College from 1974-1978. It gave me 3 1/2 years of stand-up experience (that I always dreamed of getting back to). I played the theatre in the Student Center Fri, Sat & Sun nights, I booked double features because I was being paid by work study. My friend ran the student center and leaked stories of sexual liaison in the guest room. Many of my jokes were centered on the sex lives of different deans and sorority house mothers. I couldn't get in trouble because they would have to print the embarrassing facts. I would get so crazy that the projectionist would sometimes start the movie before I opened the curtain. As an ex-gymnast, I would climb the curtain so I could mock him eye to eye. I used to do a running bit attacking my #1 enemy the projectionist, the perfect target that everyone in the theatre could relate to. I since have stopped being a stand-up bully.
I got a job offer from Newline Cinema after my college returned the copy of Pink Flamingoes by John Waters. The dean didn't believe my story that it was a Disney film, and I had to negotiate Newline for a refund. A week or so later, I ended up taking the bus to NYC to meet Ernie from Newline. I snuck the film around campus for private shows in dorms & frats at $1 or a joint.  Newline got paid in $1 bills, I got lots of joints and a job offer. I got my school supervisor, Paula, a job at Newline from Ernie. She left Rider College a year before I graduated. Once I graduated Rider, I hit NYC to claim my job at Newline, the film job promised, turned into selling their lecture "talent", which I turned down. (career goof?, maybe but destiny was a few blocks away). Newline was at Broadway just south of 14th street, and I walked down Broadway to Washington Street, where I entered Unique Clothing Warehouse. The owner Harvey Russack, a former comedian, hired me, and that's where I befriended my first black friends Rice & Jean Michel in the summer of 1978.
I grew up white in Verona, Princeton & East Brunswick N.J., my memory can't place any black friends. Before we joined the swim club, my dad took me and my brothers to a public lake in Jamesburg. We swan with other brothers but I had no black friends. Even in Rider college in Lawrenceville N.J. I can't remember any black friends. When I went to college in 1974, I loved Sly & the Family Stone & Richard Pryor That Nigger's Crazy just came out. In high school when I went to the dentist I would wander around Harlem to find Sly & the Family Stone albums I couldn't find in Cheap Thrills in New Brunswick.
John Lennon said woman is the nigger or the world, Patty Smith was a rock & roll nigger, and I was the nigger at Rider College, I said crazy stuff, started many food fights, went to far promoting weekend films, smashed pudding or jello desserts too often onto the president's window, broke in and partied in too many school buildings, made too many home-made pipes and bongs out of science hall equipment. As we broke into buildings at night I used to wet a portion of the blackboards and write my movie ads in dozens of classrooms.  I had very insane parties weekly where we got high & made funny posters. Some I found when I had access to my student file, my file-filled boxes.
As a Journalism major, my two senior term papers for Newspaper Design & Makeup were on Variety  ( I even interviewed my future boss Mort Bryer) and High Times. I ended up working with Steve Hager as High Times official videographer for the Amsterdam Cannabis Cup for 7 years between 1992-1999. Homegrown fantasy won the cup in 1992 for Haze x skunk # 1, De Dampkring, the Greenhouse & the Sensi seed bank won other years. Spending two weeks every year for Thanksgiving in Amsterdam was a nice perk about running your own one-man business. Amsterdam reminded me of that island in Pinocchio where you smoke cigars and play pool until you turn into donkeys.
When I became a member of SEC in 1974, the Student Entertainment Council, it was called CUB, College Union Board. We had The National Lampoon show with John Belushi, Gilder Radner, Harold Ramis, Brian Doyle & Bill Murray. We booked Billy Joel twice at $15,000. During the 1976 Pretender tour Jackson Browne played a sad set after his ex-wife killed herself. Bruce Springsteen wanted to play on a Thursday night but the administration held stiff to weekend concerts only. We took over the Student Center for daze. I booked and partied with NORML lawyers, Chris Rush on acid (me not him) and the band America. That was the last day I willingly took psychedelics. I graduated four years later & started commuting to NYC by skateboard.
I met Rice on the first day of work at Unique, early in the summer of 1978. We bonded and would hang out in Washington Square Park smoking & talking during lunch. I did Unique's window displays with a woman with blue hair named Rae, and worked with Richard & Christine to find the best spots in the store for new merchandise. I created a new one-sheet handout highlighting new apparel & current sales every week. Wearing wild Hawaiian shirts, parachute pants, a pith helmet and a fake parrot on my shoulder, I would stalk tourists. Basquiat would be painting a refrigerator red outside the store on 714-716 Broadway, and I was handing out my flyers. Besides hanging in Washington Square park we used to get high in the elevator in 714 Broadway with the elevator operator. After four years going to college with a VP of Rorer's daughter, Quaaludes were the drug of choice, and the number 714 was on each pill.
Jean Michael, my best friend Rice, Paul and myself would hang out in nearby Washington Square Park and smoke this gold pot that I had hidden under a rock behind Rider College. Frank, my 1978 roommate (he became a cab driver / bartender in Vegas), didn't want any part of that much gold pot in his Garfield N.J. apartment, so I wrapped it mummy-like and made an underground tomb under a big flat heavy rock 1/4 mile behind Rider. I took a handful or two for every few weeks, and had it buried there for quite a while. I traded 1/4 ounce (roughly $10) of this gold weed to Jean Michel for a stack of over 20 postcards which were all signed. These are the first set of cards he ever created, the ones he met Warhol with. I sent a few out as postcards when I lived in Denver, San Francisco & San Diego, but when I moved back at the end of the 70's with my book, The Separated States of Amerika, the cards were thrown into storage.
I knew him as Jean Michel, never knowing he was the famous Basquiat. I forgot about the cards and almost ten years later I was told who we worked with. Closing down Video Oyster I found and remembered the Basquait postcards.  I sold a few of these cards on ArtNet.com recently and I'm funded & ready to launch Tastecoin finally.
When I was working for Bowker doing Variety's Complete Home Video Directory, I came up with an idea that I expanded on with Tastecoin. I was selling ads in the yearly directory and quarterly updates, but it had no distribution. Bowker would hardly give me any sample books to show off to potential advertisers. Bowker was selling the Directory for $100, and it wasn't selling at all. A NYC retailer informed me that they were offered my $100 directory for $10, so I ordered 100 copies through this video store and wrote it off in my expenses. My boss freaked out that I bought 100 copies from the mafia who was working out of our warehouse. After I busted the mob, I decided to take distribution into my own hands.
My idea was to have video manufacturers sponsor paid copies of Variety's Directory into the top video chains. These small video companies were desperately trying to get their product into those chains. By doing six month tests of different video product, and a full page ad promoting and summarizing of all my deals in Premiere Magazine, I soon had 2,000 paid Variety directories in the top video chains. Selling ads were easier, but I messed with the corporate way. Stepped on the shinny shoes of the marketing VP, PR VP distribution and warehouse VP, so I was RIP. I was put in charge of development, every idea was quickly rejected.  I was paid well, and had a nice office and secretary that would wake me if anyone called. With a Variety Police Press Pass I hopped clubs all night, and slept in my office like a vampire. I quit to start Video Oyster (my last real business). I'm now using a similar technique of placing customers favorite products locally with Tastecoin.
Tastecoin is a rackjobber of new products, themed sets, closeouts, drop shipped goods & similar products from different manufacturers to taste test. Tastecoin does taste testings of similar products to determine people's favorites, and then embed these favorites on racks in local stores. Tastecoin connects consumers to over 5,000 manufacturers that drop ship.
New products are showcased, and themed sets and samplers are sold, rated, graded, reviewed & posted. Total testimonials and testing data is sold and traded for tasting product to manufactures involved, but some are transparent. All revenue is shared with the businesses involved. Tastecoin can help small businesses reclaim Main Streets with free new revenue programs, and work with all sized businesses to promote local tourism.  We beta test in the North West area of New Jersey in 2017. Been living with my love Sharon Sullivan for over seven years. We now are in Sparta N.J. and couldn't be happier. Loving life but now time to finally get serious.
Watch my new one-man business grow at www.tastecoin.com
Enjoy Life
JOHN WILLIS
Adderbury, Oxon, Dec. 30
Another Year and it has been very hectic having moved last Christmas. Lynne and I downsized as, with my fractured hip and physio problems, our home of the past 20 years proved too much to handle.
Saddened by the passing of Jack Kindred during the year. Until recently we used to meet regularly once a year in London with Peter Besas and the Graffiti boys, Paul and Nimal. Received our regular phone call from Zoe Hoenig (Martin), formerly of the Paris office where she worked with Ted Clark. She is another in the wars, having fallen recently and hurt her face.
I was surprised to hear from Peter that the Variety closure and the opening of Simesite was so long ago – it seems like only yesterday as I have such fond memories of so many staffers.
So for now every good wish to all who remember me and good luck and health for 2017.
MARGIE PREZIOSO
Sayville, N.Y.  Dec. 31
Just checking in to let you know that the Balan Ladies are all doing well.  Most of us have retired and are enjoying spending time with our grandchildren and/or traveling. Thoughts of Variety always brings a smile to our faces.
Wishing everyone love & laughter in the new year…
ARLENE ROSENSTEIN
New York, Dec. 31
I retired two years ago and I am extremely happy about it. Jerry and I are looking to relocate to South Carolina where the weather is warmer than New York.
Life in the retired lane is wonderful, and we should have been able to do it when we were younger and could have done so much more with the time.
Well, that's all that's new in our lives.
Arlene Kadushin Rosenstein
MIKE SILVERMAN
Scottsdale, AZ, Dec.31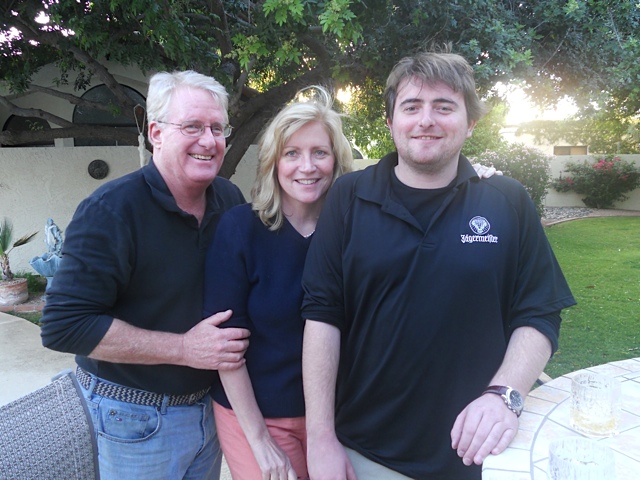 Greetings to Simesiters from Mike Silverman and family!
Can't believe I'm writing this day before New Year's Eve;  I could swear New Year's Day 2016 was just a month ago.  Sure seems like it.
Mike and wife Adrienne (35 years this August!) are doing just fine, along with son Bryan (now 28) and 10-year-old mini dachshund Bailey.
Mike continued working as publisher of Vintage Motorsport magazine, working hours as if it's a daily, even though it's bimonthly.  This happens when you're multi-tasking. Big news this year, the magazine's accountant/office manager left in April, so Mike did the smart thing and hired Adrienne to take over most of those duties, and hired a part-time bookkeeper (1/2 day once a week) to do the heavy numerical lifting.  In the interest of marital harmony, Adrienne is on board part-time, and doing a fine job.  We're just about done redesigning the website (www.vintagemotorsport.com) and eked out a profit this year as we did not have expenses from moving the operation (in June 2015) from Lakeland, FL to Scottsdale, AZ.  Mike likes the four-mile one-way commute, though it does cut down on practicing his racecraft (passing, braking, cornering) on Scottsdale city streets.
Mike made three vintage racing trips this year (as always, accompanied by the Vintage Motorsport vendor booth and those associated duties) as his busman's holiday.  We did Road America (Elkhart Lake, WI) in July, then the Monterey Motorsports Reunion (Monterey, CA) in August and the CSRG Charity Challenge at Sonoma Raceway in California. Happy to report no contact, collisions or black flags (for bad on-track behavior), and Mike's trusty little '57 MGA got thru the season unscathed (other than some bent engine pushrods when some idiot over-revved the engine – oh, wait, that was Mike's fault!). No big wins to report, but Mike did come in 2nd in the all-MG race at Sonoma, his best-ever finish.  Of course, it helped that it was pouring down rain, so only 12 of the 20 MGs entered went out on the slippery track.  Remember, half of life is showing up on time. Except he wasn't;  he had to start dead-last from the pit lane instead of on the track, as he was taking a subscription at the booth and got to the now-empty starting grid two minutes late.
Son Bryan is living nearby in Scottsdale in his own apartment, has a girlfriend Ellie, and is an aspiring great American novelist.  In the meantime, he's paying the bills with his writing craft by creating web content on a freelance basis. Dachshund Bailey serves as the 24-hour Doxie perimeter alarm system for Casa Silverman.
We're all wishing you Simesiters and yours a happy and healthy 2017.  Look us up at the races this year;  if you've never been, you see incredible cars and meet lots of nice people, much nicer than Hollywood agents!  We'll be at Elkhart Lake, WI in mid-July;  Monterey, CA in mid-August, and possibly Houston May 3-5 for the new Auto Corsa Houston at the Johnson Space Center.  It should be a real blast …..off.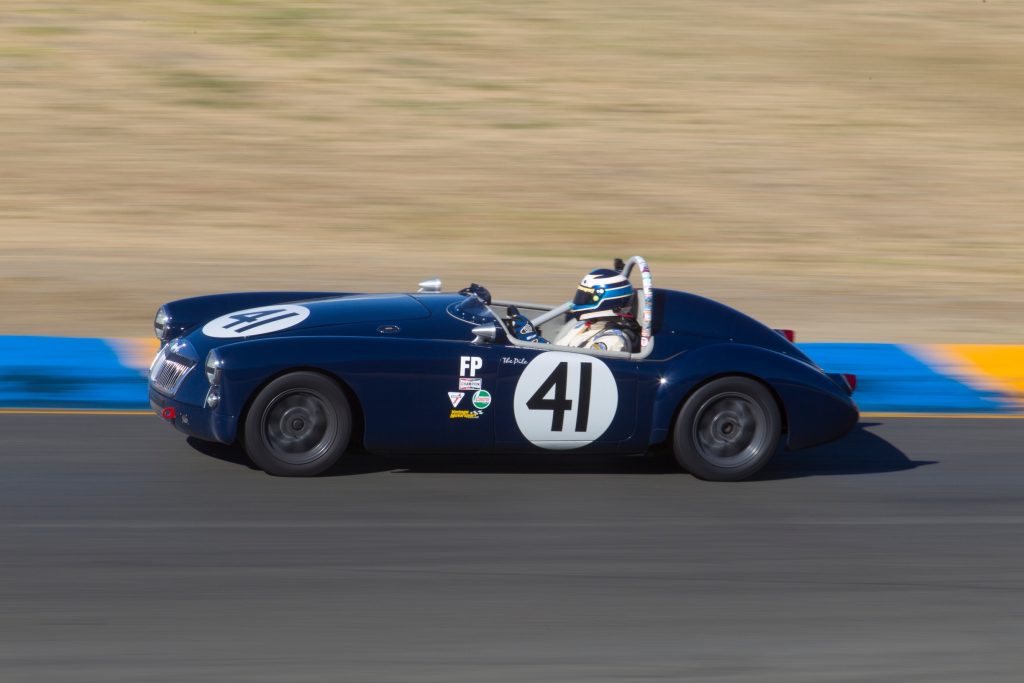 Until next time,
Mike, Adrienne, Bryan & Bailey Silverman
STEVE KLAIN
Plaxtol, Kent (England) Dec. 31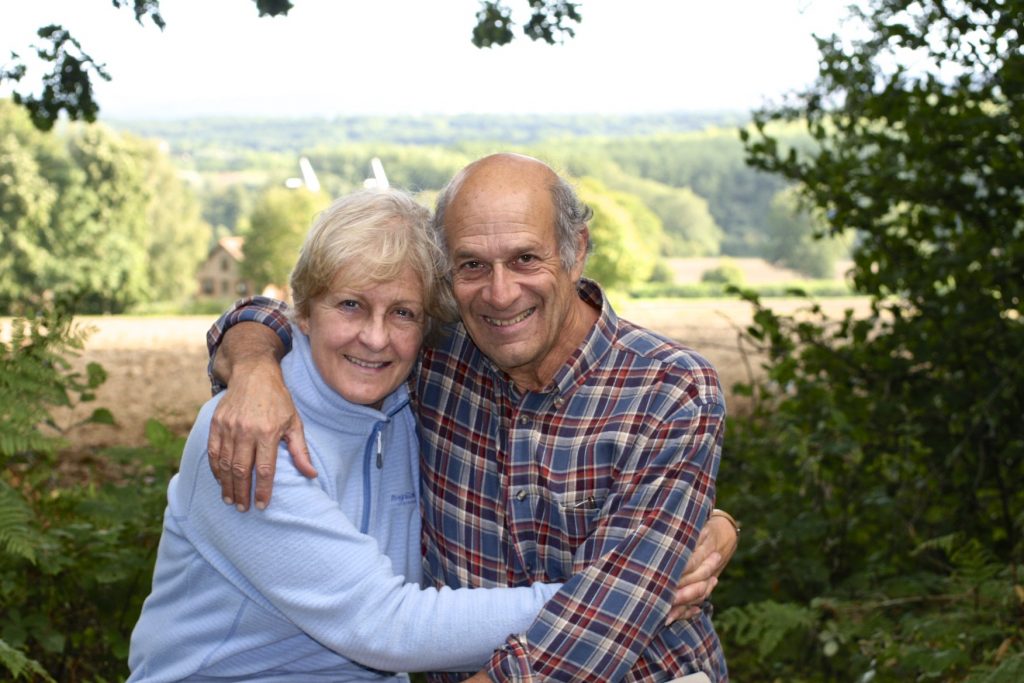 Anne-Marie and I sold our house in Portugal in June, 2015 and are now permanently settled in Plaxtol (sounds like something you'd add to your gas tank) a small village in Kent, surrounded by farms, vast meadows of sheep and a network of footpaths that all lead eventually to one cosy pub or another. We've become very active in the local goings-on, including the dramatic society, community singers etc. We're just a half-hour train ride to London but only venture there once a month or so.
I continue to do training & presentation work for Disney Italy, all from my UK desktop. I originally wrote and conducted a monthly executive training program for them back in 2004, but the program was killed by the crisis in 2008. Fortunately, one of my original students now heads Disney's franchise marketing unit in Milan, so I get regular assignments and a welcome supplement to my Social Security checks. Otherwise, I've been going diligently through my Academy screeners, partly as a way of distracting myself from the reality of the imminent Trump presidency. I'm happy I continue to live abroad, but no less fearful.
I still proudly carry the Variety banner and made sure the old weekly was prominently featured in an adaptation of Moon over Buffalo by the Plaxtol Players in May.
Anyone who is in London or knows they will be there should send me a note and maybe we can meet up. My email: stephenklain@gmail.com.
Many thanks once again to Peter for being the consistent chronicler of an unforgettable institution and its unique staffers.
TOM GILBERT
New York, Dec. 31
I am going on my fourth year on the Business Desk of the New York Post, where I serve in a variety of roles, including copy editing, conceptualizing and assembling art packages and editing the Sunday Business section. I continue to appreciate the Post's similarities to the old Variety — the quirky, sassy tradition and the colorful newsroom characters, many of whom have been there for decades, although several such veterans have retired in just the past year. I feel lucky to still be toiling in print journalism, and hope the Murdoch family continues to see the value of keeping the paper alive in an ad market that looks to be permanently challenged. I stay in touch with a number of former muggs on a regular basis, and am grateful to Peter for maintaining this Site so I can catch up with some others. Happy New Year to all! — Togi.
BLAKE MURDOCH
Sydney, Dec. 31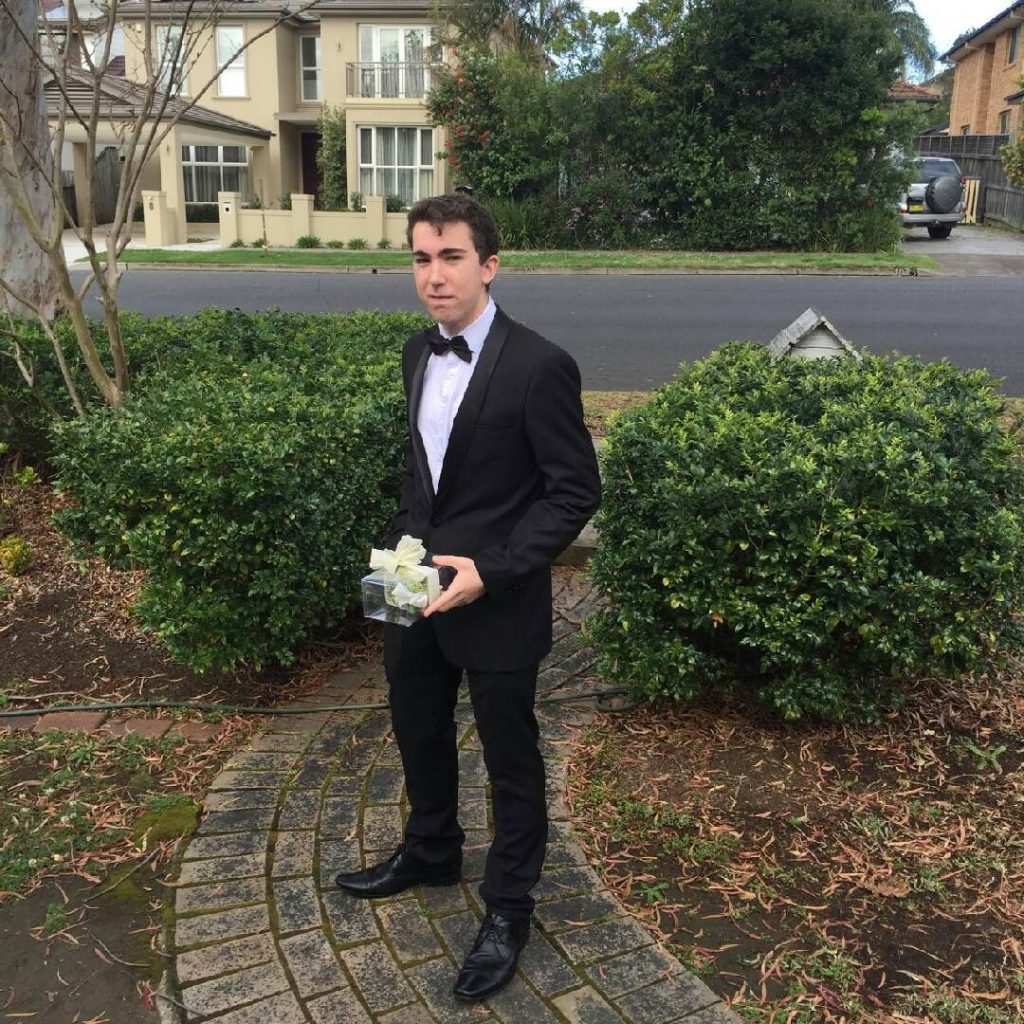 I am still alive and kicking, thank you very much.
2016's highlight wasn't about me but my son, Tom, who turned 18 in June, finished school a month ago and came in the top three per cent of the state's (New South Wales) students in final exams. Not bad given there were 55,000 others!
So I am allowed -briefly- to be a proud and boastful parent, and while he can be a little shit sometimes, I remember being exactly the same at that age (although I had a job at least). He'll be studying economics/arts/ international policy at Sydney University from March and the Bank of Mum and Dad will be shutting down for business. Still couldn't be more proud.
On a personal note, I was lucky to meet a lovely woman 12 months ago to this day (1 January) on a cruise and we've been together since then (although it's a long distance relationship). I put my life on hold for the past couple of years while caring for my father so it's lovely to have a companion again -although I have just "lost" my 18 year old, I seem to have inherited two teenage daughters!  Aaarrggh! But early days yet.
It has been a fascinating year working at Australia's communications regulator: the landscape is changing so fast we are finding our regulatory "toolbox" needs some serious re-working to keep up. But that's an enjoyable challenge, and I still get to write regularly and have a stable job, unlike the continuing death of a thousand cuts here for journalists -mainstream and trade.
Top film for 2016 (as in one I actually paid to see): Doctor Strange. Top TV show (as in new for 2016): tie between The Night Manager and Westworld. Top book: Justin Cronin's The City of Mirrors, the final of his The Passage trilogy. Ridley Scott has the film rights to it -that will be quite something.
All best to all the remaining muggs. Have a great 2017.
SAMANTHA STENZEL
Chicago, Jan. 1
Howdy Muggs,
I am sending this in on New Year's Day, late as usual. I can only hope that Peter and Ian will be lenient editors, usually an oxymoron.
So I'll be brief. I am still writing and reporting, although not at a full time gig. I do a lot of local coverage, some paid, some volunteer efforts. As in most cities, little opportunity exists for free lancers at dailies. Sad to say the Chicago Sun-Times that I contributed to for many years largely through an ethnic restaurant column is just barely hanging on.
I also continue planning itineraries for small groups, several for Greece this year, a long pan-European trip for a family group. I have one group to Cuba in the planning stage now.
I am content in my Windy City, finding it ever-changing and endlessly fascinating. Many of the best parts have remained so over decades.
My plans for an extended trip to Greece have been postponed until this fall or next spring. Some of our group of friends has other obligations so we will wait until we can all make it.
Below is a photo of my friend Audree, on the left, me on the right, canvassing for a presidential candidate in Iowa. In case you are near-sighted like me and can't read my badge, it's a female candidate. And alas-she did not win.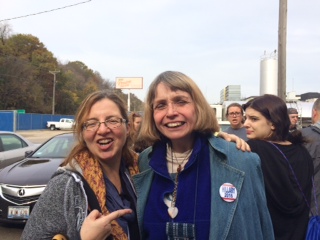 Would love to hear from any former Muggs or get together at a colorful hangout if you pass through Chicago.
Cheers and be peachy keen in '17!
Sam
PETER BESAS
Madrid, Jan. 2
 Besa has managed to get through yet another year in good health despite his hoary age. My secret? To keep physically and intellectually active That means taking a daily constitutional in the Retiro Park and tackling new books to write. (And perhaps smoking a stogie once a day.)
Though most of my time is spent at home in my Ivory Tower surrounded by my collection of antiquarian books, knick knacks and photos of an earlier life (including several group shots with the muggs in Milan and Cannes), I did manage to take a few trips. One was in June to Barcelona and Carcassonne (France) with my small family; another  a week in the Pyrenees during the summer; and a one-week jaunt to New York in November just to see old college friends.
On the writing side, I've spent the year putting together a semi-autographical book called "A Yank in Franco Spain" about my recollections of what Spain was like between 1959 and 1975 when I first got to know the country. I'm now doing the fifth revision of the book and trust it will be published later this year.
Otherwise, I try to spend as much time as possible with my son, Mark, his wife, and my delightful 10-year-old granddaughter who's attending the American School of Madrid. After two years researching and writing his new book on the Madrid Amusement Park, Mark published the work here in November (in Spanish) and it is proving hugely successful. Our project for 2017 is to jointly write a third part of our "Hidden Madrid" (now in its 10th Spanish and 3rd English edition) which will focus on the Province of Madrid.
All best wishes to the Muggs all over the world, especially to those who have kept in touch with Simesite during all these years.
end
MARK SILVERMAN
Happy New Year to all muggs everywhere!  Hard to believe my oldest daughter, Carolyn, was born a year after Cahners came to town, and is getting married this summer.  L-R: Carolyn (28), Alex (26), Melanie (23), Pam (XX), Mark (59) and Olivia (20). 
Carolyn works at K2 Advisors and is studying nights for an MBA at NYU.  Alex is starting a property management company.  Melanie graduated Colgate magna cum laude and is a 4th grade assistant teacher in New Canaan, CT, and Olivia is a sophomore at Colby College in Maine, playing varsity squash and running the Harry Potter Club.  I am the reigning senior golf champ at my club, and am visiting Syd in Boca Raton, FL for his 85th birthday Jan. 23.  We will eat cake, not play golf.
 Wishing you all a happy and healthy 2017.