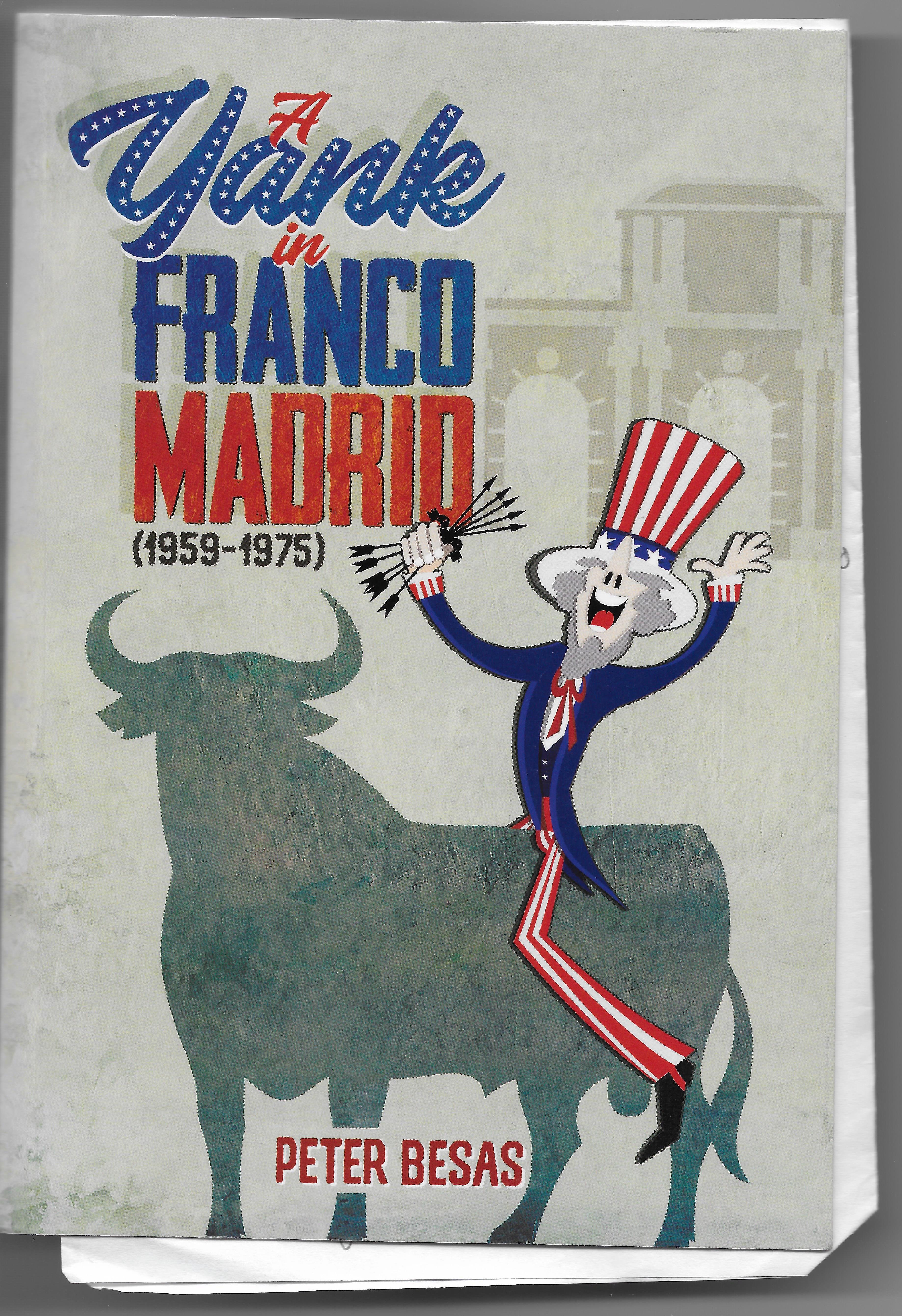 White Plains, NY Aug. 26, 2018
"A Yank in Franco Madrid" by Peter Besas
Reviewed by Bob Marich
Variety's long-time Spain correspondent Peter Besas provides dry wit and keen insight on cultural frailties from decades traveling both sides of the Atlantic Ocean in his new book A Yank in Franco Madrid-1959-1975. The English-language memoir also recounts some of the quirks of the old Variety.
Besas spent most of his younger years, until age 32, in New York City. Always an inveterate traveler, he settled in Spain in 1965.
In one of many societal observations, he affectionally described Spain's machismo culture. "Men would not engage in home-cleaning chores or even carry home groceries as that was women's work," Besas observed. "The idea of (a man) leaving the house without wearing a tailored suit and tie or without his shoes being polished was unthinkable. It was almost a fetish in Spain, even among those whose incomes was modest, to always have one's shoes polished to a sparkling sheen."
The book's title comes from his travels and residence in Spain under dictator Francisco Franco, who ruled from 1939 until his death in 1975. No fan of the dictator, Besas nonetheless gives Franco his due for presiding over economic development and allowing society to modernize. "The first bikini bathing suits started to appear on Spanish beaches," Besas writes of his arrival, as Spain gradually shook off strict Roman Catholic culture. "Virtually no street crime plagued the community, no drug or alcohol abuse was seen, negligible income taxes were paid, no VAT was added to your bills, no traffic jams clogged the streets, and most office workers and shop-keepers still had time to return home at midday for a meal and a snooze." Overall though, Besas gives the durable dictator a thumbs-down in "A Yank in Franco Madrid-1959-1975."
An attraction for settling in Spain was its Western Europe geography and dirt-cheap cost of living. Shortly after Besas first arrived in Spain, he estimates that a humble but satisfying meal cost just 35 cents in 1960 American currency — -a screaming bargain. Besas is twice widowed from marriages to Spanish women, which also explains his settling in the country where he still resides.
Besas made a living writing, including tourism articles, leveraging his command of the English language that was in growing demand as Spain modernized and U.S. military bases had popped up. He self-deprecatingly says that his English-skills trump card made him "one-eyed in land of the blind" and Spain at the time "was an ideal destination for underachievers."
As for hooking up with Variety, he was a journalist with emphasis on travel/culture, translator, radio broadcaster and editor of a local magazine, with no showbiz experience. He heard about an opening for the Variety stringer in Spain during a family trip to New York, Besas recalls interviewing for the job at Variety's iconic office near Times Square in 1969 with publisher Syd Silverman and European manager Bob Hawkins. "The desks and shelves along the windowless walls were cluttered with typewriters, papers, in- and out baskets, reference books and reading lamps," Besas recalls. "The atmosphere was reminiscent of Ben Hecht and Charles MacArthur's famous play and the various film versions based on it, of The Front Page."
Besas grew into the Madrid stringer job, catching the middle and end of the celebrated Spanish location-shooting boom for gritty big-budget Hollywood period dramas. He said of his Variety relationship: "It amazed me that I was implicitly being trusted" and "no contract was signed and I was not asked if I had any college degree or had studied journalism. They didn't even ask for my Social Security number."
Besas took great satisfaction in launching a Latin American section leveraging his Spanish-language skill, after initially being waived off by Variety honchos because of the region's chronic economic poverty. By 1975, Besas got approval for the ambitious Latin special launched with the newspaper's nonchalance that he found humorous. When Besas fretted that he couldn't present himself across Latin America with the underwhelming title of Madrid stringer, publisher Syd Silverman told him, "Well, pick out some title for yourself." Besas had business cards printed out conferring on himself the grand title "Director of Latin American Operations"—making him a sort of a one-man band.
"A Yank in Franco Madrid" is an impressive tome. The writing is polished; there's an index and bibliography and a good many black and white illustrations; and the physical paper is richly weighty, unlike much of today's rag-tag publishing (Besas has authored a dozen or so books, many published by Madrid-based Ediciones La Librería. Prior to that he published an iconic history of Variety, Inside Variety (2000) readily available on Abebooks. However, for the time being, there's no digital edition or print circulation outside of Spain of A Yank in Franco Madrid.
Besas runs a cottage industry writing books about Spain that are splendidly printed on heavy paper stock and in both English and Spanish language editions, mostly sold in and around Madrid. One of my favorites is Nazis in Madrid (2015) a ground-breaking, thoroughly researched and fully illustrated study that recounts World War II intrigues by the Germans in trying to get Franco actively engaged in joining the war on the Nazi side and the Allies' successful efforts in convincing him to remain neutral. The schemes of amusing characters—the dry wit of Besas is well employed–and locales of where subterfuge unfolded are richly documented in Nazis in Madrid.
"A Yank in Franco Madrid" and its Spanish translation, "Un Yanqui en el Madrid Franquista", are readily available in Spain on-line in major bookshops such as El Corte Ingles (www.elcorteingles.es) and La Casa del Libro (www.casadellibro.com).
30