By Frank Segers with Robert Marich
NOV. 12, 2018–Larry Michie–television editor of weekly Variety from 1973 until 1980 where he was part of a triumvirate of legendary TV editors at the trade newspaper–died Wed. Nov. 7 at an assisted living facility in Hadley, Mass.
Michie was 77, and had been suffering from Alzheimers Disease. He is survived by his wife of 56-years, Virginia, with whom he pursued newspaper ventures in Massachusetts after leaving Variety.
New York-based Michie was the third in a triumvirate of Variety tv editors who wielded great influence in their era at the broadcast TV networks, local tv stations and in the burgeoning TV syndication market, when Variety was often the principal source of information about the inside workings of the industry. It was an era when the three terrestrial networks dominated the airwaves and cable TV was in its infancy.
Michie succeeded Les Brown as Variety tv editor, who in 1965 had succeeded the widely-admired George Rosen. (Brown left for a distinguished career at the New York Times.)
Following his departure from Variety, Michie and his wife bought and operated a western Massachusetts weekly, the Shelburne Falls & West County News for a decade starting in the mid 1980s. It was there that the Michies hired a fledgling reporter named Matt Silverman, the youngest son of Variety publisher Syd Silverman, who later became a successful author of books about sports.
Also during this period, Michie, on a freelance basis, editorially organized and wrote for myriad Variety special sections covering foreign show biz. The assignments took him all over the world, from Europe to the Middle East to Japan, Korea and China.
In the early 1990s, Michie and his wife moved to Martha's Vineyard, Mass where he was news editor of The Vineyard Gazette and editor of Vineyard Magazine.
Born in Chicago, Michie was raised by a pair of aunts in Racine, Wisconsin.  He attended Valparaiso Univ. in Valparaiso, Ind. where he met his wife, Virginia, who survives him.
His earliest inroads into trade journalism took place in Washington, D.C., where Michie was a reporter at the trade journal then known as Broadcasting Magazine. He was subsequently hired by Liz and Les Carpenter, who had close ties to the Lyndon Johnson administration and provided news coverage for many Texas newspapers as well as Variety. By the late 1960s, Michie was covering Washington developments for Variety exclusively.
Summing up his career at Variety, "I was 25 years old, and I was covering world events…going to press conferences at the White House…and the Supreme Court to get the latest decisions," Michie told Peter Besas, author of the book Inside Variety.  "I was also reviewing plays premiering at the National Theater before going to Broadway and all of the Kennedy Center opening dedications and performances.  It was a great time to be in D.C."
Michie in his later years was also a novelist. His 2013 science fiction novel, Chasers, is about a futuristic Russian invasion of western Massachusetts, and his novel, The Wars of Warren Temple, follows a weary Union officer making his way to Texas to fulfill a promise to a dying Confederate officer.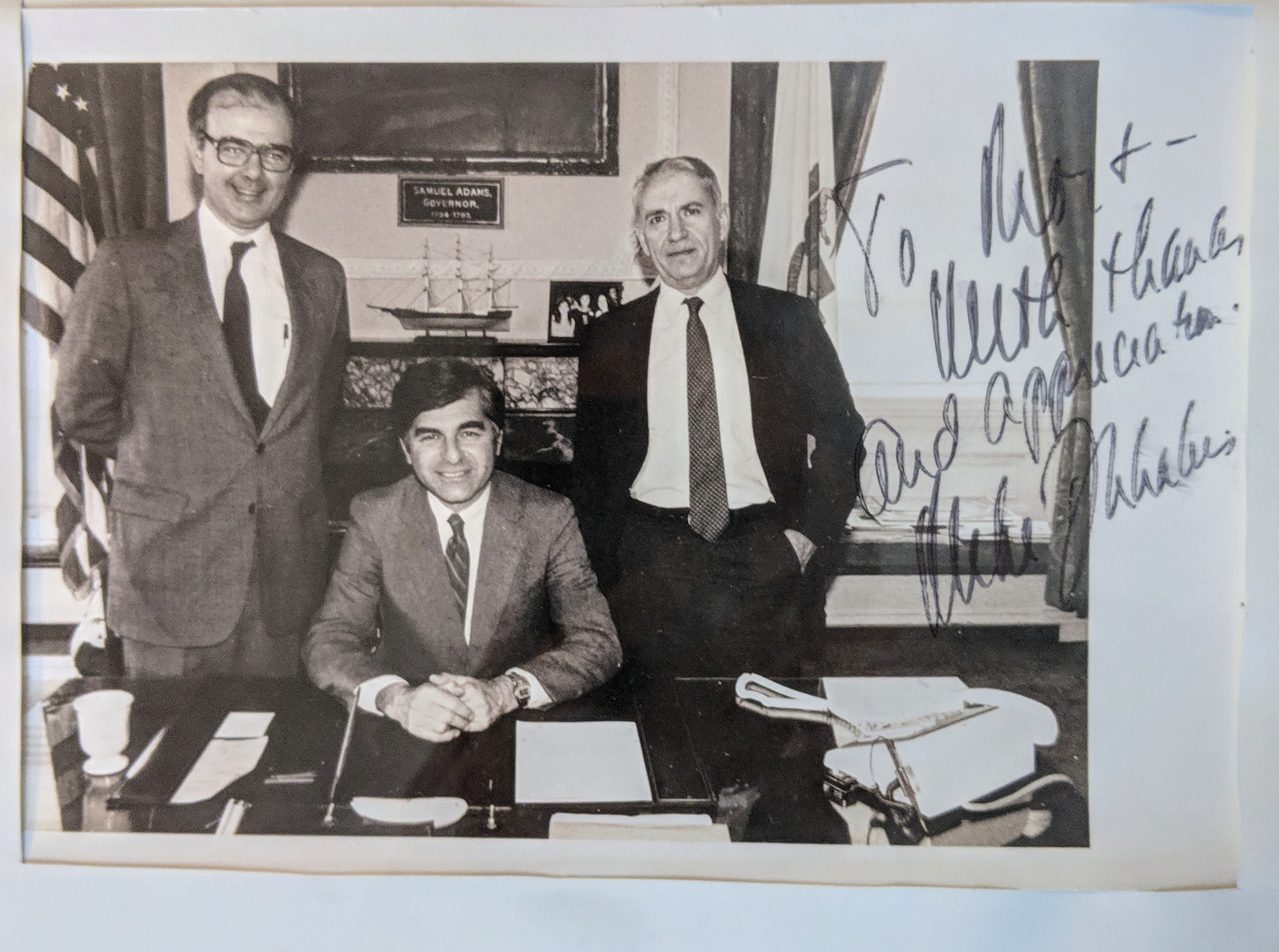 Larry with Mort Bryer and former two-time governor of Massachusetts, Michael Dukakis, who ran for president of the United States in 1988.