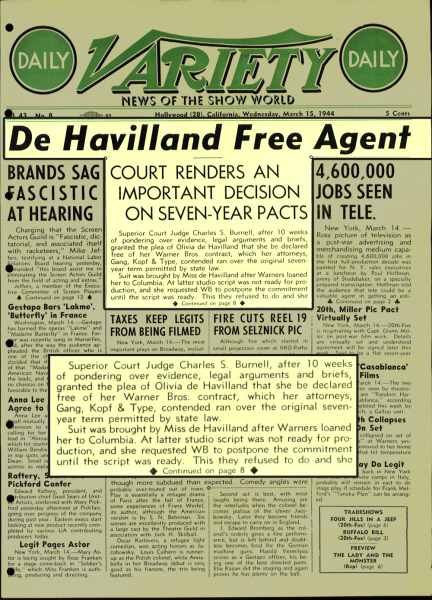 "Variety" was there in 1944 when Olivia de Havilland—who passed away a few days ago in Paris—made history beating the Hollywood studio system on employment contracts.
The two-time Oscar winning actress sued her employer Warner Bros. during World War II after being dissatisfied with roles offered. She cited a seven-year limit to personal services contacts. Earlier, other stars tried to do the same but lost in courts. In 1944, de Havilland won what became a landmark court case, which is still the widely-cited precedent ruling today and is applied across all industries in California, not just Hollywood.
The lead story in the March 15, 1944 edition of "Daily Variety" reported: "Superior Court Judge Charles S. Burnell, after 10 weeks of pondering over evidence, legal arguments and briefs, granted the plea of Olivia De Havilland that she be declared free of her Warner Bros. contract, which her attorneys Gang, Kopf & Tyre contended ran over the original seven-year term permitted by state law." The story is not by-lined and headlined "De Havilland Free Agent".
De Havilland was 104 when she died last week, marking the end of a living connection to 1939 epic "Gone With the Wind" in which she co-starred. She is remembered for being a class act in front of and behind the camera. De Havilland is also famous for publicly rebuking and exposing Stalinist acolytes who were briefly in vogue in Hollywood immediately after WWII.
(The above item was prepared for Simesite by Bob Marich)
How Olivia de Havilland Took on the Studio System and Won