by Bob Marich
Dec. 2, 2020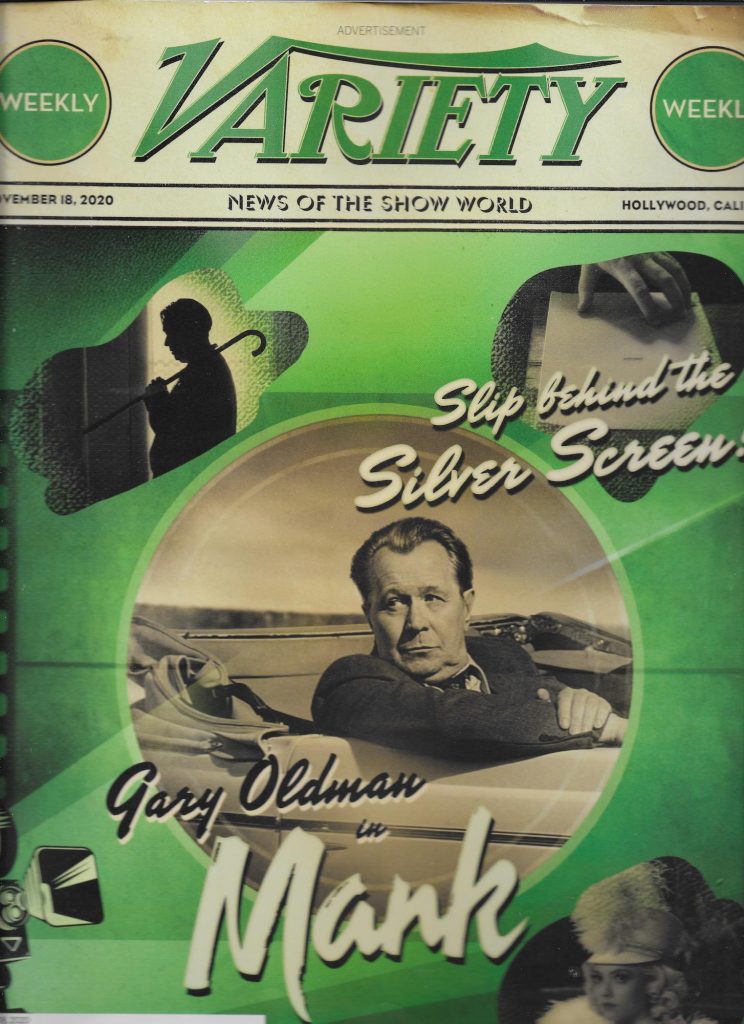 Variety served up its history with a retro cover for its Nov. 18, 2020 print cover date edition. The old-fashioned cover art ties to a story inside about a Netflix movie titled Mank dramatizing the life of Herman J. Mankiewicz (who is portrayed by Gary Oldman). Of course, the real Mankiewicz shared the 1941 Oscar for best original screenplay with Orson Welles for Citizen Kane.
The retrospective Variety cover has the Daily Variety trademark green, though it is presented as the "Weekly". There are faux paper aging touches to make the cover look like it's been in storage since the late 1930s or early 1940s.
As part of the 2020 Variety package on Mank, mugg Tim Gray wrote a sidebar entitled "How Variety Covered the Era of 'Citizen Kane' and Herman J. Mankiewicz" (see excerp below) chronicling the bible of show biz's contemporaneous coverage of Mankiewicz back in the day.
EXCERPT FROM TIM GRAY ARTICLE:
"On March 4, 1942, there was a post-Oscar analysis of the Kane near-shutout, when How Green Was My Valley was the big winner. The reporter (with no byline) said the key factor was the 6,000 extras who voted: "The mob prefers a regular guy to a genius."
"After Mankiewicz's 1953 death, columnist Frank Scully wrote a tribute: 'In money, friendship and talent, he threw it away in buckets. He once lost $60,000 on one gambling binge.' (In 2020 dollars, that's about $1 million.)
" 'Like most of Hollywood's top earners, he had no idea of simple accounting. He recently owed Uncle Sam $80,000.'"
"Scully added, 'Many people must have wondered why Mank took on an assignment like Citizen Kane, despite the fact that it won him an Academy Award. … He must have known that the whole Hearst chain would give him the finger on Kane. But he had amazing spurts of courage and this was by far the bravest of them all."
End