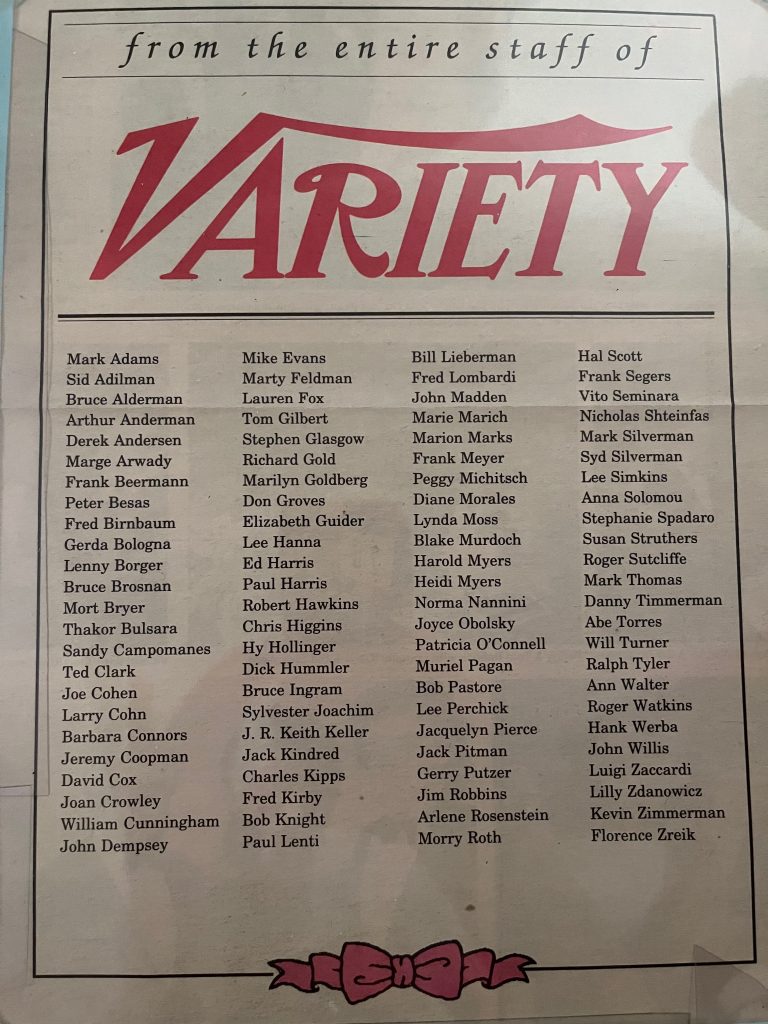 New York, Jan. 3, 2022
Ex mugg Jim Robbins was kind enough to send us (via Norman Scherer) this list of weekly Variety staffers the reading of which may induce a sigh of nostalgia when we see all the names on it, most of whom have now passed away.
Given that the list includes Arthur Anderman and Marty Feldman, it must have been prepared, and possibly sent out at Christmas time, around 1989, after the sale, when the paper had moved its New York offices to 475 Park Avenue South.
The list includes not only reporters in the New York office, but also muggs stationed overseas, such as Roger Watkins, Ted Clark, Hank Werba, Luigi Zaccardi, Jack Pitman, Bob Hawkins, Harold Myers, Jack Kindred, Lenny Borger, Stephen Glasgow and Keith Keller.
Also included are the two telephone operators, Peggy Michitsch and Joan Crowley, as well as the New York advertising staff, including Mort Bryer, Fred Birnbaum and Abie Torres. Also listed are the two office boys, who managed to make the transition from 46th Street to Park Avenue South, Sylvester Joachim and Chris Higgins. And, of course, there is the inimitable secretary and factotum, Norma Nannini, as well as Arlene Rosenstein in accounting and Muriel Pagan in the subscription department, along with a roster of the reporters covering TV and film. In all there are close to 100 names. This surviving scribe remembers almost all of them and can now conjure up their faces as I remember them during the unforgettable years of the Silverman era. What a nostalgia trip!
Thanks a million Jim Robbins and Norman Scherer for saving this piece of memorabilia from oblivion.
Besa