By Robert Marich
April 8, 2023
Warner Bros. Studios ignites a wave of tributes on its 100th anniversary and no one is better positioned than Variety to tell the storied film giant's history from its editorial vault.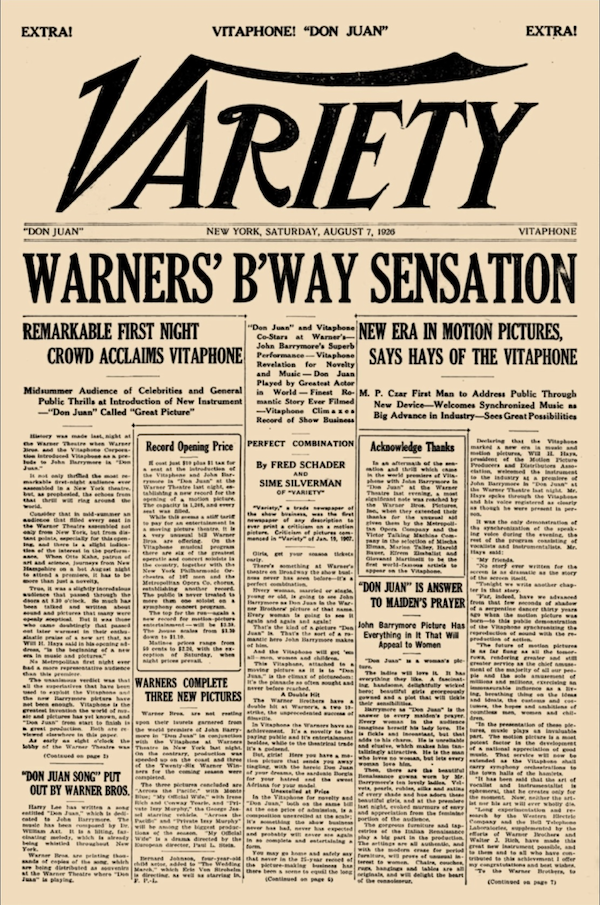 Cynthia Littleton writes a fine contemporary retrospective "Warner Bros. at 100: How a Band of Brothers Built a Storied Studio" about Harry, Sam, Albert and Jack.
Warner Bros. pegs its birthday as April 4, 1923. But, of course, Variety spotted the four brothers much earlier: "The efforts of the brothers Warner began to gain traction — and notice in the pages of Variety — around 1917 and '18 with silents such as Are Passions Inherited? and My Four Years in Germany," says the contemporary Variety story.
The four brothers were in the nickelodeon and amusements business shortly prior to 1900 and silent film exhibition thereafter. They eventually segued into film-making and distribution.
Not long after launching their Warners studio, the contemporary Variety story says, "The brothers bought Vitagraph Studios in 1925 for its sound technology assets — and wound up revolutionizing the film business with the release of the first mainstream 'talking picture,' 1927's The Jazz Singer' starring Al Jolson. (Fun fact: Early on, Variety referred to sound films as 'talkers' rather than 'talkies.')" Sam Warner was the de facto chief technology officer of the foursome.
Variety explained the newfangled "talkers" equipment in its Aug. 7, 1926 edition with text and images. "Variety made a valiant effort to explain how it all worked with this steampunk-esque graphic that ran in our Aug. 7, 1926, special edition on 'Don Juan's' great leap forward," says the contemporary story. Don Juan was a 1926 John Barrymore film that gingerly introduced sound.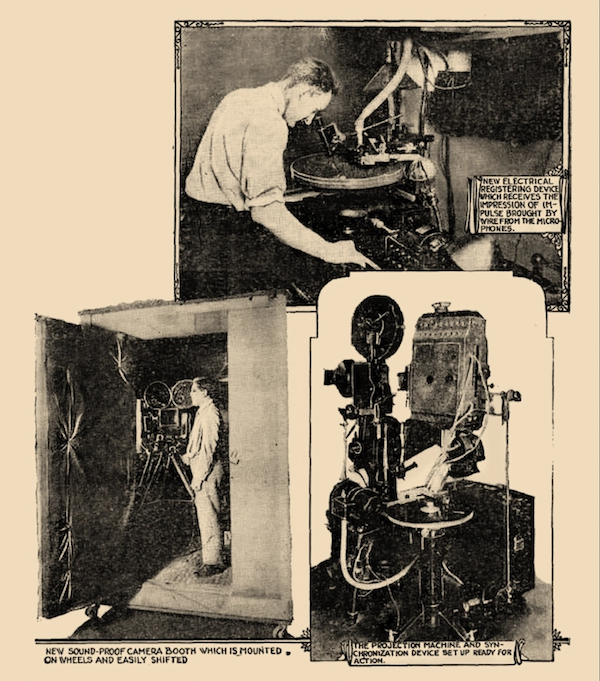 The contemporary Variety story adds: "Warner Bros. pioneered the gangster movie (Little Caesar,' The Public Enemy) and turned Bette Davis loose on-screen in dozens of 1930s films that helped establish the archetype of young American women as tough, smart and sassy — nobody's fools." (Curiously, one of her first roles was playing  the British prostitute in the original Waterloo Bridge (1931) and  Cockney waitress in the 1934 version of Of Human Bondage, starring Leslie Howard!)
In December, Warner Bros. press release kicked off the current year-long celebration of the studio's centennial: "This milestone birthday will be celebrated across consumer touchpoints with special programming and content, exclusive products and home entertainment releases, a dedicated programming page on HBO Max, omni-channel social media campaigns, live events and screenings, and fan-focused activations around the world," says the press release. And watch out everyone! It's Walt Disney Studio's centennial too…
Variety April 6, 2023: Warner Bros. at 100: How a Band of Brothers Built a Cornerstone of Hollywood
https://variety.com/2023/biz/news/warner-bros-100-sam-harry-jack-albert-brothers-1235575598/#recipient_hashed=cad41cee8db1bb1184da9dfc6552b90509e6b89b5b6bfa0176f5656430b0afe3&recipient_salt=02321a9d51d90be3043bb444639069a80193b8eaa220b8d576f76608aa230067&utm_medium=email&utm_source=exacttarget&utm_campaign=filmnews&utm_content=426068_04-06-2023&utm_term=1448659
Press Release: Warner Bros. Discovery Kicks Off Year-Long Centennial Celebration for Studio's 100th Anniversary
https://www.businesswire.com/news/home/20221214005698/en/Warner-Bros.-Discovery-Kicks-Off-Year-Long-Centennial-Celebration-for-Studio%E2%80%99s-100th-Anniversary