Madrid, Dec. 31
Following are the contributions received for Simesite's year-end wrap, listed in the order they came in. Though a good many people declined to send me anything, we do have 25 missives, which is pretty good considering that over a quarter of a century has elapsed since Syd sold the sheet. It's anyone's guess what has happened to those who have not replied or whose e-mail addresses have changed.
Usually a few contributions come straggling in after deadline, and we'll post those as received at the very bottom of the listing.
In addition to the items sent, we have added a few lines of tidbits concerning others that we have plucked from the grapevine, so scroll down to the very end!
The 25 contributors are as follows,
Sandy Campomanes
Harlan Jacobson
David Stratton
Lee Simkins
Mort Bryer
Don Groves
Bob Hawkins
Jay Blickstein
Arlene (née Rosenstein) Kadushin
Hy Hollinger
Edna and Dan Fainaru
Joe Morella
Morrie Gelman
Virginia and Larry Michie
Mike Evans
Fred Lombardi
Margie Prezioso
Mike Malak
Pete Pryor
Norman Scherer
Doug Galloway
Steve Klain
Mark Thomas
Mark Adams
Peter Besas
Marie Silverman-Marich
New York. Dec. 19
I'm thrilled to hear from you. My journey after Variety was something…. After we were sold to Cahners, then Reed Business Information… we were almost laid off last 2011. However, at the very last minute, the new owner of the magazine recalled me and offered me a position. I'm now working for Interior Design, owned by Sandow Media. Our office is in the Time & Life building at 51st & 6th Avenue. Time and time again, I have passed by the old office, which is now a big garage building. Looking at the old location of Variety I'd whisper to myself the great & fun memories I had of Variety. To this day I still miss the old Variety, and the camaraderie we had for each other.
Thanks a lot for thinking of me… and thanks for the love you have for the old Variety. May you and your family have a Merry Merry Christmas and Happy Healthy New Year!
New York, Dec. 19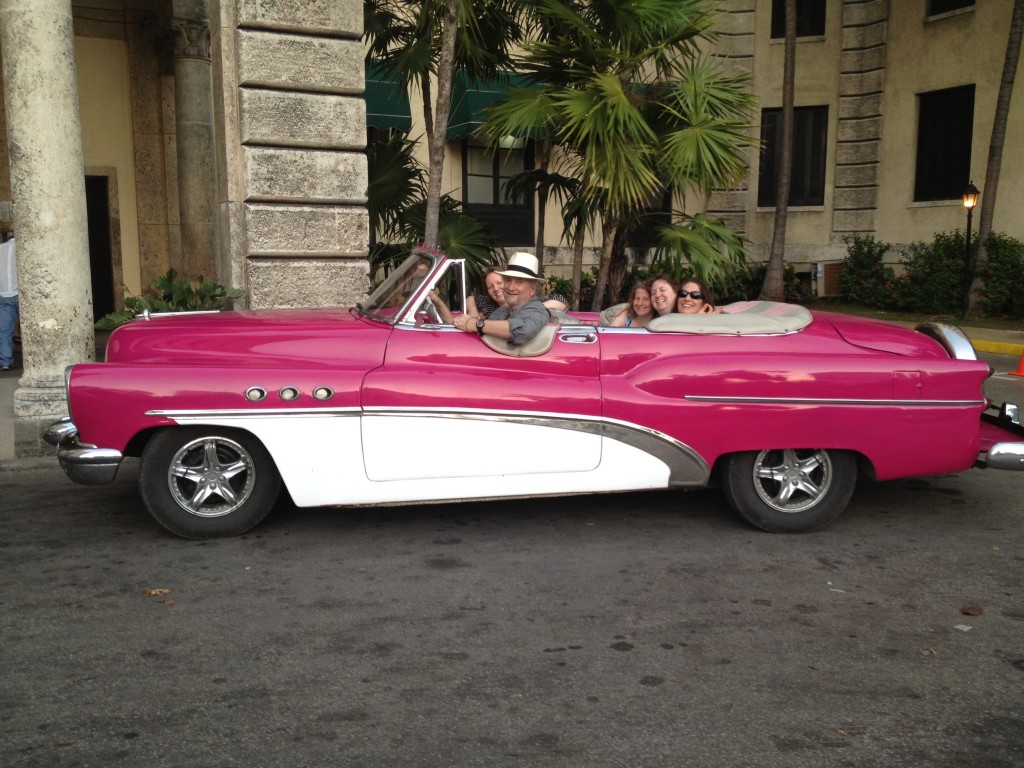 Ex Variety mugg HJ served as chief witness and chauffeur at an impromptu gay wedding on the 2013 Talk Cinema tour of Havana in December. Happy couple in back seat with witch doctor. No business like show business.
Sydney, Dec. 19.
Good to hear from you, as always.
2013 has been a repeat of past years for me. The tv program, At The Movies, I do every week with Margaret Pomeranz on ABC television (21.30, Tuesdays) is, mysteriously, rating better than ever and we've signed on for at least one more year (at the end of which I'll be 75). I also continue my lectures in Film History as part of the Continuing Education program at Sydney University and write reviews every Saturday for Rupert Murdoch's The Australian.
Next year I've agreed to introduce film screenings on a cruise ship again, this time departing Southampton early July and sailing to Iceland, Faroe Islands, Norwegian fjords and then back to Southampton. No TITANIC jokes please.
I'll look forward to catching up with other friends and former colleagues via Simesite's Year End Roundup.
All best wishes,
Strat
London, Dec. 19
Good to hear from you, as always.
It's been a very busy year for me, workwise, with my construction company's turnover increasing by around 30% which has meant it's been pretty much a case of all hands to the pump for most of the last twelve months!
It's not been all work however. I did manage a few days in Moscow in August for the World Athletic Champs and the lovely long summer in Blighty allowed me plenty of time to indulge in my two main passions, namely, golf and horse racing and even though I turned 50 in January, my body still allows me to jog regularly and stay in reasonable shape. Having said that I do plan to eat, drink and be merry over the Yuletide period!
No great plans for next year other than a visit to Switzerland to see some friends and a possible holiday in the Algarve with some golfing buddies later in the year.
I would like to take this opportunity to wish you and all the readers of Simesite the very best for the coming year.
Norwalk, CT Dec. 19.
What I have accomplished during the year 2013? Plenty. I've managed to avoid anything that smelled, looked and was WORK! Just drifting along, collecting pension cheques ( sounds better than "checks" ), checking the market and watching old films on the boobtube. Anybody still out there, in the job market, has my sincere sympathies.
Sydney, Dec. 20
Thanks for the email. Season's greetings and all the best for 2014. Here is my update.
I've had an eventful year. I lost my regular gig filing for Deadline.com when the owner, Jay Penske, decided to eliminate all freelancers outside the U.S, primarily a guy in London and me, as a cost-saving measure after he bought Variety. I doubt the savings had any material impact on the bottom-line but it did signal that Deadline's focus is 90% U.S-centric (leaving international editor and ex-mugg Nancy Tartaglione to cover the rest of the world as best she can). Around the same time I parted company with Australia's SBS Film, for which I had been a regular contributor since it launched more than four years ago. So, having to reinvent my career yet again, I am now writing for Australia's IF magazine and website (if.com.au), London-based C21 Media and Melbourne-based home entertainment mag Screen Print, plus occasional reviews of Oz films for Film Journal International. All that keeps me occupied and able to put food on the table.
Best wishes to my former colleagues from around the world, and thanks to Besa and Ian for keeping Simesite alive.
Dogo
Rome, Dec. 20
Dear all: the Hawk has soon to face the big Nine O and is happy to report to fellow muggs and spread a nice dose of good health and cheer wherever. Stalwart wife Rosella, who like me lives a stone's throw from the Tiepolo foodery (a Rome Variety staple stop for years, now very trendy but with untouched prices for still- fine goods), shares hugs with daughter Carolyn, still based in Vienna with Hubby Freek and 3 brats, while Frederick and Madame Manuela plus two boys are just back from Gotham City and alread settled in a stylish midtown flat.
Links with former Variety colleagues are only occasional, so very welcome, my days mostly close to computer, tv and a copious book shelf. A life-saving live-in caretaker, Ursula, provides a steady flow of magical menus to a very lucky survivor. NOSTALGIA still (more than ever ?) reigns supreme however, mainly for 46th Street, a major happy chunk of a busy multi-national life.
Westchester, NY. Dec. 20
Jay Blickstein is still toiling in the publishing-industry vineyards – but with a twist. He is currently a managing editor at G3 Communications, a custom-content publishing company headquartered in New Jersey. Jay works from home in Westchester, however, and has thus avoided the recent Big Apple-area snowstorms.
More importantly, Jay and the missus will be taking a trip down to South America for the holidays. They will be traveling to Santiago, Chile; Easter Island; and Buenos Aires. Jay will celebrate in style both New Year's and his "landmark" birthday – the Big 6-0 !
Happy Holidays!
New York, Dec. 21
This year was rough. My father passed away in June and I was laid off in September, but all is good. Hopefully I wil have a new job in January. New York is getting its hit of winter – two snow storms in one week, and winter just started.
My niece is pregnant and due in March (can't believe I'm going to be a great aunt).
Still miss the old Variety days – it was the best job ever, and I miss all the muggs.
Wish everyone a Merry Christmas and a Healthy Happy New Year.
Love you all.
Los Angeles, Dec. 22
Always a pleasure to hear from you, Peter. Hope all's well and the books continue to flow.
Having reached this stage of my life, there is very little I can report of my activities during 2013. Gina and I are hanging in and pulling through thanks to Willy, a superb caregiver. However, this may be the time for me to reflect on my years in muggworld and the loveable, talented and eccentric guys and gals I met on this journalistic journey. My thanks go to the Silverman family — Chief Syd, Michael, Mark and Marie — who skipped corporate nonsense and embraced staffers as part of a family. I vividly recall my days on W. 46th St. in the 1950s with Abel Green and Bob Landry and such capable muggs as Herb Golden, George Rosen, Len Traub, George Gilbert, Joe Cohen, Hobe Morrison, Herm Schoenfeld, Fred Hift, Vincent Canby, Gene Arneel, among a host of others. And the foreign contingent I got to know at that time — Bob Hawkins, Harold Myers, and Gene Moskowitz. On my second round on Variety (working in Hollywood jn the 1980s and '90s) I became part of a foreign crew that I would meet at MIFED, Cannes and the American Film Market, a fantastic individualistic, sometimes pugnacious gang that included Hank Werba, Peter Besas, Roger Watkins, Blake Murdoch, Don Groves, Frank Segers, Deborah Young, and a batch of stringers from throughout the world.
My best wishes to the living, RIP the fallen.
Hyho
Tel Aviv, Dec. 22
Great to hear from you. Hope everything is Ok at your end and the slippers are being used only to get in and out of bed in the morning and in the evening, and the TV set is on only when Real Madrid is playing.
As for us, nothing much has changed. We're still chasing rainbows at the film festivals but not really finding them, writing for Screen and publishing our film magazine in Tel Aviv. It would be too optimistic to call al this gainful, but then I am afraid our profession is gradually fading out, to be replaced by a Sargasso Sea of blogs and other Internet ineptitudes, but let's hope it will still survive as long as we do.
Since everybody knows by now how well the trade publications are doing and how intellectually challenging the Hollywood output is right now, just let us wish a Merry Christmas and a Happy New Year, hoping by the end of 2014 we'll have more exciting tidings to report.
Tucson, AZ, Dec. 22
I am indeed working on artistic ventures. as you know Frank Segers and I keep our blog (www.classicmoviechat.com) going… and are working on a scrapbook of classic stars from the 1940s.
I'm giving a series of lectures on what makes a classic… old and new classics — at a new venue in Tucson called Makerhouse… It's sort of a salon bar/coffee house.
I'm also working with friends in Phoenix and LA to get my Christmas play produced in Dec 2014. Let us pray.
Planning to visit Madrid in May.
All the best for the New Year.
Los Angeles area. Dec. 27
As time goes by
You must remember this:
Ol' Man Morrie, that Ol' Man Morrie
He just keeps rollin', he keeps on rollin' along
He gets weary and sometimes so sick of tryin'
He's occasionally tired of livin', but feared of dyin'
Now, the end looms near
As he faces the inevitable final chapter
He says it clear
He lived a life that's full
He traveled many a highway
Always, he tried to do it his way
So where are the clowns?
Quick, send in the clowns
There ought to be clowns
Well, maybe next year
Massachusettes, Dec. 27.
The Michie news this year is mixed and I'll start with the best first which is that we did manage this year to self-publish a book that Larry wrote thirty-some years ago, not long after we moved to western Massachusetts. It first had to be typed into a computer (I remember at the time being very excited to type it for him on an IBM Selectric) which Larry did and then I spent way too long learning various software programs to get it designed and formatted but it is now available on Amazon by searching either Laurence Michie or using this link: http://www.amazon.com/s/ref=nb_sb_noss?url=search-alias=stripbooks&field-keywords=Laurence+Michie&rh=n:283155,k:Laurence+Michie (Title of the book is "Chasers", on sale at Amazon for $13.19, PB)
We're now working on others — he has two that were written in the computer age so they might come next but I'm sort of leaning towards one that he wrote while we still lived in D.C. The impossible part for both of us is doing anything to promote the current book or any future ones — it's just not part of our genetics — but my goal is to see a copy of each of his books on our bookshelves and that is the joy of publish-on-demand. We can have our matched set and worry not a whit whether anyone ever chooses to buy one.
Our unhappy news is that Larry has been diagnosed with Alzheimers and is on medications that are supposed to slow its progress. It's a diagnosis that I don't wholly buy into but there is no question that he has trouble remembering words and writing is not easy; for routine living it's much the same as always — he hears what he wants to hear and conveniently forgets what he didn't want to hear. I think that used to be called marriage.
The fact is we have a very enjoyable, fun life together. We're finally fully settled into our new house and hope it will be our last (believe it or not, this is number eighteen) — it's wonderfully convenient and has a fabulous view of meadows and hills and in the distance, the towers of UMass, plus a nice guest room so ya all come visit!
Happy holidays and good wishes for the new year.
Virginia & Larry
PS As they say in political campaign statements: Mr Michie has read and approved this message.
Alpine, CA. Dec. 27
Greetings and Salutations!!!
Michael Evans, former Variety, Daily Variety, Daily Variety Gotham, eVariety and Variety.com Publishing Director w/stints in the Chicago, LA (2x) and NY bureaus, is still breathing in warm San Diego! Evans now toils for a publishing (San Diego Home/Garden Lifestyles) and television broadcast (KUSI-TV) family-owned operation! Since his 19-year Variety career ended in 2002, he's been involved with owning a FM radio station (timeless adult pop standards format) in Lake Havasu, AZ, and a publisher-type for Palm Springs Life magazine until hitching a ride further west to SD! Evans joined the "fishing off the company pier" Variety romance club by marrying former Daily Variety sales-type Diane (Smith) in 1994 (Her Dad is Steve Smith, former owner of Photographics inside Daily Variety's Cahuenga offices and printer w/C.O.P. for years). They've produced two offspring – Tyler (age 15) and Kennedy (age 12), and enjoy living in the mountainous region of Alpine with their two German shepherds!
Hope all is well with you. Hope your son Mark is continuing the Besas legacy!
Southern Oregon, Dec. 27
First off, to you and all the muggs, best wishes for a healthy, fulfilling, successful and Happy New Year!
Barbara and I, Mink the ninja cat with an attitude, and Keeza the completely spoiled Siberian House Husky are approaching being completely moved to our home in Southern Oregon, where we enjoy our six acres with a terrific salmon and steelhead river running through it. I sold my airplane earlier this year and now spend my leisure time fly fishing and dabbling at being a farm hand.
We still have two properties in the People's Republic of California to dispose of, but the market seems to be picking up and, hopefully, that situation will resolve itself before too long.
Still writing poetry and short fiction with some literary journal publishing success. Who knows where that will lead? And on the few occasions I take a look at Variety and The Hollywood Reporter I feel fortunate to have been associated with them before they became what they are now.
I'm also still dutifully playing classical and flamenco guitar, though Julian Bream, Sharon Isbin and Paco de Lucia need not feel threatened. Their positions in the pantheon of musical greats are quite secure.
We do a fair amount of traveling to the California North Coast to see the "boys" and their families — three beautiful grandchildren now. Whay a joy! Also, up to Gig Harbor, WA, to see Barbara's brother and his family and farther North yet to Seattle to see one of my nieces and her family, and still farther North to Lummi Island in the San Juans hard up by the Canadian border to spend time with my sister and her husband.
Once we get fully settled here in Oregon we hope to be off for Ireland, the U.K., France, Spain and Italy.
Life is a journey, not a destination (we already know where it eventually winds up)!
Our best to all.
Los Angeles, Dec. 27.
If you haven't been to the Penske Variety website you should. It's impressive looking and should sell well. Some of the writers and editors, by the way, have familiar names and honorably carry the mugg bloodlines into the ever-deepening digital realm.
I spent the week before Christmas shooting photos of the beach at Playa Del Rey to go with a piece I'm writing about what the beach town with the same name was like in the late 1960's and early 1970's. I've been working, also, on a pro-bono case involving a lesbian couple's wish to move out of CA with a child one of the duo produced with the child's father.
The law makes for good theatre, TV, films and books. It is, however, only occasionally pulse ripping in real life and a lot less fun than advertising, writing, photography, or most other creative endeavors, though it kills time, lots of it. Well, there you have it. Have a happy, interesting, and prosperous New Year. Ciao.
Elmwood Park, N.J. Dec. 27
I certainly can't complain that I haven't been given enough coverage on Simesite this year with all the plugs for my book Allan Dwan and the Rise and Decline of the Hollywood Studios. But in trying to sell a specialty book I appreciate all the promotion available.
The latest information is that my book was cited early this week by Thomas Gladysz on The Huffington Post site as one of the Best Film Books of 2013. You can access the link to the blog at:
http://www.huffingtonpost.com/thomas-gladysz/best-film-books-of-2013_b_4491272.html
(My book can be seen and critiqued as part of the slide show of cited books.)
My book has now accumulated a nice bunch of quotes on its Amazon site but for some reason, two of the quotations are repeated a second time by Amazon.
My appearance on the Joe Franklin Show discussing my book is scheduled to be broadcast on January 4th at 3 A.M., 1 P.M., 7 P.M. and then later at 1 A.M. (5th) on the Sirius Radio Network. (The times are, of course, when the show begins. I don't know at what time my brief segment will be aired.) Joe's questions came very fast and it was a bit of a sprint to keep up with him.
Unfortunately, I'm currently bogged down with a number of problems and responsibilities that have limited my activities but I'm doing the best I can to resolve them as soon as possible.
I wish everyone the best for 2014!
Sayville, NY. Dec. 27
2013 was a wonderful year for the Prezioso household. I was able to retire in June at the end of the school year. We did a major remodel on our home this summer and it feels like new. In September my husband and I went on tour to England, Scotland and Wales, staying in Ruthin Castle, visiting Oxford University, Bath, Hadrian's Wall and many other delightful places. We enjoyed our day in Liverpool reliving our Beatles days of the 60's. Everyone we met was so helpful… it made the trip special. We are expecting a new member to join our family in June….that will make it 5 grandchildren. Life is good!!!! I wish everyone health and happiness in the New Year.
Think of you often,
New York, Dec. 28
Dear Muggs
In case you don't remember me, I was a long-haired freaky messenger in late 1979 & early 1980 who wore Hawaiian shirts all the time. I started a real estate column in the sales dept for Mort Bryer on press day and did messenger stuff the rest of the week. After a few weeks I sold so many ads that I started selling 5 days a week and got my own desk and $1 a day raise. I took over music, cable and video advertising and created many special sections including Star Wars 5th anniversary (which almost got me fired).
When Variety went corporate I pulled old reviews from Liberty Warehouse where all the old Variety's and Sid's drums were kept. Then worked 1/2 for Bowker and 1/2 for Variety until Bowker got me full time. I made great money doing sales, distribution and promotion but stepped on too many corporate toes so my final job as project development was a joke.
I quit and started Video Oyster creating the collectible video market, and made tons of money selling to the likes of Michael Jackson, Ted Turner, John Frankenheimer, the Weinstein brothers, Keith Richards, Valerie Harper, Richard Gere, Barbra Streisand, Werner Klempner(Klink) and so many others.
Been a long time since I was comfortable writing anything that could have been used against me in my four year divorce. (Never marry a lawyer). I think the last time I wrote was right after my brother-in-law OD'ed from cocaine (and God knows what else he was doing to escape his situation). He warned me about things I promised I would never reveal and he nailed many of them. Anyway RIP Robert Fradin.
Rehab for three years introduced to quite a wild NYC crowd, but I was not allowed to date for the first year and most of the girls I met had problems much worse than mine.
My problems included poisoning for six months (still wary of green tea), five arrests for fictions charges (mostly false claims that I went to her home & office) and watching my kids lie to protect mommy.
NYC History was my love, but love don't pay bills so I developed clothing machine, 4,750 manufacturers now signed up to drop ship product direct to the consumer.
During my time recovering from my first round of rehab, I started a blog and was hoping for it to develop into a reality show but after the blog was used against me in court I dropped the expansion idea. It revolved around 50 New Yorkers that crashed parties every night. We would hit anywhere from a few parties to 20-30 during the furniture convention. Red drinks, blue drinks, pink drinks, clear drinks, crazy times indeed. Between me and my pal John Kelly we could pick up a dozen girls in one long crazy night (He was fired from his bank after one such night with eight girls. (We ended up dancing till dawn). I still get the daily crash list, it still lists tonight's & upcoming parties and RSVP instructions for weeks to come.
One of these parties I met the love of my life, Sharon, and have been living in ecstasy with her for over three years. First in the Lower East Side and then Montville NJ. Suburbia stay at home daddying for Jamie (10) and David (10) and Ashleigh (21) and her living-in cool boyfriend Sergio.
Did some telemarketing for contractors for a boss who turned out to be a thief and liar. But thought of a better way to sell leads to contractors and built that into my business plan. Sharon is Groupon obsessed they make business discount at least 50% and then take 25% as their fee. I came up with a better way and added that too into the business plan. New company is called Indy Boost and it helps small retailers buy as a group and to make new revenue streams from new town roles.
Check out the whole plan at www.indyboost.com. The goal is to give new revenue and new roles to indy stores in every county in every state in the country. Indy Boost tracks new products and trend-related products and uses a buying group to get these products into the hands of future members. Ready to launch in 2014.
This better work and quickly. Unless I sell more Basquiat cards I'm broke and owe American Express $4000. This divorce killed my finances and credit but freedom is so worth it.
OK muggs Happy Hippy New Year.
Los Angeles, Dec. 28.
My wife, Noriko, and I are doing great. She recently retired from her company but hasn't had time to rest on her laurels as she's been enlisted to help take my fledgling company, Hollywood Classic Tours, to the next level. HCT had a boffo summer and the future looks most promising. The link to HCT is http://www.hollywoodclassictours.com/. By accessing the link, one can read the three dozen Five Star reviews I've received on TripAdviser since our official May, 2013 launch.
I think of my Daily Variety friends and former colleagues often and miss long departed friends like Jim Harwood, Will Tusher and Woody Wilson more than I convey here. I miss the Christmas card that Tom Pryor sent me every year from 1985 until his death in 2001. Here's wishing all muggs a fabulous 2014.
Ulgueira, Portugal, Dec. 29
It's been exactly 30 years since I left my seven-year stint at Variety (1977-84) and a week has rarely gone by without something to make me think of 46th Street and smile. Trying to explain the daily joys of tapping away in a raucous, smoke-clouded galley ship with a crew of eccentrics to someone who hasn't been through that virtual world is getting to be a much tougher job. So, it's nice to be on deadline again, communicating with fellow-survivors.
For the past 11 years I've been living in Portugal (where I spent a key part of my childhood) with my second wife, Anne Marie, a Belgian equine physiotherapist.
After leaving the Variety film editor desk in 1984, I spent ten years in mostly international marketing niches at various Columbia and TriStar divisions, then joined Miramax in 1995, heading international marketing there until 2001. After a couple of years of freelance marketing work, film festival organization and collage-making, I relocated from New York to Lisbon, where my family still had an apartment.
In recent years I've consulted with the Walt Disney Company, primarily in Italy, where I wrote and conducted a series of motivational training workshops for the European theatrical arm. I still vote for the Oscars every year, which keeps me happily busy in a comfortable chair in front of the tv screen for many of these cool nights.
Currently, I'm an active farmer with a good-sized field outside my office and a stellar chicken-run with five golden egg machines. We live in a house we built close to the westernmost tip of continental Europe, with the ocean in view and fertile farmland and vineyards around us. We're 15 minutes from Cascais and the Estoril coast, 15 minutes from Sintra and 25 minutes from Lisbon, living at the edge of a tiny stone village called Ulgueira. A world and a couple of centuries away from Broadway.
This sounds like a resumé.
But since I've been a notorious non-contributor to the Simesite and am very shy on social media, I wanted to catch up a bit and assume most of you don't know where I am or where I've been.
Keeping up with you guys is one of my New Year's resolutions. My email is stephenklain@gmail.com and my phone is (351) 914 048 440.
Thank you, Peter for being the chronicler and the instigator.
All best in the New Year,
Step.
Bangkok, Dec. 30.
The past year was a fairly quite one for me and mine in Thailand, but it is ending with a true bang given the deepening political crisis here. This is the first country I have ever lived in where the Democrats are truly undemocratic, and where urban-based students, instead of flooding the streets to protect democracy and the rights of the poor, are demonstrating instead for an end to the democratic system and to protect the rights of the rich and elite. Our office is located near the Prime Minister's office, Parliament and all the other key government institutions, so I continue to have a ringside seat for all that is going on. How it will end no one really knows. My guess is that the millions of less well off people in the country, who are in the majority and strongly support this government, will make their voices heard soon and march on Bangkok sometime early in the new year. The end result may be yet another coup and the establishment of a military-headed council to run the country until elections can be held.
We went to the USA for a visit in July, and through one of those vacation lease services I managed to rent a house for a week in Chicago directly across the street from where I grew up. We also spent a week in a high-rise condo downtown, and took in all Chicago has to offer. I left Chicago in 1970, and at a time when the city was truly in the dumps and the future there looked dim. But I have to say it has made a remarkable comeback and is truly a spectacular metropolis now.
My two boys are now 9 and 14, and the oldest one is about an inch taller than me and still growing like a weed. I retire from UNICEF after about 25 years at the end of next year, and we will probably remain in Thailand depending on how the political situation shakes out.
My best to all the other muggs, and I look forward to hearing how they are all doing.
Best wishes for a great 2014 to all.
London, Dec. 30.
Well…..little new in my world…
Still Chief Film Critic at Screen International and therefore out on the film festival/market circuit pretty much year round, plus am still reviewer for The Sunday Mirror in the UK. Still see various folks on the circuit (from various incarnations of Variety) such as Deborah Young, John Hopewell, Derek Elley and others … but these days things move much more speedily and time to catch up is rarely available.
Hope all good with you. Cheers
Madrid, Dec. 31.
The year 2013 seems to have gone by even faster than the previous ones, which is frightening. In June I hit the Big 80 and celebrated it by flying to New York with my family and hosting a meal in a nice restaurant on Spring Street with a few old friends. After a week in Gotham, we spent a pleasant week in Ogunquit, Maine, before returning to Spain.
Other trips this year were taken within Spain, twice to San Sebastian and twice to Jerez, all by train, since I now shy away from the hassles of airports and air travel.
My books, the ones selling best are those co-written with my son, Mark, are still racking up sales in major Madrid outlets and department stores.
In October I published a little tome called "Old Enough to Know", privately printed in a limited edition and intended only for friends. However, I'm now working on an ambitious work for my Madrid publisher dealing with the Second World War period in Madrid and the diplomatic and espionage infighting between the Allies and the Axis in nominally neutral Spain.
My family and I are well, and my seven-year-old granddaughter, Alex, is a delight. I continue to enjoy my retirement, though I try to keep physically and mentally active, within the parameters I myself set.
May all of you out there enjoy a satisfying and healthy New Year.
——-
From the Grapevine
A Christmas card was received from former Munich bureau chief Jack Kindred who is now living in a retirement home, but still gets out to the horse races… Frank Segers continues to live in Tucson, Arizona, and keeps busy co-editing a webpage dedicated to classic movies… Syd and Joan Silverman now spend most of the year in their apartment in Boca Raton, FL, while Mark, Mike and Marie presumably are well and gainfully employed. Bob Marich, Marie's hubby, who always keeps abreast of the latest developments in the world of trade journalism, often feeds us info concerning the new Variety … Pat Watkins is still living in Birchington in Kent… Lynne and John Willis continue to enjoy retirement on their property outside London, while Paul Constable of Graffiti has moved operations of his company into his own digs in Chelsea… Last we heard from Mel Tobias, he was still living in Vancouver and editing a mag dedicated to the Filipinos in that city.
end
White Plains, NY. Jan. 20, 2014
MARIE SILVERMAN-MARICH
Marie (Silverman) and Robert Marich live in a Westchester suburb and picked up their travels in 2013 with their son away at school. Trips included visiting Syd, who is living happily in Florida. There were other travels all along the Eastern USA, including the Rock-and-Roll Hall of Fame/Museum in Cleveland, and parts of the South as well. Robert occasionally free-lances stories for Variety and went to Beijing to co-moderate a workshop as author of the book Marketing To Moviegoers.
Best wishes to all muggs near and far in The New Year.