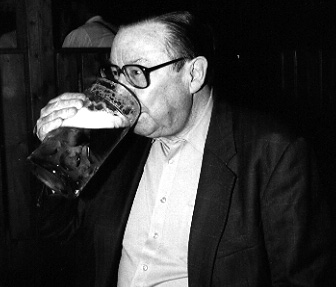 Jack Kindred, long-time Germany correspondent for Variety, died November 19 in Munich after a brief, serious illness. He was 92.

Born April 14, 1923 in Sioux Falls, South Dakota, Kindred served in the US Army from 1943 to 1946. He then studied at the University of Missouri, attaining a Masters Degree in piano and music composition in 1952.
Toward the end of the 1950s, Kindred came to Europe, and in 1963 he joined the international English-language service of the German Press Agency, eventually becoming head of the service for a number of years and in 1966 settling in Hamburg.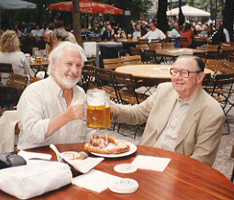 After meeting Ron Holloway, who was at that time the Variety stringer in Berlin, Jack became the stringer in Hamburg around 1970. Later on, for eleven years, he helped cover the Berlin Film Festival for Variety. Eventually Roger Watkins, the European Manager based in London at that time, hired him to be bureau chief of a fully-fledged office in Munich in 1986 so that he might serve as a central, coordinating point for Germany since Munich had become the leading film and TV center in the country. Until then the territory had been covered by Hazel Guild in Frankfurt, Ron Holloway in Berlin and himself in Hamburg, though there had previously been a stringer in the Bavarian capital, Billy Kocian.
It was Peter Bart, who had become editor-in-chief in New York under the new Cahner's regime, that in 1991 went on a ruthless head-chopping tour of Europe and axed Jack, along with Keith Keller in Copenhagen and several other longtime muggs. Jack subsequently started filing for The Hollywood Reporter.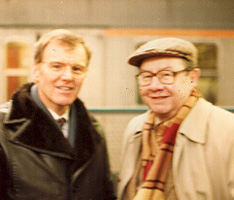 But Jack's attachment to the old Variety remained strong, and he kept in touch with many muggs and ex-muggs (Roger Watkins, Ron Holloway, Peter Besas, John Willis among others). Happily he was able to attend the 100th Anniversary of Variety event that was held in Sardi's in New York in 2005 (he contributed a nice section to the Souvenir Album that was published for the occasion)
Roger Watkins, Peter Besas and Paul Constable of the Graffiti company met him on numerous occasions in London, where Jack liked to play the ponies and always stayed at his favorite hotel, the Athenaeum on Piccadilly. In fact, Jack was the only other person present the day Roger and Peter decided to start the Simesite while sitting in a pub in London near Jack's hotel in 2002. (See the section "About Us" on the Simesite)
Jack met and interviewed many of the greats of Germany's film scene, including Volker Schloendorff, Bernd Eichinger, Gyula Trebitsch and any number of directors of the Berlinale and other film festivals, as well as numerous US film stars during their travels in Germany. Besides the entertainment industry, Kindred's life-long passion was horse racing – an interest that began when he was eight years old, watching his veterinarian father training race horses.

He was known for many sayings, one of his favorites being "I'm just a simple country boy from Sioux Falls, South Dakota." But the many friends that he made in the course of his long lifetime knew differently: Behind the modest façade there was a unique man of great intelligence, humor, charm and sophistication.
Doug Sutton, one of Jack's friends, tells us that he and some others plan getting together at a well-known American bar in Munich, Charles Schumann's, located at Odeonplatz, 6-7, on December 2 for a memorial drink-up. At least two people will be coming down from Hamburg for the occasion.
Doug Sutton & PB
JACK'S OTHER TALENTS
by Peter Cowie
Although horse-racing and the entertainment business were dear to Jack's heart, he practised two other hobbies. One was classical music (he took me to the hear the Berlin Philharmonic one night during the film festival), and he could sit at the piano for hours and play practically anything from Chopin to Scott Joplin. His other skill was on the tennis court. He had reached state level in the US, and would tell me how "Big" Bill Tilden had taken him on his knee and forecast great things for Jack as a player.
Most of all, Jack was a wonderfully gracious human being. When he came to have supper with us in London during the late 1990's, he brought my wife the finest bouquet she had ever seen. We will miss him enormously.
JACK IN EAST BERLIN
by Don Groves
I was privileged to know and work with Jack, a true gentleman, wonderful company and a first-class journalist who was immensely respected throughout the screen industry. I spent many happy times with him in Munich and Berlin (he always had a bed for the visiting Variety rep) and Cannes.
Jack escorted me on my first trip to East Berlin before the Wall came down and was an excellent and knowledgeable guide. We had a few beers in Munich one day with Bernd Eichinger, who clearly regarded Jack with a mixture of great respect and affection. When Jack introduced me to Herbert Kloiber, the response was the same. That was Jack.