By Robert Marich
White Plains, NY January 15, 2022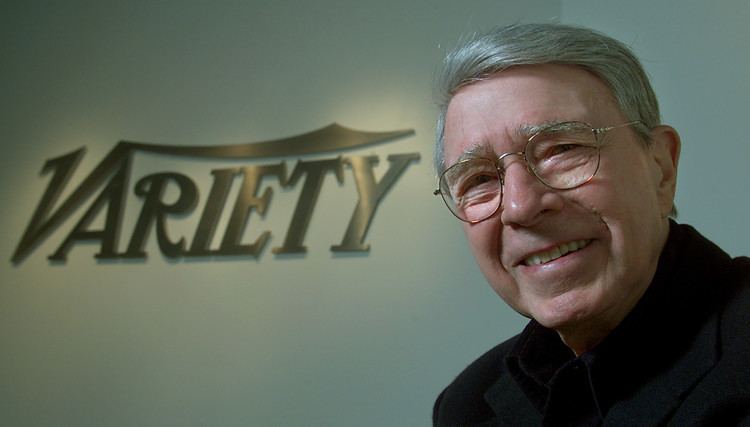 Mining its glorious history, Variety published a remembrance of Army Archerd on the 100th anniversary of his birth, January 13, 1922. Archerd, who died in 2009, wrote the "Just for Variety" column in Daily Variety from 1953-2005.
The 2022 Variety remembrance calls him "the original blogger."
"Archerd's first column, published April 27, 1953, addressed the new sensation of 3-D movies and included 32 other news items – which means he averaged 150 exclusives a week," says the contemporary Variety story.
"And yes, every item was exclusive: God help the poor publicist who double-planted a story with him and another news outlet, and had to face the Wrath of Army."
The article nicely recounts the many highlights of Archerd's 52 years as a Daily Variety columnist. For example, in 1958, he travelled to Rome where he toured the production of Ben-Hur, starring Charlton Heston, including the epic chariot racing scene (the film was released the following year). Archerd "brought the footage he'd shot on his 8mm camera to MGM execs in L.A. Since MGM didn't have an 8mm projector, Army brought his from home; it was the first footage they'd seen of their $15 million film and they were relieved it looked so good."
Perhaps his most famous item — and it was a scoop —was published in July 1985 and reported that film star Rock Hudson was being treated for AIDS in Paris. At the time, AIDS was a taboo subject, but breaking the news in Archerd's column matter-of-factly without blaring headlines was a low-key way to get the word out.
Archerd was in the Hollywood picture too. He did guest appearances as an actor in TV shows and MC'ed the red-carpet arrivals at the Academy Awards.
"On June 27, 1984, Archerd became the first journalist to be given a star on the Walk of Fame; it was in front of Mann's Chinese (now TCL) where he emceed many movie premieres," notes the article. Behind the scenes, Archerd also helped launch "The People's Choice Awards" that began in 1973.
The contemporary article is penned by mugg Tim Gray who joined Variety when it was family owned.
—
To see the original article, click on the link below.
https://variety.com/2022/film/news/army-archerd-100-birthday-variety-1235152
end