Madrid, Dec. 31, 2018
As promised, here are the contributions received by Simesite for this year's wrap. Unfortunately, the number of muggs showing signs of life has decreased somewhat from a year ago. We suppose that some may have changed their e-mail addresses and thus no longer receive our urgings, while the silence of a few others may perhaps be due to illness or death.
Missing this year are entries from Pete Pryor, Edna and Dan Fainaru, Doug Galloway, Tom Gilbert, Steve Klain, Steve Knoll, Fred Lombardi, Mike Malak, Mike Evans, Arlene Rosenstein, Lee Simkins – to mention just a few we heard from over the past few years. Maybe a few entries will come dribbling in after deadline, in which case we will add them to the list.
Meanwhile, here are the 17 entries we have received so far up to year's end from:
Rebecca Lieb
Jay Blickstein
Joe Morella
David Stratton
Mort Bryer
Morrie Gelman
Marie Silverman
Richard Gold
Bruce Alderman
Don Groves
Margie Prezioso
Norman Scherer
Samantha Stenzel
Harlan Jacobson
Paul Rosovsky
Blake Murdoch
Peter Besas
Elizabeth Guider
Tsagarada, Greece Dec. 17
Big changes this year! I ankled Gotham for Greece. My boyfriend (now husband) and I bought a villa in a fairly remote Greek village, Tsagarada, where the centaurs originated. We live on a mountain overlooking the Aegean and are trying to learn to take life more slowly and also do things that are utterly unfamiliar, like garden. We have thus informally dubbed our residence "Greek Acres." I still have a company based in the US and remain a research analyst, author and consultant focusing on digital marketing and media, but I'm eager to wind the career stuff down in the next year or two to return to other interests (like my first love, film). Our home is enormous. Any and all MUGGS who find themselves in Hellas are officially invited for a few days R&R.
New York, Dec. 17
I am still happily retired, working part-time freelance at home. I miss the nostalgia of working at Variety, but not those crazy, full-throttle days and nights!
The missus is still working, with a retirement target date of June 2020. After that, we will travel the world (some more) and truly enjoy life. This September, we went to Sicily for 11 days. The sights, the food, the wine…and the gelato! And 2019 is an even bigger trip for us — Mongolia! Riding on a camel, sleeping in a yurt in the desert, watching the locals do archery and horseback competitions — it should be a blast!
And thanks for keeping Simesite up and running. In this day and age, perspective is more important than ever.
Tucson, AZ Dec.18
Yes, another year has passed. Joe Morella (Rela) here. Although I worked in the New York office briefly throughout the year of 1969 my time at Variety is always remembered as one of the best periods of my life. I've lost some of my lifelong friends (like Johnny Madden and Bill Edwards) that I met there. Still have others… like Frank Segers, who like me has retreated to the sunlit shores of Tucson. I'm sure Frank has regaled you with tales of our website, Classicmoviechat. Our daily ramblings about old movies keeps us off the streets.
Can't be many of us left who remember that seedy green office on 46th St. The platform which held the desks of Abel and Syd, Norma keeping it all going. The voices of Joanie and Peggy up on the 3rd, or was it the 4th floor.
No photos please, let's remember us as we used to be.
Sydney, Dec. 18
I certainly don't want to be 'silent', at least not just yet. I'm still managing to do what I've been doing for the past few years: a weekly page of film reviews in The Australian, plus lectures on History of World Cinema at Sydney University, plus hosting movie screenings on a cruise ship (this summer: Rome-Gibraltar and back).
I had a book published earlier this month – a commissioned work from publishers Allen & Unwin. 101 Marvellous Movies You May Have Missed (their title). 101 English language (with one exception) movies made since 1980 that seem to have disappeared under the radar. It seems to be selling quite well so far.
The TV series I presented last year (David Stratton's Stories of Australian Cinema) was nominated for an international Emmy, but we didn't win. Still, it was nice to be in the running. I didn't get to Cannes, Berlin or Toronto this year, but I did manage to make it to Venice which was as delightful as ever.
May I extend my very warmest wishes to all Variety muggs and to Peter for keeping the flame!
Strat
Norwalk, CT Dec. 19
Mort Bryer reporting in from the Nutmeg State. Haven't been into "The City" in almost three years and don't miss it a tad.
As usual, just loafing, musing, snoozing and almost addicted to YouTube, with its great newsreels of old Nu Yawk, some shots, near the famous Variety building on West 46th. My main activity, dodging scam calls.
Los Angeles, Dec. 20
In 2018 I started exiting 8th age of man, courtesy w. Shakespeare: sans teeth, sans eyes, sans taste, sans everything. Getting there!
Mog
White Plains, NY, Dec. 24
For the Mariches it was a year of fewer trips to Florida, after Marie's father Syd Silverman died in 2017 followed by his wife Joan a year later.
Multi-hyphenate Marie continues hosting, writing and producing community access TV show "This Blooming City" http://wpcommunitymedia.org/community/blooming-city#!mm-71811 for White Plains Beautification Foundation, which creates parks across the city. She also serves on several non-profit boards in the community. Son Nick, who lives across town, works at an assisted living home and goes part-time to community college. Nick's class for "Film 101" almost takes the joy out of going to movies by getting immersed in mise-en-scene, diegetic dialog and other cinema gobbledygook. Bob still freelances for Variety and edits text books on the media biz.
Bob and Mark Silverman broke bread in a Manhattan chow-house in November with Peter Besas on the Variety historian's annual trip to New York, and talked about the old days. The Mariches wish all a blessed and happy New Year.
New York, Dec. 26
I am still an Adjunct Professor of English at Pace University, here in glamorous, glorious NYC, teaching courses in writing through film studies and in critical writing. Also playing a lot of guitar. Very best regards to all!
New York, Dec. 27
My world remains stable as change goes on all around. I'm still at Brooklyn D.A Office and still married living in Washington Heights. Still waiting for an email or call from muggs visiting or living here. Any excuse to go on the town for a drink and reminisce about Variety.
I wish everyone a healthy and happy new year!
Sydney, Dec.28
Thanks to you and Ian for maintaining the tradition of the muggs' end-of-year wraps. I've had a busy 2018, continuing to write for Australia's Inside Film and the UK's C21 Media and managing the Content Café blog for Creative Content Australia, which is backed by the Hollywood studios and Oz content owners including Foxtel and Village Roadshow.
My wife Jenny still works in surgical admissions at Hornsby Hospital. Claudie (26) lives in Melbourne and Tilda (24) loves her job as a paramedic, despite often encountering patients who are drug-affected, aggressive or hostile.
Our big holiday was two weeks in Hawaii to attend a friend's wedding, an American lass who lives in Newcastle and who went to University with Claudie. We had a fab time staying in a condo near the newlyweds resort, the Mauna Lani, on the Big Island and had a good look around the island. Alas the K?lauea volcano was in full flow so we were not allowed within about 40 km of that zone: Hilo was probably the closest we got. We then went to Waikiki…the highlights were a visit to Pearl Harbor and the hike up to Diamond Head. The attached pic shows us among the lunar landscape near the resort.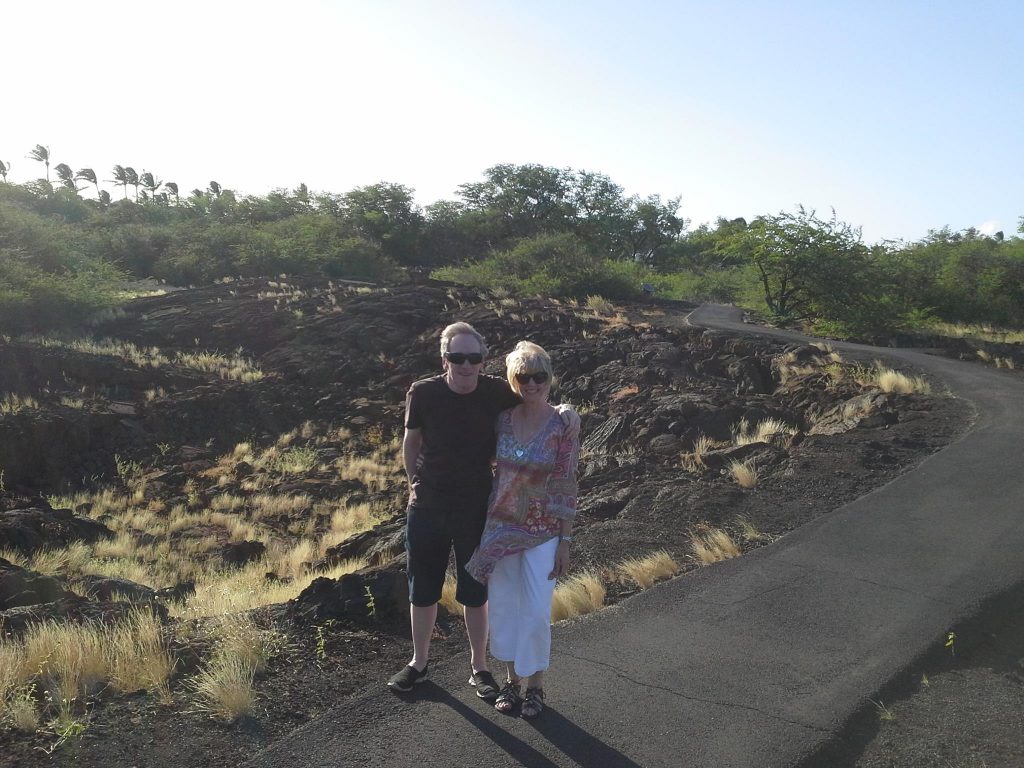 All the best to the muggs and their families for 2019.
Sayville, NY Dec. 28
2018 was a quiet year for the Balan ladies. Most of us keep in touch through Facebook, phone calls and Christmas cards. Our first Balan babies are now in their 40's which makes me feel really old. Now that Carol Borga & Tom Gilbert both have houses on Fire Island near my daughter maybe a summer reunion can be arranged. Wishing everyone a New Year filled with love, laughter and good health.
New York, Dec. 29
Hello Muggs
I was wondering what ever became of the treasures that were once stored in the Liberty Warehouse near Lincoln Center? Syd's drums, bundles of Variety's from the earliest days, and the ark of the covenant itself, the wax- sealed routines from all the vaudeville acts. When I worked on the Variety Review project that Bowker Publishing did, I worked in the Warehouse for a week looking for missing reviews. The history in that room really inspired me to research more of NYC history.
This fall I worked with a dozen main street stores in Newton. I put scented soaps, toys, gifts and a role-playing game I created for a Wizard festival. Last year when it was free, 35,000 people showed up; this year they got greedy and established a $15 wristband policy which scared off everyone. 100 people showed up. I have also been doing Storytelling (see picture). I've distributed hundreds of award-winning and noted picture books to hundreds of local businesses. I created a new storytelling site www.tellitales.com but started a war with Google trying to get the content approved from YouTube. Google ads double billed me and when I canned the charge using Visa, they went crazy. You can only talk to their overseas phone banks who can do nothing to affect other divisions. So I replaced my ads with house ads promoting my other consumer sites and stopped promoting my storytelling site using Google ads.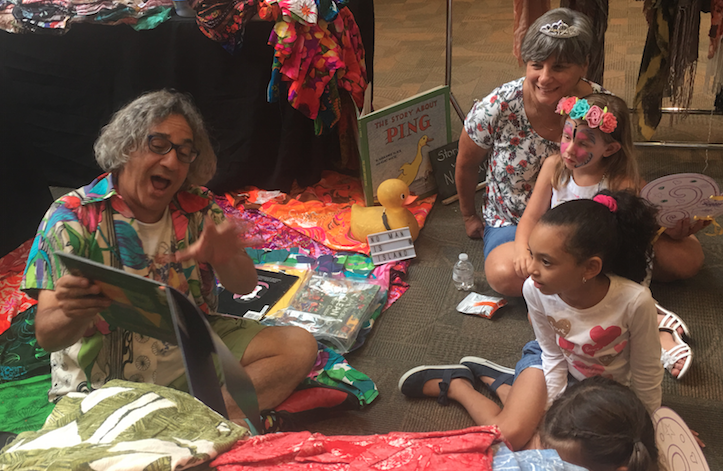 My remaining Basquiat postcards are in the Seoul Art Museum until mid February. I will try to include pictures of them. Just started work with Res Care, being a caretaker to people in need. Love this new direction! I have been selling stuff on ebay to cash in on my Bill Graham handbills & Superman comic collections My New Year resolution is to start writing again. I'm thinking of doing a book about the making of my first book, The Separated States of Amerika. Lets see where the year takes me. Happy Old and New Years to all remaining Muggs.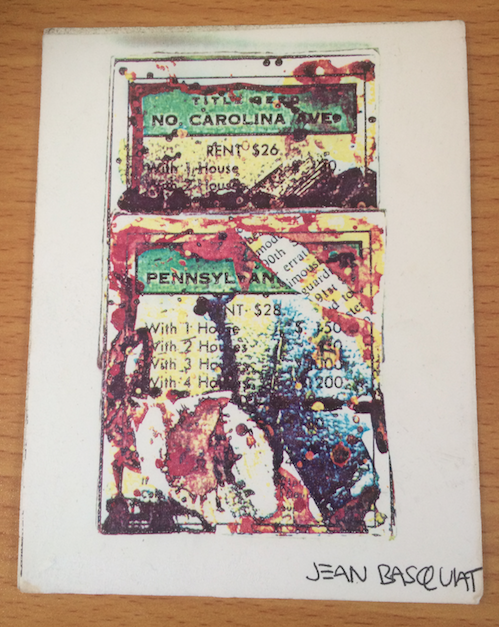 [Besas Note: When Cahners bought out Variety it was one day discovered that each month a minor bill came into the accounting department from the Liberty Warehouse, where items belonging to the old Variety were stored, and which presumably had not been included in the list of assets when the sale was concluded. At that time publisher Gerry Byrne sent Mort Bryer down to investigate the contents at the warehouse. Upon discovering literally hundreds if not thousands of back issues of the paper, most of them from around the time of the First World War, and not knowing what to do with them or if they possessed any commercial value, he had then shipped to the Variety office, located at that time in the Cahner's building on West 17th Street, where they were piled up in huge stacks against a wall. Presumably, at some time, being commercially of little value, they were chucked out.
[What ever happened to the "reserved material" that Norma Nannini kept in filing cabinets back in the 46th Street building, is unknown. The material consisted of sealed envelopes in which vaudeville performers wrote down routines, dialogues, songs and skits they had created, and the date. In case another act tried to imitate or copy the act, the performers could then access the sealed envelopes held in the Variety office and prove that they were the legitimate owners of the material.]
Chicago, Dec. 31
Howdy former Muggs,
I am still happily ensconced in Chicago, my Sweet Home. I am right now in the clutches of an Internet snafu, perhaps engendered by Siri, ruffled because I never talk to her.
Despite a number of challenges in the social and political environment, it has been a good year. I will give a brief report of what I am up to, would like to delve further into some areas in later submissions to the website, if Peter is open to them.
I once again volunteered and campaigned for political candidates, this time for midterm elections. The results were far more gratifying than two years ago – praise the Lord!
I no longer organize and lead small travel groups but still plan individual and group itineraries. I tend to think globally but mainly travel locally in the U.S., which has been very enjoyable. I free lance as a writer and editor, sometimes paid gigs, sometimes volunteer projects for causes I believe in.
Our print market here, as everywhere else, has drastically declined. I contributed for many years to the Chicago Sun-Times. It is now just barely hanging on and the Chicago Tribune is not faring much better.
An encouraging sign has been the emergence of very lively and well-written hyper local news outlets.
I am an avid reader, get newsbits that would never be covered in the mainstream dailies. DNAinfo, published (but not edited by the Ricketts family) was around for four years, unfortunately was discontinued. A spin off, Block Club Chicago, has taken up the slack and has the same high quality coverage.
The Chicago Reader, an alternative weekly, now in its 47th year, returned to its independent base and continues to offer insightful, well-written pieces, augmented by a flourishing blog site.
I also read a lot of books, fiction as well as many non-fiction about local history, endlessly fascinating to me.
I look forward to reading Peter Besas' new book A Yank in Franco Madrid. I know It will be an engrossing read, I will learn many things and also find parallels with my experience emigrating to Greece. Peter sent me an email from Rebecca Lieb, formerly of NYC, who has, as she put it in Variety slang, "ankled" the Big Apple and moved with her husband to live in a villa in Pilion, a remote and very beautiful area of Greece.
I had distinct pangs of nostalgia (a Greek word). I spent 13 very interesting and life-transforming years in Greece. Today in Chicago it is grey, chilly and raining. In Greece, the halcyon days just ended, a two week period in December, said to be balmy and calm so the kingfisher could lay her eggs in nests floating on the water.
This, however, is the city I love and find endlessly fascinating despite often daunting aspects. As Nelson Algren, one of our favored sons said about the city in Chicago, City on the Make: "Yet once you've come to be part of this particular patch, you'll never love another. Like loving a woman with a broken nose, you may well find lovelier lovelies. But never a lovely so real."
I have a brother and he and his wife live in the Chicago area. I do not have children but have two wonderful godchildren. I am also blessed with a large circle of friends, an extended family. Some of us go back 50 years.
Fond greetings to all and thanks to Peter and gang at Simesite for keeping people in touch.
Please contact me if you are coming to Chicago (samodyssey@aol.com), even if we have not met before. I can show you some of my hidden gems.
Happy New Year, wishes for health and happiness, Cheers to Auld Lang Syne,
---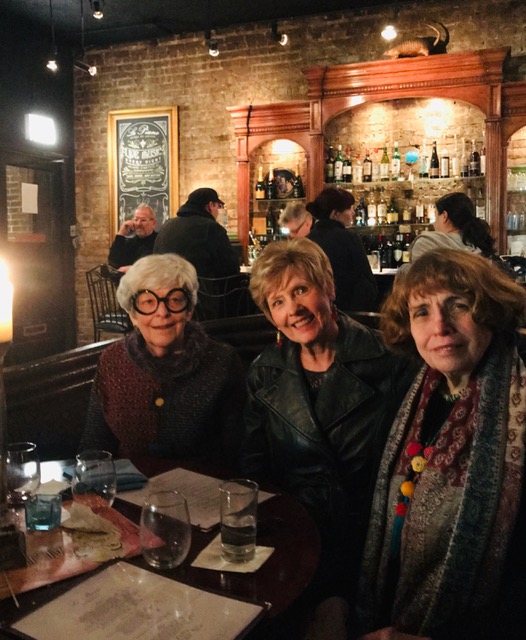 This is a recent photo of me with two of my favorite traveling companions at Le Piano, a Parisian style piano bar, on the north side of Chicago, not far from my home. They came to visit me when I lived in Greece. And then helped me with research for my contributions to travel guides including Fodor's, Rough Guides, Insight Guides etc. Left to right, Nancy Breseke, Jan Valukas, Sam Stenzel.
Croton-on-Hudson, NY Dec. 31
Talk Cinema abides, the series of sneak previews and post-screening discussions around the U.S., now in its 27th year.
We moved out of the Walter Reade in Lincoln Center to The Roxy in TriBeCa. And continue in Philly, Bryn Mawr, Highland Park IL, Edina MN, at the Speed Museum in Louisville and The Scottsdale Center for the Performing Arts. In 2019 we return to the DC area with the Washington Post as our presenting sponsor, and Post film critic Ann Hornaday as the lead host and speaker at screenings.
This past year people saw pre-release screenings of The Square, Lady Bird, I Tonya, A Fantastic Woman, Borg/McEnroe, The Rider, The Florida Project, and from the current season, 8th Grade, Shoplifters, Stan & Ollie and Gloria Bell, among others. And Talk Cinema travelers went to film festivals: SXSW, Cannes, San Sebastián and New Orleans, the latter where I hosted a screening with Tim Blake Neison of his new comedy, The True Don Quixote, filmed down in the Big Easy.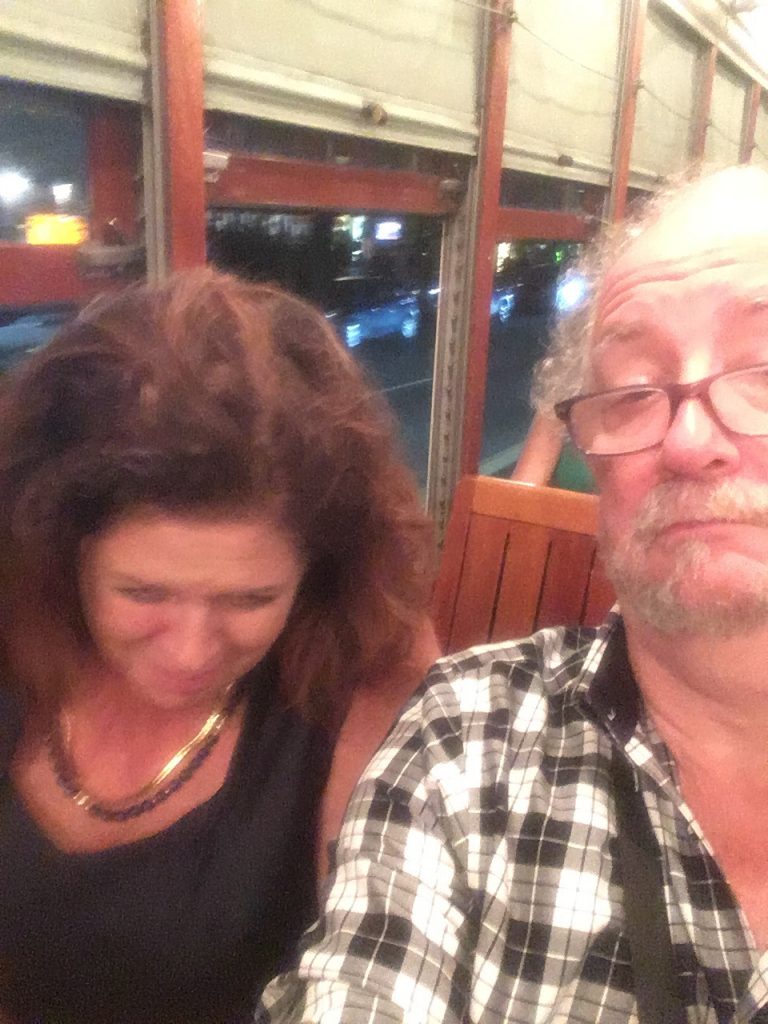 Fresh Meadows, NY Dec. 31
I am still working in technology-related security and compliance, mostly for healthcare or start-up technology companies in need of risk assessments or SOC2 gap analyses for compliance purposes. Not too exciting but I know what it feels like to be a proctologist (not the medical procedures part, just how no one wants to talk to you until an emergency arises).
Very sorry to have learned of the passing of Syd, Hawk, and others. Maybe we can have a get-together some time that isn't a funeral.
I still hold that Variety (in the good old days) was the best first job I could have gotten.
Formerly — Roso.
Sydney, Dec. 31
The year was of incredible contrast for me.
I took a voluntary redundancy from the Australian Media and Communications in July – time to leave and get paid out quite nicely. I have now begun as chief correspondent for an Australian newsletter, Communications Day, which focuses on telecommunications and is incredibly influential in that sector and government. So back into the journalism world after 14 years of being on the other side! It's a lot of fun and nice to be writing again for such an important industry. The publication punches way above its weight and has a direct line, literally, to the Prime Minister and all major telco heads.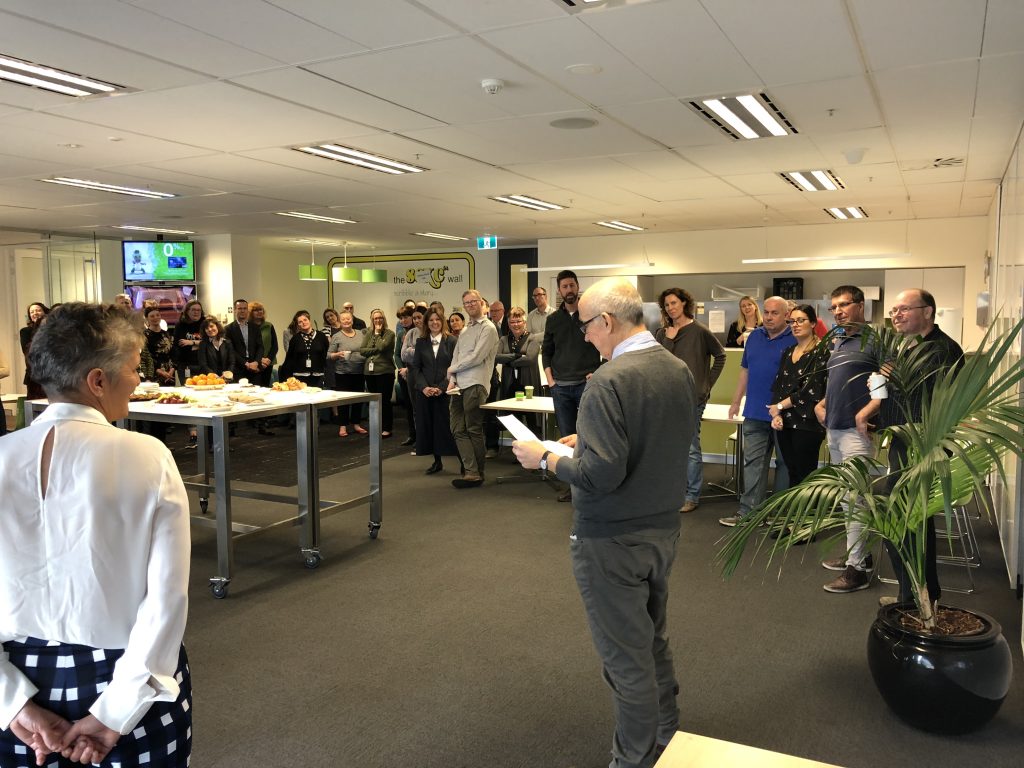 I've also had some health issues with my liver, thanks to a lifetime of journalism, so after various hospital dramas I'm trying to keep on the straight and narrow. Boring.
And most importantly I got engaged, after 15 years of being single! I met Natalie three years ago on a cruise: she proposed to me on a cruise late last year and we'll be married on a cruise in 2020. And I have inherited two teenage daughters. (That's fun:). My son is thriving at 20 years old and is looking at overseas placements from university – unfortunately he's doing communications, despite the industry here collapsing, but he's having a great time, and that's the most important thing.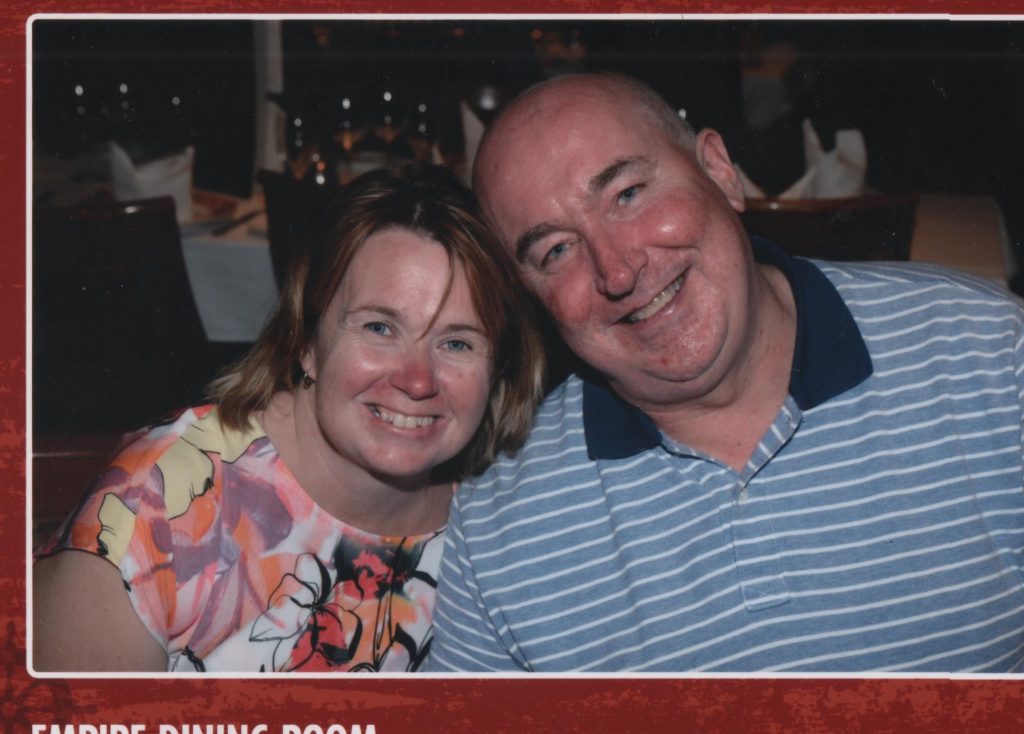 I hope all the muggs are well and all best for 2019.
Madrid, Dec. 31
This past year went by like a whiz and I fear 2019 will go even faster.
I managed to get in two international trips in the course of the year. First was to Lancastershire in northern England in July to visit a friend there. Driving on the left in a clutch car on narrow roads was nerve-racking, but I managed to get a peek at the Lake District, amazingly crowded with foreign, mostly, Asian tourists, a far cry from the early 1980's when I had last been to Windermere and Ambleside, which were delightfully unspoiled in those halcyon days.
In November I flew over to New York for a week, just to look up old friends, but did manage to get in a meal in a coffee shop with Mark Silverman and Bob Marich. One night while there I even got caught in a snowstorm while trudging about in Greenwich Village.
Bookwise, I published two works (four if you count the Spanish translations of the same). The first, the semi-autobiographical A Yank in Franco Madrid, was kindly reviewed on this Site by Bob Marich. The second, Hidden Madrid 3, was co-written with my son Mark. It is the third of a trilogy, which this Yuletide season has been sold as a box set in and around Madrid. The series zeroes in on the city's oddities, curiosities, history etc. The first two books of the series have been local best-sellers for the past decade.
Otherwise, I happily seem to be in good health and will continue to "service" the Simesite for the coming year, together with help from our "man in London", Ian Watkins.
Los Angeles, Jan. 2
First, Happy New Year to all the muggs whose interesting accounts of life beyond Variety I look forward to reading. As for moi, I'm still doing some entertainment freelancing out here in Tinseltown, the biggest news of the past year being the takedown of so many executives, actors and other creatives by what has come to be known as the #metoo movement. And to think what a mainstay of Variety film reporting was Harvey Weinstein and of Variety TV reporting, Leslie Moonves. Needless to say, there's not been a dull week out here in the last 12 months.
Aside from the occasional journalism piece and a few jaunts to my favorite spot on the California Central Coast (hence the photo), I've been spending a good bit of time Down South (namely New Orleans and Vicksburg), where I try to concentrate on my novel-writing ( and not late nights in the French Quarter)! My third book, called Connections, is a family saga focused on two sisters born in 1950 who take radically different paths. One of them ends up in NYC and the other in Hollywood, on the fringes of the film biz, as it turns out. Go figure, huh?! It was published back in September, and since book publishers are almost as relentless taskmasters as newspaper editors, I'm already well into a fourth opus.
Film-wise I've hardly gone to the hardtops at all this year, preferring to stick with Netflix, and concentrate on a few favorite TV series — like The Crown, The Affair and Stranger Things. Taking in a few Oscar contenders is usually worth the effort, however, with Green Book, Roma and the latest version of A Star is Born all quite enjoyable in their different ways.
Finally, I didn't get around to doing any international traveling in 2018 but plan to get back to Europe, especially my old haunts of Rome, Paris and London in the fall and to NYC this spring. I will make a point of checking out the site beforehand as it would be fun to re-connect with whomever of you is up for it and available. And naturally, if any of you find yourselves in Los Angeles, please do get in touch. My coordinates have not changed: elizabethguider@hotmail.com is best. To everyone, take care and enjoy yourselves.
end