As the year 2015 ends, we are gratified to see that we have again, after a bit of nudging, garnered no fewer than 23 responses from muggs all over the world for this year's Simesite Wrap, (plus two latercomers). That still leaves a lot of people who haven't answered, so we have supplied a list of the "missing" at the very end of the section. Should anyone have information or the latest contact or e-mail address for any of them, please forward it to us. Some may have shuffled off through the Pearly Gates, but others may simply have changed their e-mail addresses, especially when these were company addresses, rather than personal ones.
Here, then, are the replies we received, in the order in which they came in:
REBECCA LIEB
New York City
Hello, hello! Holiday greetings to all, and best wishes for a happy and prosperous 2016. And thanks, Peter, for doing the heavy lifting!
Quick personal update: professionally, I'm still All Media, All the Time, but my focus these 15 years or so has been digital media and marketing, not film and TV. I've edited some of the major trades in those fields, and more recently have transitioned to being a research analyst and author (two books), as well as strategic advisor, on digital media and advertising with a focus on content strategy. I do a ton of public speaking which keeps me constantly on the move.
I'm based in New York City and would love nothing better than to lift a glass and reminisce with nearby MUGGS, or (as Jack Kindred used to say) "visiting firemen." Please connect with me on Facebook, LinkedIn or on rebeccalieb.com.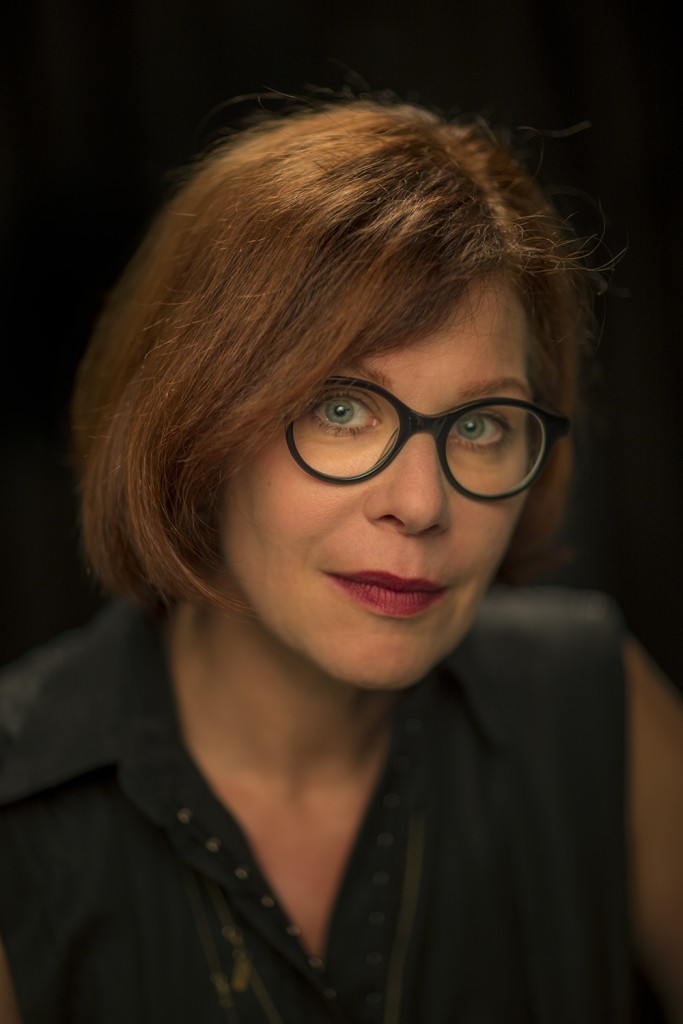 DAVID STRATTON
Sydney
Thank you for keeping up Simesite – much appreciated!
Here are a few thoughts from me:
As I reported last year, I retired from my weekly television film review programme at the end of 2014, but that hasn't resulted in a quieter life. I'm still lecturing on film history at Sydney University, and for the past year have been concentrating on films of the early 1950s (3D, the advent of wide screens, the start of the exodus of Hollywood talent to Italy etc.) I also still contribute a weekly film review to The Australian, this country's national broadsheet.
In July, I hosted movie screenings on a cruise ship that sailed from Barcelona to Istanbul by way of Cannes, Genoa, Rome, Sorrento, Crete and the Greek Islands. My aim was to screen films that complemented our location: To Catch a Thief in Cannes, Zorba the Greek in Crete, Topkapi in Istanbul and so on. It was great fun.
Oh, and in the New Year Honours I was made a Member of the Order of Australia, an award approximately on the same level as the British OBE I'm told. It was fun to hear my 'accomplishments', including my authorship of the book I Peed on Fellini, read out to the distinguished audience in Sydney's Government House!
On another note, I was deeply saddened to hear the news of the death of Kind, Jack Kindred, who was a good friend and colleague and a true gentleman.
Best wishes to all muggs!
Strat.
BLAKE MURDOCH
Sydney
Not much to report this year, which I think is a good thing in terms of health and life dramas! My job at the Australian Communications and Media Authority has been challenging with cuts to the civil service, government reviews and seemingly constant re-structuring. So I remain head down, writing and digital publishing. In these days, to get paid properly for writing — the professional joy of my life — is not to be taken for granted.
Obviously some sad moments with Hyho and Jack K passing away. I very fondly remember rooming with Jack at Cannes, often to be woken up with a loud shout of "Scheisse!" when he'd dropped or couldn't find something. As for Hy, well, he's responsible for getting me back into the game at the Hollywood Reporter in 1993 after being chucked out of the Sydney Variety bureau. When I worked in LA for THR, before I got my Calif. licence, Hy would drive me to the office. Utterly hair-raising… Although it makes you realize a lot of muggs have a very long life-span!
For next year my main focus is some personal writing possibly for publication, and getting my 17 year old son Tom through his last year at high school (college in the US). And I'm embarking on my first ever cruise — to the South Pacific — with some friends after the Christmas break. I have no idea what to expect, but will be writing a diary.
Happy Christmas to all my fellow muggs and I hope 2016 is rewarding, healthy, and fulfilling.
Cheers,
Doch.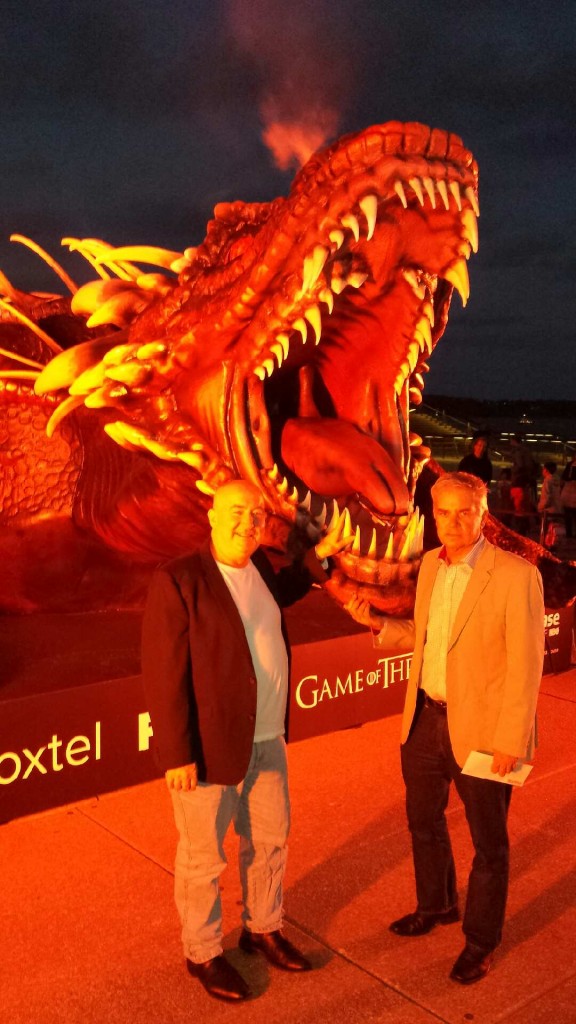 PS: My photo is from the Game of Thrones series 5 launch on the steps of the Sydney Opera House earlier this year. The dragon belched steam and rolled its eyes every few minutes. PR doesn't change!
HARLAN JACOBSON
New York
Here are two pics of me then, as you knew me, and now in San Sebastian at the last film fest where wife Susan and I took a Talk Cinema group.
Son Samson is a location manager in NYC production.
Daughters, Elodie and Blaise, are both upstate at SUNY Geneseo.
Susan and I are headed to LA for Feb-March to sidestep the last of winter in the Northeast and learn to love El Niño.
Hope you are all well and good.
Jac.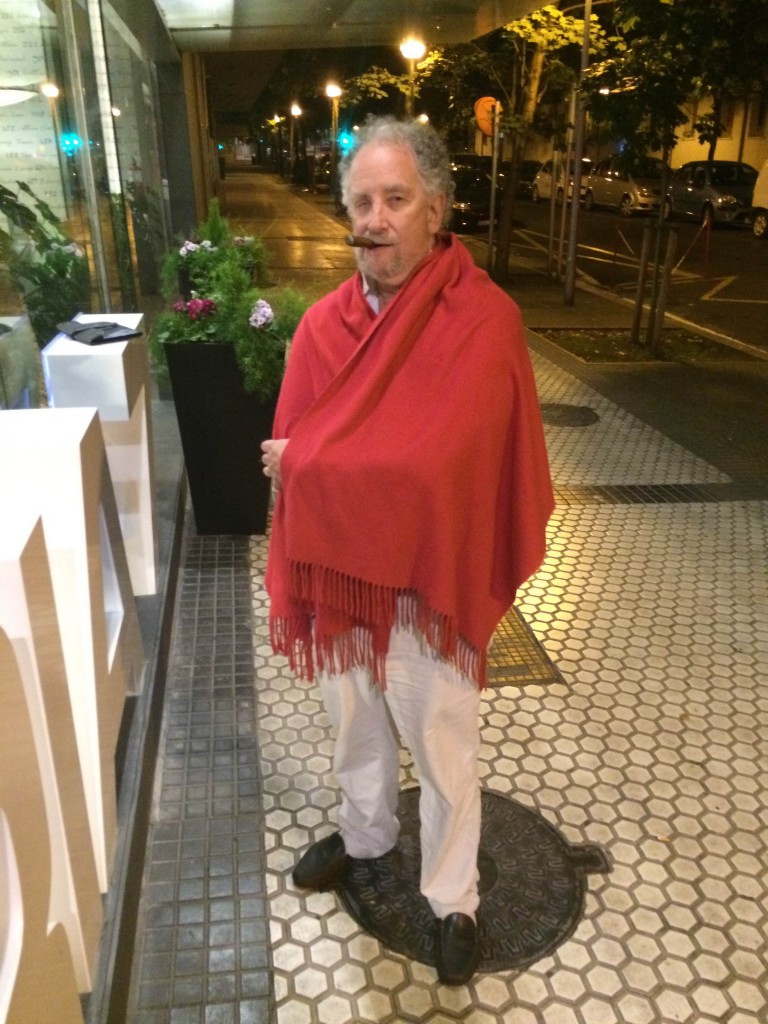 #30#
BOB HAWKINS
Rome
Here is my update. Am much slowed by eyesight though I can still cope with TV and visits by copious offspring here in Rome. All well.
My warmest to all pals.
Hawk.
LARRY and VIRGINIA MICHIE
Amherst, MA
We're much the same as last year except that we've moved to an over-55 condo community about a mile from where we lived previously. Larry's condition is also much the same as a year ago; perhaps a bit more befuddled but once again he was able to play golf every day all summer. Our new apartment complex backs up to the rail trail so if the weather stays pleasant we will be able to take many long walks for our winter exercise. It's been rather nightmarish down-sizing but we're almost settled and once we really are, I think it will have been a good and happy decision to have moved now instead of later.
Hope this finds you in good health and comes with lots of good wishes for you and yours.
Our new e-mail is: michiehome@comcast.net (formerly charter.net)
NELSON HOINEFF
Rio de Janeiro
Great hearing from you.
2015 was a great year for my work as a documentary filmmaker. On May 28 we launched theatrically my documentary feature Cauby – Começaria Tudo Outra Vez. The film remained 16 weeks on the chart, becoming, I believe, the longest running independent documentary in town. My new documentary, 82 Minutes, concerning the preparation of a School of Samba for the Carnival, had its world première at the Rio Festival, in September. It was also shown at the São Paulo Film Festival in October. The film was invited for the FIPA, to take place January 2016, in Biarritz. Besides this, I have been doing film criticism for críticos.com.br, and teaching cinema at Facha University in Rio. In fact, I have been teaching at the School of Communication for 23 years, and we managed to open the School of Cinema in July 2015, which I am directing.
MARIE SILVERMAN and BOB MARICH
White Plains, NY
Former NY and LA mugg Marie Silverman Marich was renewed for another fabulous season hosting community access TV show This Blooming City. The local access talk show is produced for White Plains Beautification Foundation, which creates parks across the city. Marie is a former co-president and her late mother Jan was very active in the organization.
Marie is a multi-hyphenate. She produces, hosts, writes and books guests, who discuss all aspects of gardening, civic issues and gracious living. You can binge-watch the show at http://wpcommunitymedia.org/community/blooming-city#!mm-71811 .
Husband Bob, who still writes for Variety occasionally, joins Marie in road trips to Florida where they visit Syd, who is doing well. Syd sends his regards to all. Bob also works as a freelance researcher and writes or contributes to text books on media, such as the third edition of his Marketing To Moviegoers book.
Son Nick is doing well at work and school in upstate New York. He has earned a certificate in elder care. He accompanies us on the road trips across the Eastern USA.
The Mariches send you all best wishes for a blessed Christmas this holiday season and a wonderful New Year!
MORT BRYER
Norwalk, CT
Status quo for Mort Bryer. Still doing as little as possible and still with a bad case of Airportitis, I simply stopped traveling via plane, too much like torture. Seats on board, fit for midgets, who have just come off a crash diet, screened by so called security, which is almost worthless, and treated like a huge roach, when "on board". They can keep their pretzels!
Dear reader, there is no place like home! In easy reach, firewater, beer and wine. And important pour moi, cigars, which since the smoke Nazis struck a few years ago, you can not light up, post a nice dinner in a beanerie and puff up, while sipping a French VSOP brandy. Otherwise, back to the market.
Bestest to all the muggs.
DON GROVES
Sydney
Season's greetings to all the muggs and thanks to Besa and Ian for keeping Simesite alive and providing a forum for Variety alumni around the globe.
I have had an eventful year. After writing for Australia's Inside Film for two years and eight months I quit in early December after tiring of the daily treadmill of pounding out stories for the website (and a couple of features for each of the six print issues per year). My aim is to lighten my workload and to free up time to do other things. In sum, work less and enjoy life more. I continue to write news and occasional channel profiles and drama features for UK-based C21 Media and Drama Quarterly. In October I started contributing to Forbes.com after being introduced to the publication by my friend and former Variety colleague Judith Brennan. I have written 24 stories thus far; here is a link (http://www.forbes.com/sites/dongroves/) to my most recent stories: please take a look. Forbes trusts its contributors' judgment to file stories without prior-approval or pre-editing, which gives me great scope in covering the screen industries in Australia/New Zealand, India and elsewhere in the Asia Pacific. I've discovered my Bollywood-related stories resonate most strongly among Forbes readers: one I did on Salman Khan and his hit Prem Ratan Dhan Payo had nearly 26,000 views.
My wife Jenny and I went back to the UK in late August, touring Devon and Cornwall and catching up with friends, followed by three days in Prague, a Danube cruise to Budapest, and three days in Budapest. All marvellous, except for horrendous traffic jams on the M4 and M5. Our daughter Claudie (23) graduated from the University of Newcastle (NSW) mid-year in media/comms and is working for the uni's research department, writing bios on graduates, while she looks for her 'dream' job in Australian Rules football media. Her sister Tilda (21) has been studying nursing at the same university and is transferring to a Sydney university in February.
All the best to the muggs for the holidays and a happy, healthy and peaceful 2016.
Dogo
BRUCE ALDERMAN
New York
Another interesting year at the Brooklyn District Attorney's Office in the Conviction Review Unit where we, ah, review convictions. Most of these convictions are thirty to twenty years old, involve murders, and have already gone through the appeals process. For more info, if interested, you can Google it – there's been a lot of press.
Happy to report that I've finally been promoted to a senior assistant district attorney, but I like to joke that in reality, I'm a senior citizen A.D.A. Anyway, two to three days a week, I ride my bike from our home in northern Manhattan to Brooklyn – about 12 miles one way. It's a beautiful ride along the Hudson (for about 70 percent of the trip).
Oddly enough, I still dabble in writing film scripts in my spare time (old habits die hard). The big news however comes from several months ago during our yearly summer trek to France. My wife and I spent several days in Sete, a fishing town near Montpellier on the Med. It was my first time there in nearly 30 years (gasp!). Then I was covering my first film festival for Screen International (a job I had for only a few months before I went to the Hollywood Reporter and finally Variety).
All these years, I kept a T-shirt that I bought from a sea-side restaurant – I learned that unfortunately that restaurant was destroyed several years ago in a storm – the T-shirt left us last year during a move to a new apartment. However, I also learned that Sete is still a beautiful and vibrant small city, home to Georges Brassens, and we hope, home to us, in several years when we finally decide to get off the merry-go-round. BTW, I still can remember that festival and the thrill I had being there. The festival, alas, no longer exists, replaced by a Mediterranean Poetry Festival!
That's all, Happy and healthy New Year to all!
JAY BLICKSTEIN
New York
Jay Blickstein is happy to announce his retirement as of Jan. 1 ! He will still keep his hand on the tiller with some freelance editing and writing work. Jay and the missus took a two-week trip to Italy in September, where they ate lotsa pasta and drank liters of wine (and enjoyed the sights, too).
JOHN WILLIS
Adderbury, England
Writing this in total chaos as Lynne and I moved house three days before the big day.
We have downsized as I have trouble walking these days after breaking my hip in a fall 18 months ago.
Very saddened by Jack Kindred's passing, although we hadn't met up for around three years or so. Would love to meet up or have a chat if any muggs pass through London. In the meantime every good wish for 2016.
MARGE PREZIOSO
The Balan ladies are still going strong. Most of us are retired and either traveling or taking care of the grandchildren. We still get together for lunch and laugh and smile as we recall our Variety days.
Carol Borga's Fire Island summer home was destroyed during hurricane Sandy but I am happy to report that it is finally repaired and she was able to enjoy it this summer.
We wish you a happy & healthy New Year filled with many adventures.
Miss you
Margie Prezioso
(Hopefully my NY Jets will make it to the playoffs)
MORRIE GELMAN
Mr. Diamond, my 6th grade science teacher, told me I had feet of clay. Ever since, I've been trying to mold my feet into sturdier stuff. In 2016 I will continue to try. Happy & Healthy New Year to You and to all.
Mog
MARK SILVERMAN
New Canaan, CT
It's slightly ironic that we mark the passing of two exemplary Variety scribes in 2015–Hy Hollinger and Jack Kindred–and an anecdote that ties them together. It was I think around 1987, maybe the last Cannes fest before Cahners came on the scene, or I could be mistaken. Maybe it was the year Arthur Anderman insisted Paris bureau chief and our Cannes "Mr. Fixit" Ted Clark give Army Archerd what he and Selma always wanted: a room in the Carlton. I know because I remember receiving numerous calls on successive press days at the Valley Stream composition shop from Army insisting ad infinitum that his Carlton room was "solid," and that since he viewed it my job to be in charge of the Cannes newsroom, it was my responsibility to ensure his standard of comfort. Whether Ted knew it or not, and I think he probably did, Army and Selma were rewarded a room on the Carlton's 4th floor, right underneath the construction area for the new rooftop casino being built. The incessant jackhammers and sledges notwithstanding, I will never forget watching from the balcony of the newsroom at the Josefa Apartments as Army strode up the avenue from the Carlton with his blackout mask still atop his toupee to insist that Ted get the Carlton to move their room well away from the construction area, as they hadn't had a wink's sleep in two days. Ted promised to try his darndest, in his wry Scottish way, but reminded Army that he had insisted for many months to be booked into the Carlton, come hell or high water. Well, I think the outcome was more hell than high water, and in the end I recall Army cut short his Cannes sojourn rather than endure Selma's kvetching regarding their intolerable situation. I think she was always happier at Dan Tana's, anyway.
While the Carlton's rooms were booked a year or more in advance, not to mention the baksheesh that was likely passed under the table to secure a room, the Josefa Apartments were where the worker bees (present company included) kept a lower profile and quite sensible expense account living during the near two weeks of Cannes' exasperation. It became the Variety nerve center after our longtime outpost at the Hotel Suisse became a hole in the ground for a new hostelry with no charm. We managed to set up a reasonably efficient newsroom space in the main Josefa apartment where my brother Michael and I spent too many hours arguing about who had dibs to the fax machine at any given moment;
Hollywood (and Tom Pryor) had a daily need for the studio-relevant news and reviews, and New York's weekly Variety had a voluminous appetite–and the space–for just about every inch of coverage that could be extruded from the festival and market. Nobody, and I mean nobody, filed more column inches from Cannes in those 12 days than Variety. And remember, it was before we all had laptops and email, we were typing pages and faxing them across the ocean, one page at a time. Quaint, no?
The Josefa newsroom functioned as a sort of Mugg Cafe where ham and cheese baguettes with hot French moutard, fruit, fromage and charcuterie could be had any time of day thanks to Ted's daughter Isabelle's excellent sense of organization and procurement, and there was a pretty steady supply of Coca-Cola, coffee, Perrier and croissants to keep the scribes banging out copy until the cows came home. It was a convivial common ground for exposition, diatribe, vitriol, and some of the most knowledgeable film observers, savants and insiders the planet has ever known. If you think about it, just about every person who walked through Variety wasn't assigned, but assigned themselves, because nobody knew their market or beat better than they did. And back in the day, none of us tried to out-think or out-do our hires. Everyone was trusted to know their beat and they trusted us to let them beat the competition, not second guess them. It worked really well.
So back to Hy Hollinger and Jack Kindred. It was around 11:00 am, the morning after a Cannon or Carolco latenight extravaganza at the Majestic, and the haze of cigarette smoke hung over the newsroom as usual. People straggled in and out for a coffee, a quick bite, a quick anecdote about the prior night's festivities. Keith Keller was filing a fax, David Stratton was reading that morning's International Herald Tribune. Hy strolled in, went to the kitchen for a coffee, and sat down to catch his breath before another 12-hour day of viewing and schmoozing at the tender age of 68 or so. In strolled Jack Kindred in his trademark trench coat like Joseph Cotten in The Third Man. Jack craned his neck around the newsroom like the periscope on a German U-boat, and caught the somewhat bedraggled Hy in his field of vision. Voicing the northern Plains twang of his youth, Jack simply queried Hy thus,: "Hy, how'd it go last night? You look like you slept like a lungfish." Considering the dry source (Jack) and the gentility inherent in his intended victim, the room erupted in a most raucous guffaw that I have not seen before or since, and Hy smiled like the Cheshire Cat from Alice in Wonderland. I think he truly appreciated the oxymoron Jack had foisted upon Hy's persona. Let's raise a toast to those two great gents.
So that was a long way around to today. Pam and I celebrated our 30th anniversary this year by going on an 8-day sojourn in October to Venice and Lake Como, with a stop in Verona. (For anyone who cares about history, Verona's colosseum is older than the one in Rome.) I never went to the Venice Film Festival in August for Variety, but since we stayed at the Excelsior on the Lido, where the festival is held away from the tourist mobs at St. Mark's square, I can tell you in October you are very much alone and in Jack Valenti's suite with a little persuasion at the front desk. I envy Bob Hawkins' lifetime insight to Italy, because I now know that even if you give every remaining day of your life to exploring Italy's food, villages and people, you are not going to find a better place to spend your remaining vacation days. Maybe the Côte d'Azur and Eze for a break, Spain's art museums rivaling the Louvre, but I now understand the glue of Europe's culture, food, architecture and history that created the expatriate tide of Variety muggs across the decades. All Hail The Muggs!
Personally, Carolyn, 27, is going to NYU Stern School of Business in 2016 while continuing to work at K2 Advisors in Stamford, CT. Alex, 25, is working as a welder in Danbury, CT; Melanie is a senior at Colgate University, and Olivia is a freshman at Connecticut College in New London, CT, playing squash and running track, hopefully in addition to studying. Syd is still working out 3 days a week, and looking pretty good. He turns 84 next month, and Pam and I see him and Joan 3 or 4 times a year. Best wishes to all the muggs for 2016 and beyond. And many thanks also to Peter and Ian for carrying on the tradition and heritage of Simesite.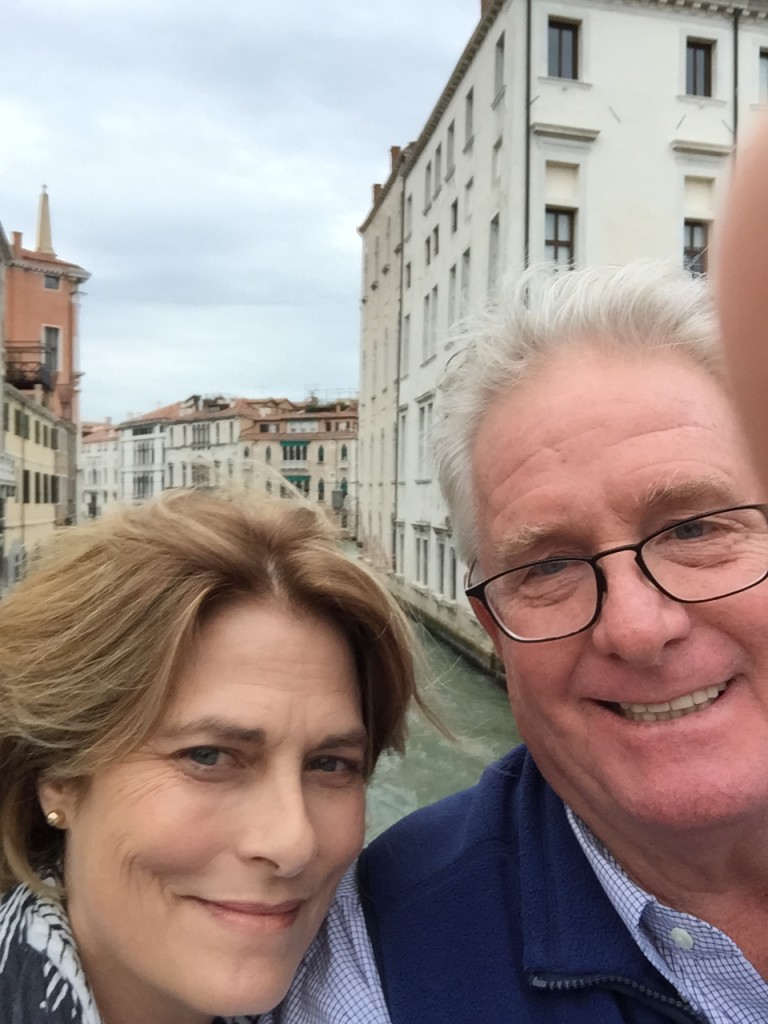 FRED LOMBARDI
I really can't say much of importance worth relating has happened to me in the last twelve months except for my Mom celebrating her ninetieth birthday.
Instead I would like to take this occasion to say thank you and Ian for following the path of his father in keeping Simesite going. I still have very fond memories of Roger and like a number of my Variety friends I wish he was still around.
Take care.
NORMAN SCHERER
Sparta, N.J.
Hello Muggs
Sharon and I have moved to Sparta N.J. which looks like a German gingerbread fairyland community set around a lake named Mowawk. It's another 30 minutes away from NYC, but its f-ing wonderful. The stars, the mountains, the walkable neighborhoods, the lakes and ponds, bambis galore, perfect for the kids.
Its location being so desolate is also perfect for my new company, Tastecoin. Tastecoin's Instant Gratification division delivers packaged food, drinks & snacks to the surrounding areas publicized by taste testing events called EatOffs at restaurants, businesses, hotels & offices. TestBites are samplers that are used for taste testing on the go, that I ship to the 50 states. Using surveys to achieve personalized shopping and my taste testing creates tons of data that is used to trade for product and checks.
Tastecoin tests similar products from multiple manufacturers to let consumers and businesses find their favorite products. I'm ready to start taste testing chocolates, mustards, pretzels & root beers to jump my startup.
It's been years since I put Video Oyster to bed, and I have been collecting drop shipping companies ever since. Now I'm ready with 6,000 manufacturers ready to ship products that I do not have to warehouse, wrap or drag to the post office. Tired of making other bosses money, when I can create a product that's easy to sell.
My two kids, Jake & Eve, are living with my ex wife in Brooklyn, and I see them every other weekend. They get along great with Sharon's two youngest kids, David & Jaime. Life is good and finally unpacked from the move and ready to start the next chapter.
Hope to see some muggs when I start traveling to conventions outside the NYC area again. Happy New Year out there, but when do we all gather at Sardi's again?
At least we should hang out in the 46th street parking garage (next to the Gaiety Theatre) that brought us together.
SAMANTHA STENZEL
Chicago
Hiya folks from Chicago,
I am still happily living in my hometown Chicago, although if you had talked to me last night after a commute through heavy freezing rain that turned into snow, I might not have been so enthusiastic. I am freelancing, occasionally for print outlets but more often now for online magazines. I write reviews, profiles, often local social and business news.
I don't have a small group travel business anymore but do travel consultation and planning for clients, specializing in Greek destinations.
Yes, you can come home again! I am grateful for my 14 years in Greece and for the people I met (including the offshore muggs) and my travels in Greece and Europe, many times to film festivals. I moved there in 1979 and it was like stepping back into the 1950s. We all knew, expats and Greeks alike, that economically it was a house of cards. Unfortunately this has recently been proven true but I still have an abiding fondness for my adopted home.And a passion for my fascinating, lively city.
Was sorry to read about Hy and Jack Kindred. I liked them both. Hy called me about working for The Hollywood Reporter as a Greek stringer in the 90s, but I was in the process of returning to Chicago at the time. I got to know Jack at the Berlin and Cannes Festivals, you (Peter) too for that matter.
As Studs Terkel said, "Take it easy but take it!"
Cheers,
Sam
PETE PRYOR
Applegate Valley, Oregon
Yet another year has gone by … I think that with age time tends to accelerate. My Heaven-sent wife (she must be to put up with me), Barbara, still maintains on her birthday every May "I'm 39 again!" So I have decided that in March I will be "38 again" because I'd like to be married to an older woman.
We're still enjoying the rural Oregon lifestyle for a good part of each year. What with one California house sold late last year we still have one more to go (hopefully in early 2016) and then will be domiciled at our Oregon homestead full time, dealing with wells, barns, pastures, the river pump and various and assorted wildlife that wander through our property on a daily basis. Beats deadlines, traffic and pissed-off studio executives. Our thoroughly spoiled Siberian House Husky Keeza doesn't care much for the rain (of which we have had quite a bit so far this winter) but doesn't mind at all sitting out in the snow in her run. But still, she's more of a "the Brie is good, could I have a bit more Chardonnay in my bowl please, would you put another piece of wood on the fire when you get a chance, and don't hog all the bed space (yes, she does sleep on the foot of the bed at night") then a freight-hauling sled dog. And Mink, the 15-year-old Siamese Ninja Cat From Hell, still has a, well, unique, attitude.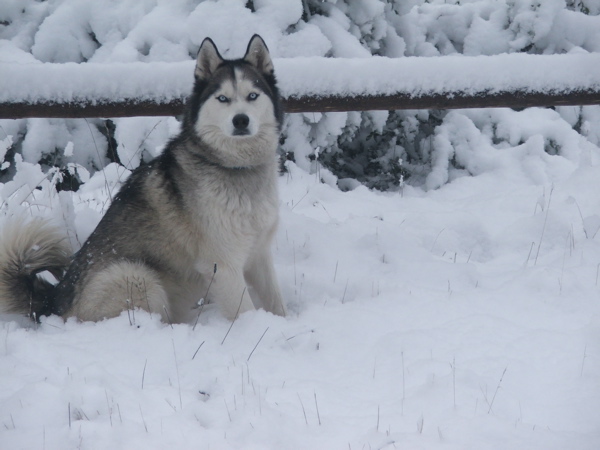 It's been a very cold and wet winter so far (rain, snow and ice), so there's been lots of time for writing, reading, playing classical guitar, listening to music, watching films and just generally enjoying life. Thank goodness we always keep four chords of good, dry, hardwood on hand.
We see the "boys" (40 and 38 — when did that happen?) and their families and get to spoil the three grandchildren, who all live about a four-hour drive away on the California North Coast; visit with Barbara's family in Gig Harbor, WA; and my sister and her husband and various nephews and nieces in Seattle and Lummi Island in the San Juan Islands in Washington.
Was saddened to hear of the deaths of Jack Kindred and Hy Hollinger. I was privileged to know and work with Hy at both Daily Variety and The Hollywood Reporter. A truly fine person.
Best wishes to all the muggs and their loved ones for a Happy, Healthy and Prosperous New Year!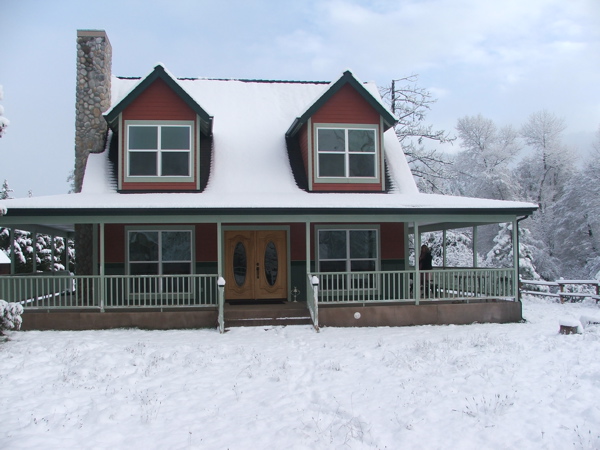 MIKE MALAK
Los Angeles
We will be back home, again, sometime in March 2016, after a fire on October 28, 2014, damaged our old house. The arrival is later than expected because we rebuilt everything. Surprises abounded as we found that some surviving frames contained more than one art piece and we've installed new gallery-style lighting to show the walls to best advantage. The antique market was good this year and we scored some nice pieces and even found a replacement for our WWI Haskell Coffin, "Joan of Arc Saved France," destroyed when the UV Plexiglas covering it melted into dramatic folds.
It was fun picking furnishings, overseeing construction and improving the place with a new patio, renovated atrium and raised ceilings in the living room. It now will feature floating Italian glass chandeliers. (Shades of Hogwarts!) In the interim, the insurance company has supplied us two rental homes while we rebuild.
I'm learning sculpture at the Berman Studios on Cahuenga, in North Hollywood, and have become an occasional contributor to the Bayou Buzz of Louisiana. My sister, Melissa, took me and my other sister, Mary, to Port Orleans at Disney World for a week of birthday fun. It rained the first night in Orlando and I took the opportunity to photograph a virtually empty, glistening, beautiful Epcot.
October 28th marked the 5th anniversary of the passing of my brother, Patrick Malak. He worked at the Daily Variety during the 50th Anniversary year, notably on Michael Silverman's well-received museum installation at Hollywood Heritage's De Mille barn. The show opened on October 28, 1983, the night of the Daily's gala tented black tie party for 2,000 guests in the North lot of the Hollywood Bowl. Patrick is missed. I, also, send a tip of the hat to Hy Hollinger, friend, gentleman and mugg.
Son Kyle, of Daily house ads, bought a boat with his fiancée, Alison, and is spending a year in the Channel Islands of CA in preparation for a sail around the globe. Nº 2 son, Andrew, also a house ad vet, built race cars and restored classics this year. Nº 3 son, Eamon, was certified as an Advanced Landscape designer by ASU. Pam, my wife, continued her support of state reading and music programs and still teach math.
Here's hoping that the coming year will shower all with blessings, kindness, and peace.
MICHAEL SILVERMAN
Scottsdale, AZ
Well it's been a while since an update, so let's bring everybody up to speed (ahem) on Mike Silverman's (Mich.) doings.
You may or may not know, but I've been working at Vintage Motorsport magazine since 2002, when Syd asked me to help him grow this niche bimonthly which covers the vintage and historic racing marketplace. The pay was, per usual, NSG, but I asked him for an unusual fringe benefit – namely, to let me race some of his mainly British race cars. Syd agreed, of course, as it was a lot cheaper than paying medical benefits.
I was quickly hooked, and happily raced from the back to the middle and finally toward the front end (sort of) of the pack. After 30 years Dad finally hung up his helmet around 2008 and sold off the race cars. I continued on as g.m. of the magazine but without this key fringe benefit for a couple of years, and finally long-suffering racing widow Adrienne (we're going on 34 years!) got tired of my basset hound baleful look and agreed to my purchase of a (relatively) cheap 1957 MGA racer in 2013 – back in the saddle again!
Off to the races, so to speak, but interfering time-wise was my decision to become Syd's exit strategy from his own magazine, as he was then 80 and didn't need or want the hassle of running a day-to-day business. So I bought him out and now I've inherited the hassle. Don't get me wrong, it's terrific (like Variety was) to love what you're doing and covering a subject matter that interests you, but the government regulations, requirements, paperwork and taxes take their toll, and as we all know print publications have their hands full these days.
So the year is now filled with selling ads, writing stories for the weekly e-newsletter, bimonthly magazine, attending vintage car events and races, where we often set up a big booth to sell subscriptions, meet with readers and clients, and of course, go racing three or four times a year. Luckily we get to race most every year at the biggest gathering, the Monterey Historics at the Laguna Seca track in Monterey, CA. It's like the Cannes Festival but with vintage cars – both race and road – and after a full day in the booth, plus a couple of sessions on track, we head out to cover the plethora of collector car auctions and events all over the Monterey Peninsula. Up at 6 a.m., in bed at midnight if you're lucky. At least we don't have a daily to put out….
The magazine's main office was in Lakeland, FL for 30 years, where it was founded. After running the magazine by remote for three years from my home in Scottsdale, we moved the magazine lock, stock and barrel this year to new offices in Scottsdale, nicer space and lower rent. We also moved six tons of back issues (33 years' worth) and shredded and recycled another six tons we didn't need. It was a huge hassle, of course, but we needed to make the change. Now onward and upward into the (partially) digital age. We have a tablet edition on the Apple Newsstand, website (www.vintagemotorsport.com) and weekly E-Newsletter to 10,000 eager subscribers. Keep your fingers crossed, and we'll be celebrating VM's 35th anniversary in 2017.
Adrienne continues to be her incredibly nice and beautiful self, and takes our mini Dachshund Bailey for daily morning walks in the park with her cronies and their pooches, and then works on her website www.psychiclibrary.com which focuses on, well, psychic phenomena, beliefs and that sort of stuff. They're getting 100,000 monthly visitors, and I keep telling her they should monetize it (i.e. sell ads) to make it pay off. Any ideas out there, shoot her an email at: adriennesilverman@cox.net.
Son Bryan is now 27 and just started a new job in the family tradition (sort of) writing copy for a major vacation and house rental website company. He seems to like it so far, and they have real offices, real pay and real benefits, just like a real corporation.
So here's hoping all the muggs out there are also chugging along and keeping their nose to the grindstone, with fond memories of toiling at something they loved, or hopefully doing the same at this point. They say if you really love what you're doing, it's not really work.
I really love my job, but I'd sure like to take a Sunday off once in a while….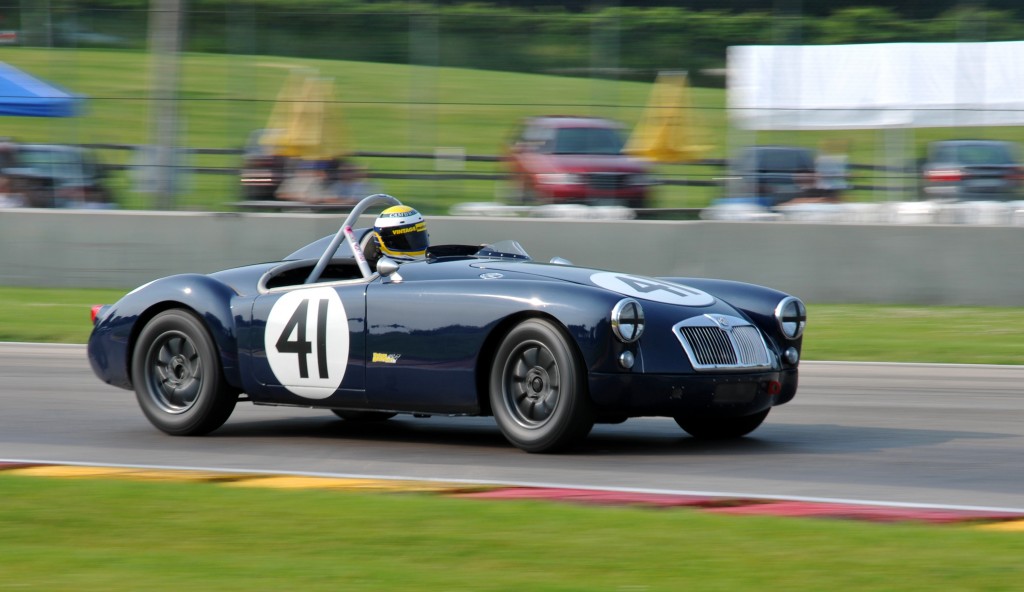 PETER BESAS
Madrid
Still slogging along in my Ivory Tower in a privileged area of Madrid, my large apartment full of memorabilia dating back to my days in Washington Heights and the Village, and a large stock of items, letters, photos etc. relating to the old Variety cluttering my bookshelves and closets. Sometimes the nostalgia is overwhelming, a sure sign that one is reaching a hoary age.
The antidote to becoming maudlin is keeping busy. Which means not only daily sorties in the city I live in, but also an occasional trip. This year (2015) included a one-week jaunt to Manhattan, just to see old friends and take nostalgic walks, another to Lisbon, and in the summer a week in the Spanish Pyrenees as well as two trips to San Sebastian. In the Variety years I always covered the international film festival there, but now return with my son and daughter-in-law to visit her folks in that charming seaside city near the French border.
And, of course, I continue to write. Last May I published a historical book I had been working on for several years, "Nazis in Madrid", which is on sale here in all major book shops in both the original English and the translated Spanish editions.Unfortunately my dwarf-sized publisher, who specializes in books on Madrid, has no offshore connections so the book is only availale in Spain.
My son, Mark, aside from shepherding his nine-year-old daughter, Alex, has been busy on his own writing and publishing books for the local market. At mid-year his "Espana Oculta" (Hidden Spain) came out, and he is now working on a book about Madrid's Amusement Park that should be out in 2016.
It remains only to wish all the muggs all over the world a prosperous and healthy New Year. Ian and I shall do our bits to keep the Simesite alive as a tribute to all those associated with the old Variety and as a means of keeping open channels of communication among the muggs.
Ian Watkins
Hertfordshire, UK
Here's a family pic from Christmas.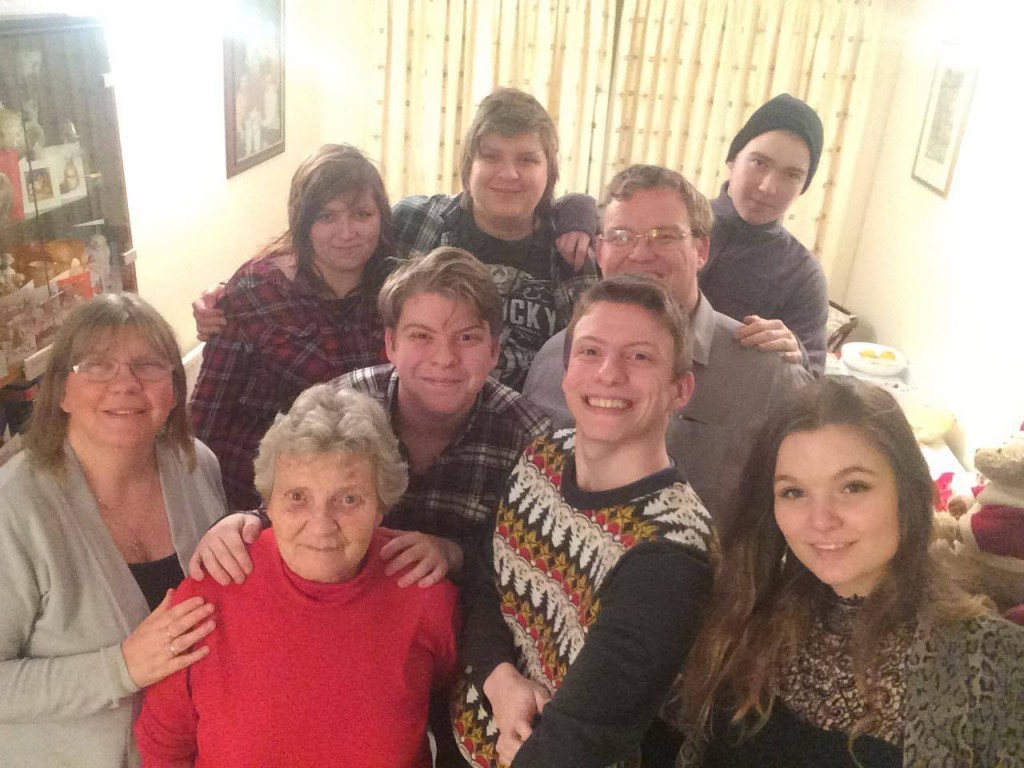 Front row: Caroline (my wife), Pat (Roger's better half), Tom (son, 18), Matt (son, 21), Linda (Matt's GF)
Back row: Charlotte (James' GF), James (son, 23), me, David (son, 14)
A LATE-ARRIVAL


Samantha Stenzel

Chicago

"Imagination grows by exercise and, contrary to popular belief, is more powerful in the mature than in the young."

W. Somerset Maugham

One of my plans this year is to re-read much of Inside Variety, which I did enjoy. Also, I would like to read or re-read some of Maugham's books.

But I will be taking a Greek class at the University of Illinois and will be in a Greek conversation class. As they say about languages "use it or lose it."

My goal is to get back to Greece for two months or more next winter or early spring, rent a small flat in Athens and settle in. I want to have leisurely meals with old friends, many of them journos, and talk about all that is happening, learn more about everyday life as it is now. Also politics, as lively in Athens as in Chicago. Emmanuel, the Chicago mayor, lives a couple of blocks away, and protestors have been gathering in front of his home.

I follow some of my former colleagues in actual print, including Kerin Hope, the erudite Greek correspondent for the Financial Times.

The second largest regional library is a few blocks away. It carries many major American newspapers and a few foreign ones, including the Financial Times. Until recently it also had a subscription to Variety, now discontinued. I suspect I was one of the few people who read it.

Speaking of exercising imagination, congrats on your book Nazis in Madrid. It is great that you continue to write and explore new areas, return to well-known ones as well.

I am vowing to do more writing this year on subjects that intrigue me, especially some that deal with topics in Chicago's history.

I read the reports from others with interest, especially liked those with photos.

I also would welcome hearing from any former muggs. If any of the old crew are going to be in Chicago, I would be happy to meet you for a drink or two. I am a local history buff and can steer you to some often overlooked treasures , as well as the more prominent ones.

Thanks to Peter for keeping us in touch.

Cheers and all the best to you in 2016,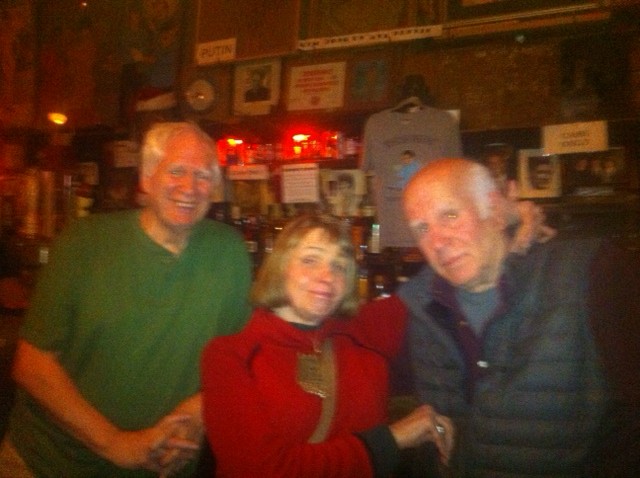 The above is a picture of me, Sam, middle, at the Old Town Ale House in Chicago. It is one of my favorite taverns, has had its taps flowing for nearly 50 years right across from the fabled Second City theater and Improv group. On the left is Jim Tuohy, who had a long career as a well respected newspaperman and author and renowned as an interesting and witty barroom raconteur. On the right is Bruce Elliot, a blogger and author and proprietor of the Ale House. He is also an accomplished artist and behind us on the walls are many of Elliott's oil portraits, including the nude and partially disrobed politicos series. This caused an international stir, and still prompts visits by many a curious traveler, as well as residents.
MIKE EVANS
Alpine, CA
I, along with my ex-Variety staffer wife Diane (Smith), son Tyler age 17 and daughter Kennedy age 14, plus two German shepherds and a mini-dachshund — still reside in Alpine, Ca, a mountain village thirty miles east of San Diego.
I left San Diego Home/Garden Lifestyles magazine after running the publication for five years in September. I also resigned from the board of C.R.M.A. (City, Regional Magazine Assoc). I became a partner an in exhibition business, while still keeping my clothes on! We're show producers. In addition to the annual Spring and Fall Home/Garden Shows held at the iconic Del Mar Fairgrounds (founded by Bing Crosby and a couple of other Hollywood-types), we're launching several start-up shows we'll produce for a realtor and farm bureau trade orgs. I now work most days from home with a weekly trek to Del Mar. Diane is trying to cope with seeing more of me at home during the week – even threatens to return to media selling on occasion.
While difficult to say "good-bye" to the publishing world, I don't believe the print world is dead. Monthly magazines give their readers a critical "lean back" moment, and magazines will offer readers of content a true alternative from the massive digital onslaught too. It's just the economics of printing/shipping/distributing don't pencil out when the newsstand business is now even more costly for publishers now that the major wholesalers have folded, and paid circulation doesn't matter to media buyers anymore as "controlled" distribution is acceptable to advertisers. Never mind it takes a village to write/edit/sell to produce the publication. And digital revenues aren't near the levels of print advertising of yesteryear, and might never be. Maybe I am saying print is dead.
Finally, the passing of Hy really hit me hard as we became real close during my LA stints w/Variety. Even when I was Publishing Director of Variety, and Hy at THR, we'd met at Tommy Bergan's Saloon (Pryor's favorite retreat) as we both had shamrocks w/our names on them hanging on the wall – and we laughed about our Cannes and Mifed travels together with Hal Scott – once Hy dozed off while we were saddled on the tarmack for hours, and upon his waking up I welcomed him to the Nice Airport! Boy, was he pissed! He once took me to a meeting w/Giancarlo Parreti at Hotel du Cap, and ended his interview with saying: "I don't care if you buy ads from this guy or not, just so you know!" and got up and waited for me in the lobby for a taxi ride back to (John Willis idea) Cannes' Show Daily HQ!
Much SUCCESS TO ALL US MUGGS!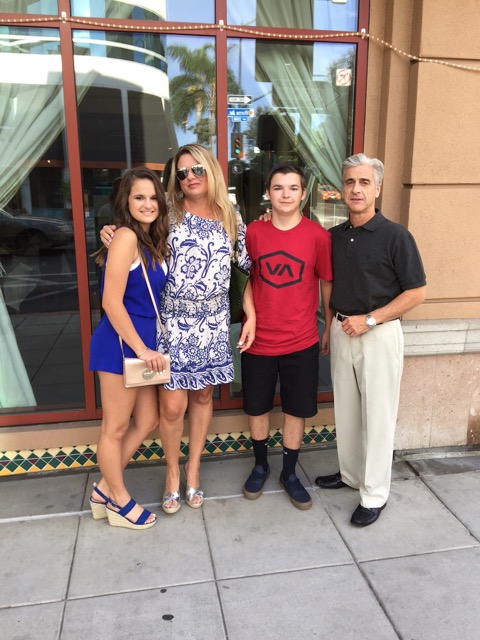 THE "MISSING"
E-mails have been send to the following, but no replies received:
Mark Adams in London.
Gerda Bologna.
Bruce Brosnan. In a small town in Montana?
Sandy Campomanes in NY. Changed company?
Jeremy Coopman in London.
John Dempsey in NY.
Edna and Dan Fainaru. In Tel Aviv.
Doug Galloway in LA.
Tom Gilbert in NY.
Richard Gold in NY.
Elizabeth Guider in LA.
Paul Harris in Washington.
Steve Klain in Portugal.
Steve Knoll
Todd McCarthy
Joe Morella
Gerald Putzer
Arlene Rosenstein
Paul Rosovsky
Nicholas Shteinfas
Lee Simkins in London
Mel Tobias in Vancouver
Ralph Tyler in New York
SERVER REJECTS
Ted Clark
Bob Butler
John DeSimio
Jacqueline Pearce
Elizabeth Jensen
Vito Seminara
Sasha Yerkovich
Larry Cohn
Jack Sunkes
Deborah Young (had been with Taormina Film Festival)
Mark Thomas (was with Unicef in Thailand)
-30-