Los Angeles, July 12, 2021

The following "missing submission" from last year's end wrap for Simesite has now been received seven months later from Mike Malak, but we are pleased to post any informationfrom ex-muggs whenever it may be received.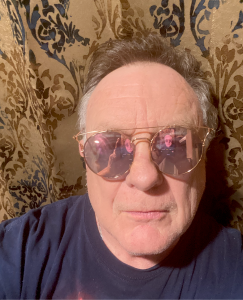 Dear Muggs,
It's only July so this annual report is a mere seven months late. We moved to the ocean up the coast a bit where it's always 72 degrees and anything over 80 a heat wave. I've never seen more than two dozen people on our beach, fittingly named Hollywood, on account of being the setting, allegedly, due to Valentino shoots.
We are adopting a granddaughter, Marilyn Rose, two-years old, a glorious child – happy, eager to please, funny, and worth the trips we postponed till she's old enough to appreciate them. Because there is another little girl, Violet, 1 1/2 , with my son Kyle (Variety House ad alumnus) and daughter-in-law Alison, upstairs we have been cautious of Covid and seldom got out. An in-law died of it a few months ago, and we knew others who suffered losses. Fortunately, when we moved we upsized instead of downsized so there's enough space for all.
The past year was exceptional in terms of legal client diversity. A Russian model-artist, the victim of a fraudulent restraining order by her pop star boyfriend, started the year off in stylish fashion. There was the Trump supporter who bear-sprayed (so-called) ANTIFA affiliates on the Santa Monica Pier in the middle of a Die In. The footage is on the web. There were two sisters 11 & 13, and, of course the frailer of us who seek escape through substances. Was proud of getting one individual probation and rehab instead of 24 years.
For the last year-and-a-half served as counsel to Gradle, Inc., a build assist international software company regarded as the world's best in its niche. I reported to the CFO based in Berlin. Clients included Fortune top 10s and down, numerous multinationals, the world's biggest banking entities, Hollywood Studios, blah, blah.
I started my political column again at The Dead Pelican, aka The Bayou Buzz, Louisiana. It is a small but influential outlet run by a law professor and activist who founded it in the wake of Louisiana's worst oil spill. Hence the name Dead Pelican.
A return to art and antique dealing, as children are expensive, is in the offing. I was once an eBay Sotheby's Associate and have sold in this category off and on for years. My favorite customer so far was a nightclub owner in Singapore.
If Norman Scherer reads this, NORMAN CALL/TEXT/EMAIL, if you'd be so kind, as I have two children's books about which you may have suggestions. I'll buy one of each of your books if you do contact. Following you in Peter and Ian's scrap book is always fun.
Mike Malak